India has a very diverse landscape and some of the most beautiful hill stations with unique distinctions. Some hill stations lie at a very high altitude, while some others have beautiful tea plantations and green landscape.
It is however very difficult to pick the best hill stations in India. This list ranks the top hill stations in India basis their natural beauty and options of wonderful places to visit in close proximity.
10. Mussoorie, Uttarakhand
If your idea of the perfect holiday hill destination involves peaceful hills, untouched nature and a holiday experience that is clean in the truest sense of the term, Mussoorie is the place you should be heading to.
Situated amidst the foothills of the Garhwal Himalayan ranges, Mussoorie, also known as Queen of The Hills, stands at an altitude of 7000 feet above sea level, and has a cool, pleasant climate throughout the year.
The pristine, natural beauty of Mussoorie makes it a very popular choice of holiday for honeymooners. If you want to enjoy the beautiful sight of the rolling green slopes juxtaposed with the snow-capped peaks of the Himalayas, Mussoorie is the place for you to be.
9. Nainital, Uttarakhand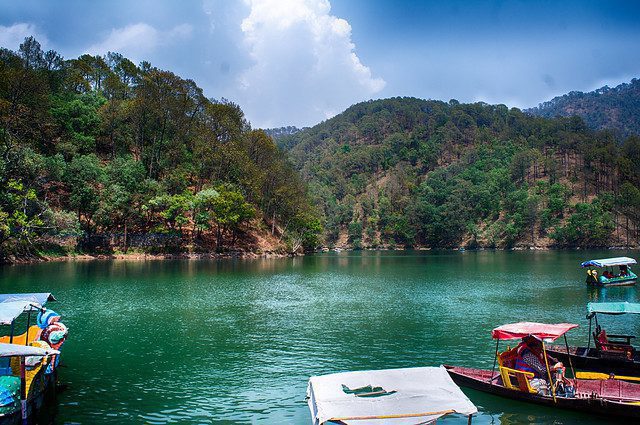 A standout amongst the most wonderful hill stations in Uttarakhand, Nainital, which lies in the midst of the Kumaon Hills, is a great hill destination built around a uniquely eye-shaped lake known as the 'Naini Lake' (Nainital name is derived from Naini Lake).
Also famously known as 'City of Lakes,' Nainital excels in its natural beauty, with its snow-capped hills and tranquil lakes lending it a nostalgic charm of its own.
Situated at an altitude of 1938 km above sea level, Nainital has a pleasant climate all year round, and can rightfully be called a picturesque paradise for all travel lovers.
Regardless of whether you're going for the climate, the lakes, the experience, the nourishment, or even the shopping, Nainital has something for each visitor.
8. Munnar, Kerala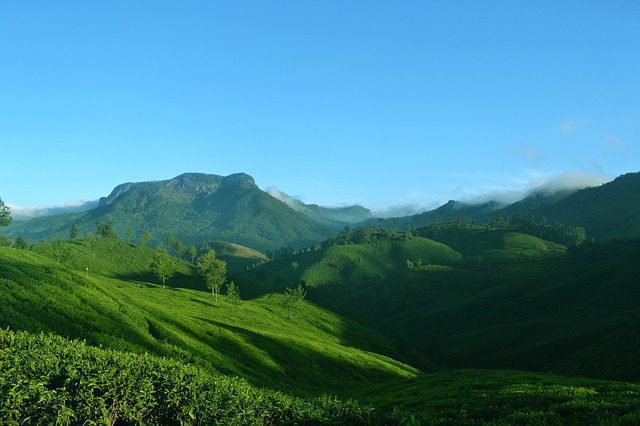 Munnar rises as three mountain streams merge – Mudrapuzha, Nallathanni, and Kundala. 1,600 m above sea level, this hill station was once the summer resort of the erstwhile British Government in South India.
Sprawling tea plantations, picturesque towns, winding lanes, and holiday facilities make this a popular resort town.
Among the exotic flora found in the forests and grasslands here is the Neelakurinji. This flower which bathes the hills in blue once in every twelve years will bloom next in 2030. Munnar also has the highest peak in South India, Anamudi, which towers over 2,695 m. Anamudi is an ideal spot for trekking.
7. Shimla-Himachal Pradesh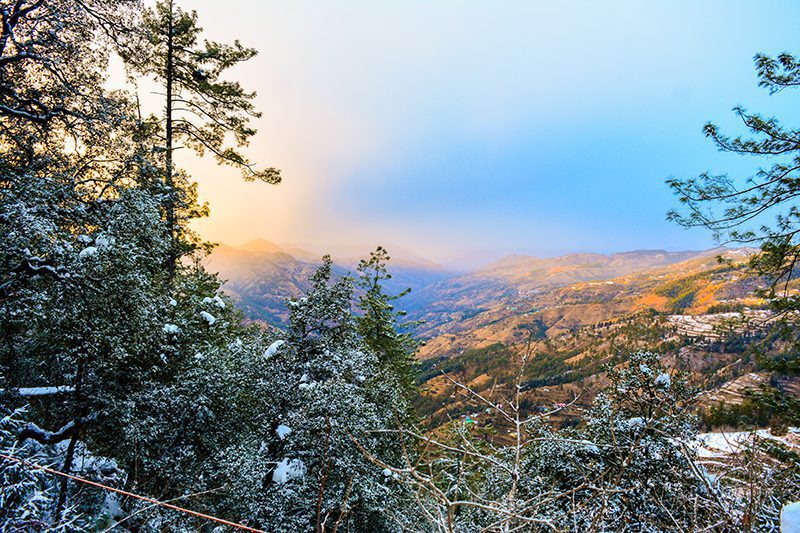 Spread across a 12km ridge, with steep forested hillsides falling away in all directions, the Himachal capital is one of India's most popular hill resorts, buzzing with a happy flow of heat-escaping Indian vacationers.
For some visitors, the attraction is perusing the vintage and urban side of Shimla's previous existence as the summer capital of British India.
Numerous great destinations like, Masobra, Kufri, and Narkanda makes Shimla a wonderful and most urbanized hill destination in India
The long main street, The Mall, runs east and west just below the spine of the hill. South of it, the maze-like alleys and stairways of the bustling bazaar runs down to Cart road and is the lifeline of Shimla.
6. Kodaikanal, Tamil Nadu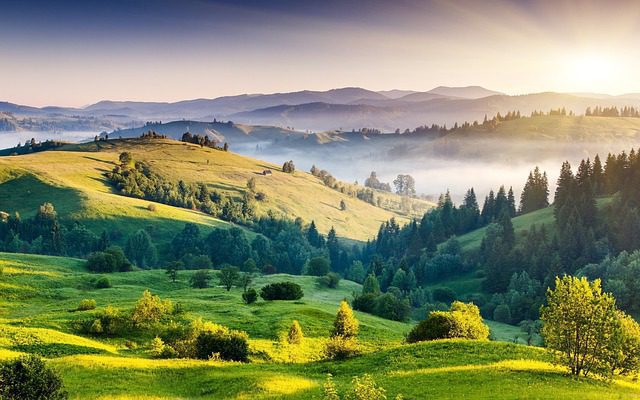 Located in the state of Tamil Nadu, Kodaikanal is one of the most famous honeymoon destinations in India. When you think of Kodaikanal, you think of a wonderful climate, cliffs covered in mist, cloud-capped mountains and beautiful lakes and valleys, and once you visit this hill station, you will find that every bit of what you have imagined it to be is true.
Among rolling slopes of the Palani Hills in Tamil Nadu, Kodaikanal stands at an altitude of 7200 feet above sea level. It has a cool, pleasant climate all year round. Kodaikanal means the gift of the forests.

Famously known as the Princess of Hill Stations, Kodaikanal offers the perfect mix of culture and nature to tourists, and its perfectly manicured slopes, scenic waterfalls, rolling hills and clear lakes all come together to create the perfect setting for an ideal mountain getaway.
Kodaikanal is a place you can go to take a break from the rigors of daily city life. This hill station lets you sit back and connect with nature as you head out on biking or trekking trails or take a stroll through the huge forests surrounding the town.
5. Gangtok, Sikkim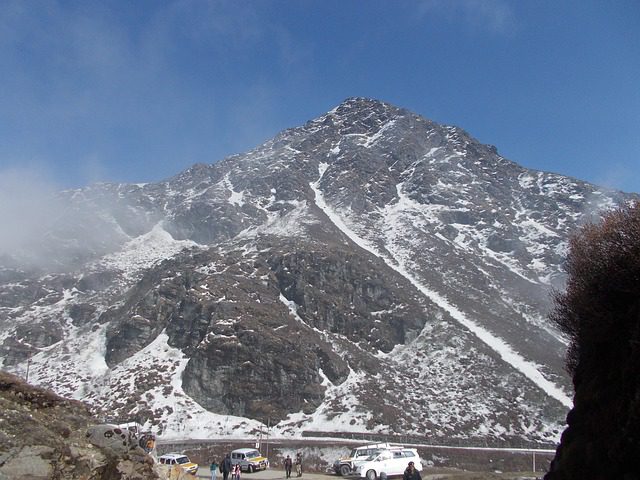 The capital of the state of Sikkim, Gangtok is an attractive tourist destination, reflecting a unique ambience. Its derives its charm from its happy blend of tradition and modernity.
Alongside the deeply felt presence of stupas and monasteries, Gangtok also bustles like any other thriving town. Some of the key places to visit include Rumtek Monastery, Do-Drul Chorten, Enchey Monastery, Tashi View Point and the local bazaar, Lal Bazaar.
4. Gulmarg, J&K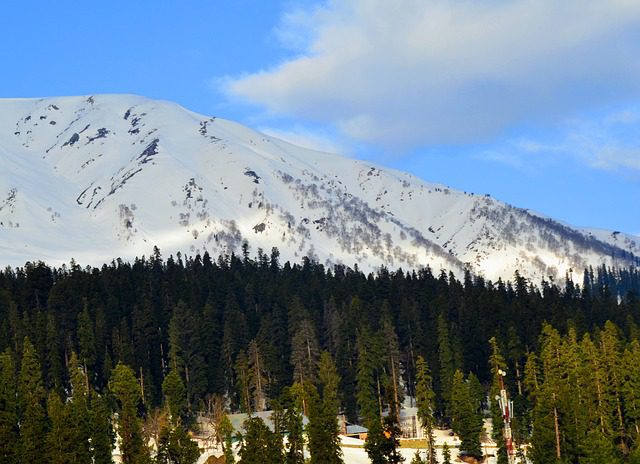 The ageless beauty of Gulmarg reflects the purity of nature. This small yet magnificent town is a haven for the adventure seekers and a paradise for nature lovers. Toddle along the vast stretches of flower-clad meadows and sway through the alpine mountains replete with snow.
Gulmarg invokes adventure instincts and at the same time offers a refreshing ambiance to retain peace of mind. It is a perfect melange to savor the taste of real Kashmir.
The 'Heartland of Winter sports', Gulmarg is where all the excitement takes place. The very first ski resort was established here in 1927 and ever since Gulmarg has been an epitome of skiing in the country.
The town also takes great pride in owning Asia's largest and world's second-largest cable car project called Gulmarg Gondola.
It connects Gulmarg with Aparwath Mountain, from where one can ski down on a long snow-trail. Shark Fin is another brilliant place for powder skiing in the town. Gulmarg also boasts about being the longest Golf Course in India. Set against a beautiful backdrop, it attracts a large number of visitors.
3. Manali, Himachal Pradesh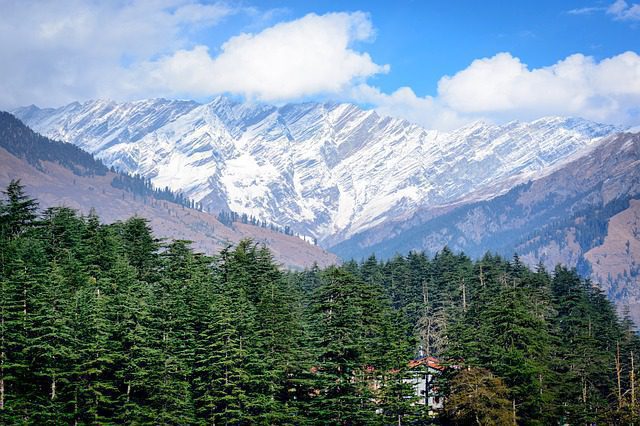 Manani also has great significance as per Hindu Mythology. King Manu was said to have survived a great flood that destroyed the rest of the world.
He then recreated mankind in this Kullu Valley town. What a rush, huh? No wonder the towering peaks and verdant terrain of Manali attract adventure travelers, with heli-skiing, hiking, mountaineering and river rafting the favored active pursuits.
Come down from your endorphin high by breathing deeply at the four-story, wooden Hidimba Devi Temple. It sits in the middle of a nearby deciduous forest. Take a medicinal soak in the hot springs burbling from the ground a 30-minute walk from town.
2. Dalhousie & Khajjiar, Himachal Pradesh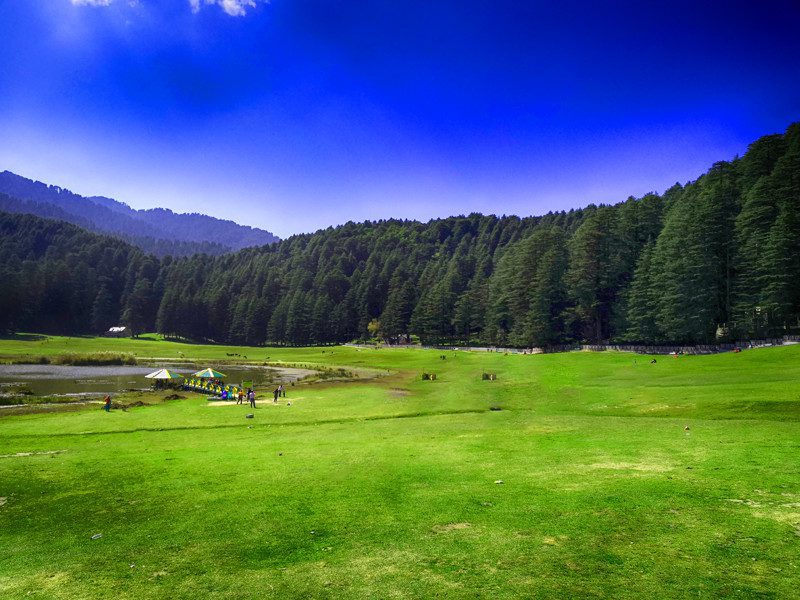 Breathtakingly beautiful, Dalhousie, Khajjiar and Kalatop wildlife sanctuary, is simply one of the best hill destinations in India.
It has plunging pine-clad valleys and distant snow-laden mountain view. The ridge-top Dalhousie was founded in the 1850s by the British viceroy whose name it bears.
Its heyday came in the 1920s, '30s, and '40s when Lahore society flocked here for its hols. Come Partition, Lahore found itself in Pakistan and Dalhousie lost its mojo. However, the town's star appears to be rising once again. As a rediscovered escape for honeymooners and families fleeing the heat of the plains.
1. Pahalgam, J&K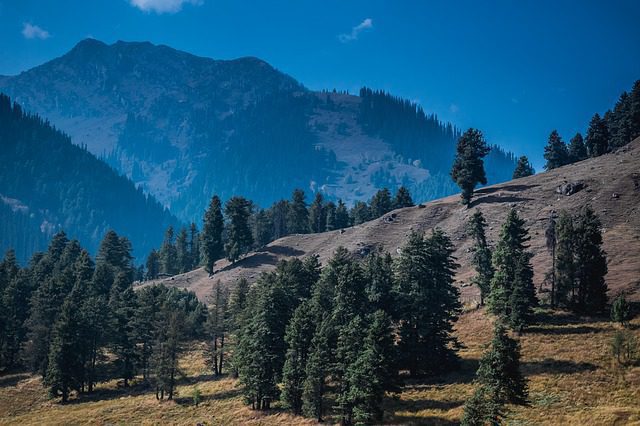 Simply the most beautiful hill station in India, Pahalgam has a unique charm. Pahalgam is a feast to the eyes and senses. Submerged in lush greenery and alluring Himalayan ranges, it calls for some moments of peace at nature's own home.
You will be wonderstruck by the beauty of Pahalgam the moment you arrive at this pristine land.
Little houses, green fields and farms of saffron, the valleys are green and very beautiful. You can go on fishing trips or trek on one of the plenty of mountains that cover this place. The 18 hole golf course is set among the snowcapped surroundings of Pahalgam. It can make a really worthy experience to remember for a long time.