These are the most haunted places in India! Each one has a unique story and an aura around it. Travel at your own risk!
India is a destination of rich culture, spirituality, religion and philosophy. It is however also a place where ghost stories are the most important conversation, that happens during late night family gatherings.
People here are fascinated by ghost stories. Sadly even a prolific movie industry like Bollywood does not produce horror movies that leave a mark. Still Indians are fascinated by ghost stories with intrigue and excitement.
There is however also not any dearth of haunted places in India.  So lets have a look at the most comprehensive list of  10 Most haunted places in India
1. Bhangarh Fort, Alwar, Rajasthan – The Most Haunted Place in India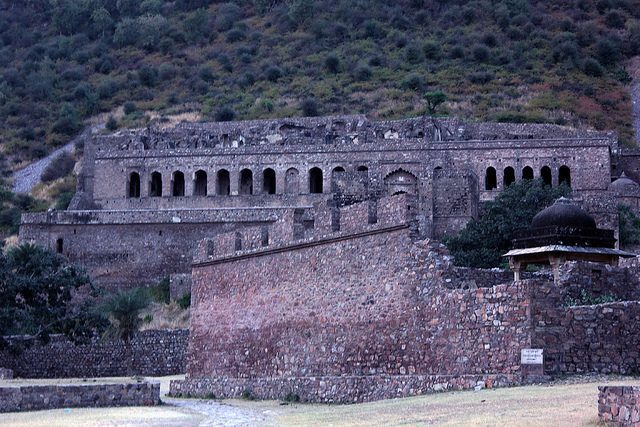 The Indian Ghost Town of Bhangarh, Rajasthan is undoubtedly the scariest places in India, in addition to being one of the most well known ghost town of India, where a ghost town (abandoned) is a rarity due to its population density.
However, adventure seekers often hog down to this ghost town to have that extra bit of ghostly kick. This place is frequently visited. It is also not only the most haunted place in India but one among the most haunted places in the world.
The Story behind the most haunted place in India, Bhangarh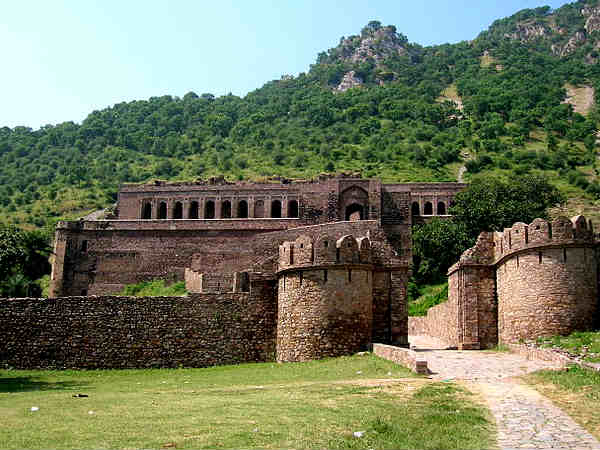 According to the collected memory of the residents nearby about the most haunted place in India. A Tantrik  (Magician) Singhia was a common citizen who fell in love with Princess Ratnavati.
He tried to use his magic spells to win over her, but the princess gets to know of the sinister plan and orders his killing. Before the Tantrik died, he cursed the residents of the fort to die and the village dwellers to remain roofless forever. Certain villages in the city are roofless. Even if a roof is built, it collapses soon after.
Another legend states that the city of Bhangarh was cursed by the Guru Balu Nath, who sanctioned the establishment of the town with one condition, saying, "The moment the shadows of your palaces touch me, the city shall be no more!"
When a descendant raised the palace to a height that cast a shadow on Balu Nath's forbidden retreat, he cursed the town as prophesied. Balu Nath is said to lie buried there to this day in a small tomb nearby.
Despite the story behind this ghost town. it still is an amazing place to visit. In fact, it has also been officially promoted as a tourist destination. However, once night falls, the place becomes deserted, leaving the darkness to engulf it once again till morning comes.
The Archaeological Survey of India, even has a signage stating the visitors should not be staying at the fort during night time.
How to reach Bhangarh Fort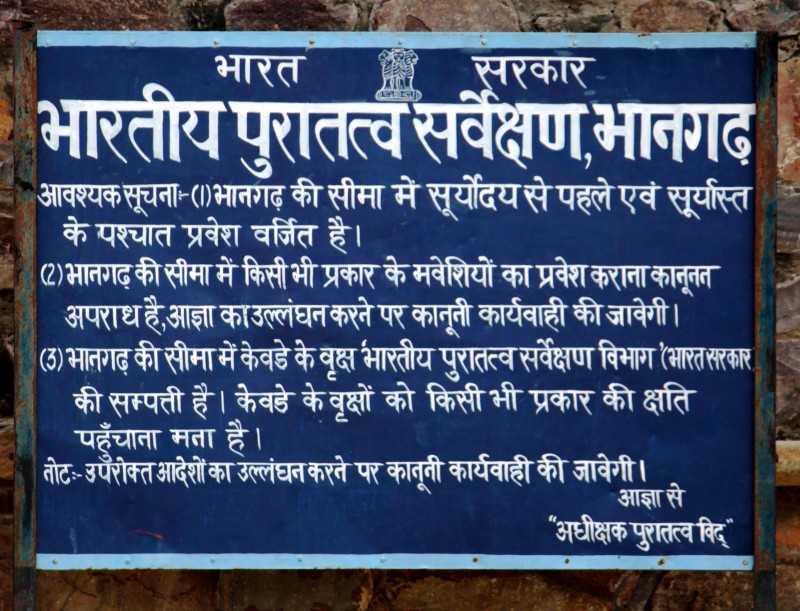 Bhangarh lies between Jaipur and Alwal. Route from Delhi : Delhi-Gurgaon-Bhiwadi-Alwar-Sariska-Thanagazhi-Pratapgarh-Ajabgarh-Bhangarh. It's a nearly 300-km drive from Delhi.
Best to travel in a SUV and always carry a spare tyres as there are stretches where for long stretches there are no petrol pumps or habitations.
Also Bhangarh is one of the most go to destination because of ease of travel and proximity to Delhi. The place itself is beautiful and proximity to Delhi is an added bonus.
2. Dumas Black Sand Beach in Surat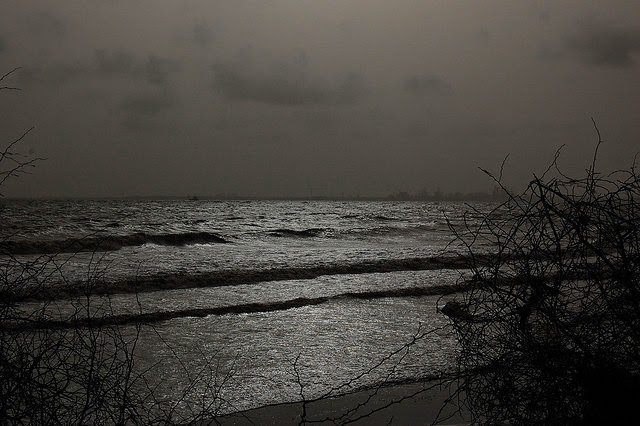 Along the Arabian Sea and about 13 miles southwest of Surat, nestled in the Western Indian state of Gujarat, lies the Dumas Beach. Arguably, it is one of the most beautiful and scenic beaches in India. However despite all the beauty, lies a paranormal mystery, which awaits to be discovered.
Interestingly during the day time, the Dumas Beach is just like any other normal beach, visited by may tourists  along the wide stretch of sand, swimming in the water and relaxing under the sun.
Story behind the Dumas Black Sand Beach in Surat
It is believed that the beach was used as a burial ground for long and hence is home to several evil spirits. People have reported hearing whispers of other people talking when they were alone on the beach.
The beach has black sand, and is notorious for incidents, such as people disappearing. howling sounds at night, Most of the natives say that the spirits walk down on the beach at night. To this day, there have been numerous reports of paranormal activity on the beach, where visitors claim to hear strange noises and voices
How to reach Dumas Black Sand Beach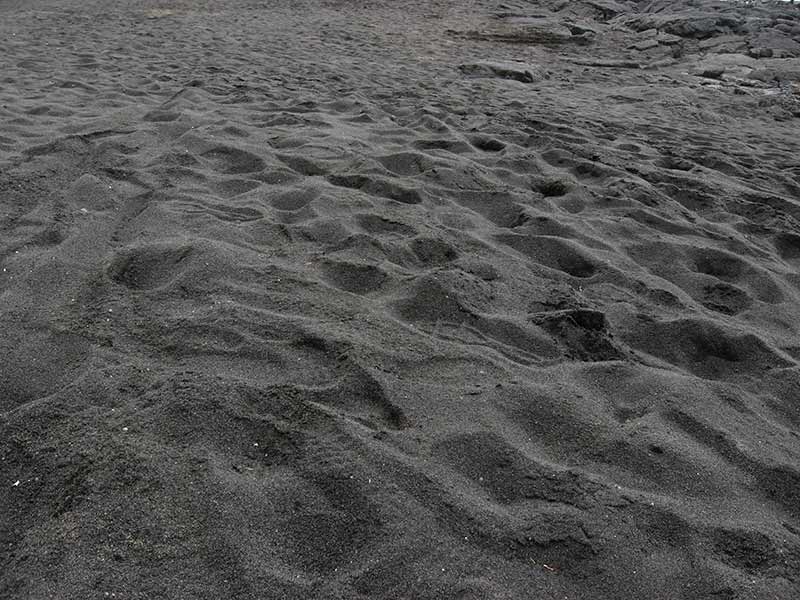 There are many ways of reaching Surat and then to Dumas Beach. Tourist can reach Surat via road from Mumbai, which is around 285 kilometers (177 miles) and takes around five hours to travel
Tourists can also travel from Ahmedabad, nearly 263 kilometers (163.4 miles) and taking around four hours. The journey can also be made from Vadodara, around 153 kilometers (95 miles) via NH48, or via rail or air – and from Surat city, catch a taxi/cab for Dumas Beach, which is just 18 kilometers (11.1 miles) away.
Even though the beach is said to be shrouded in evil presence, it hasn't stopped tourists from traveling to the beach. Therefore the choice is yours whether you care or dare to explore this mysterious beach in India.
3. Kuldhara – Jaisalmer, Most Haunted Places in India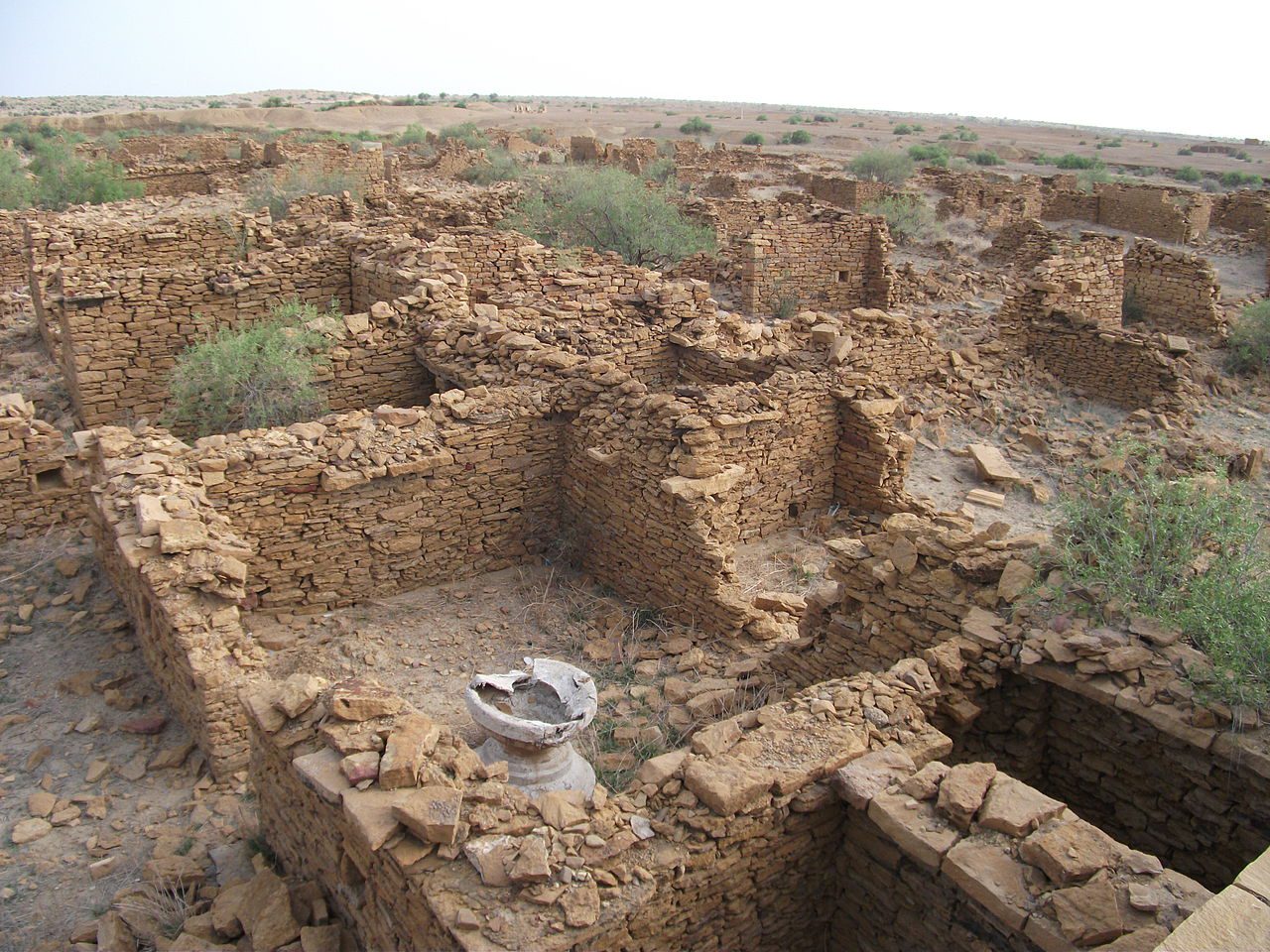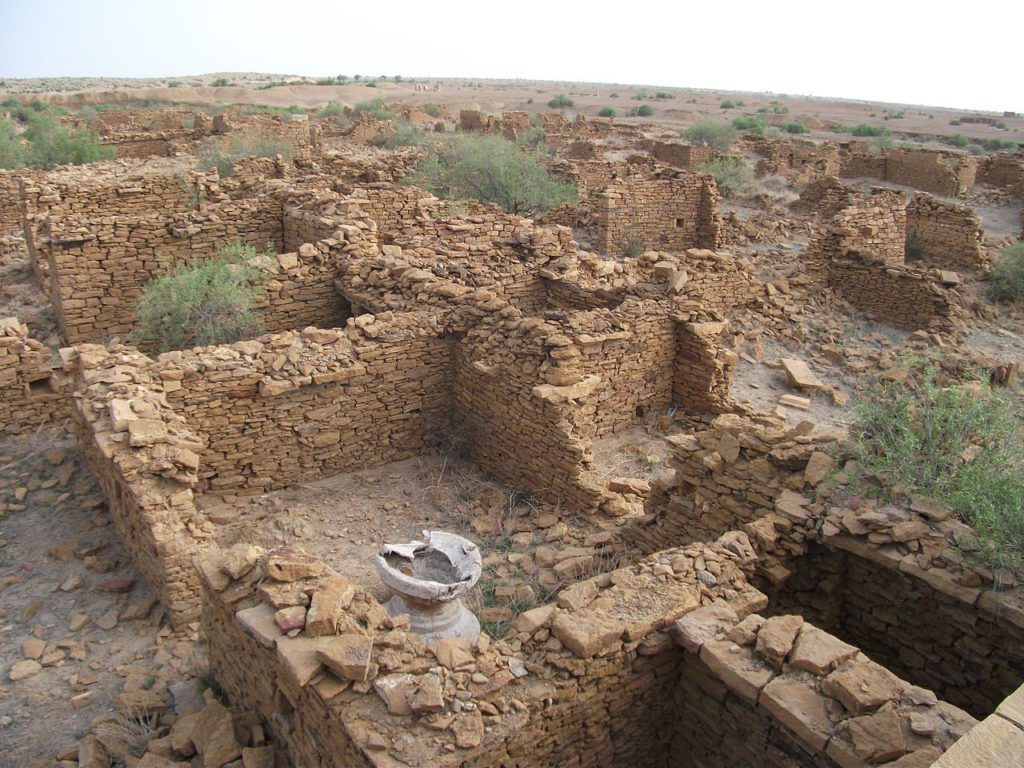 Kuldhara is an abandoned village in the Jaisalmer district of Rajasthan, India. Established around 13th century, it was once a prosperous village inhabited by Paliwal Brahmins.
One night in 1825, all the people of Kuldhara and 83 nearby villages vanished all of a sudden. One  possibility is quoted as depletion of water supply, or as a local legend claims, because of persecution by the Jaisalmer State's minister Salim Singh. A 2017 study however suggests that Kuldhara and other neighboring villages were abandoned because of an earthquake.
It was established in 1291 by Paliwal Brahmins, known for their business acumen and agricultural knowledge.
Story behind the haunting of Kuldhara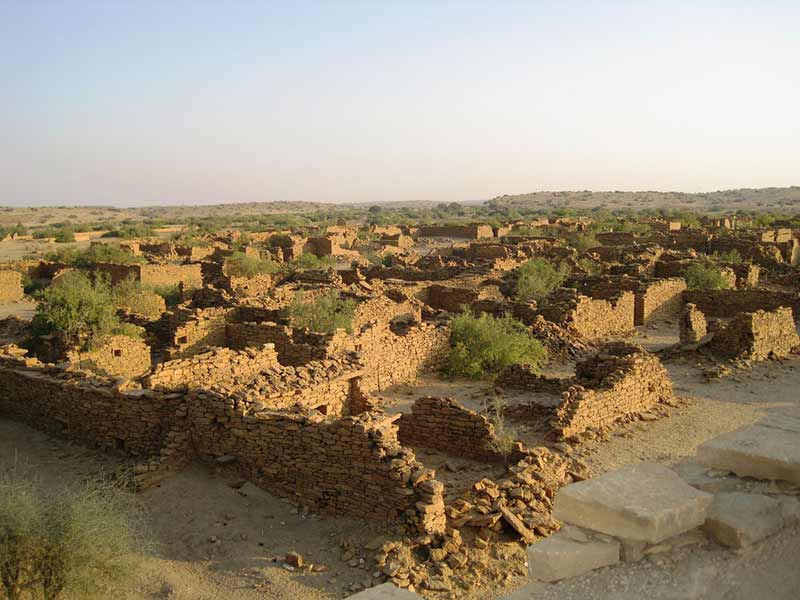 The mystery of the vanishing villagers is quite intriguing. Though a story talks of Salim Singh, then minister of state, who fell in love with the beautiful daughter of the village chieftain. He threatened the villagers of huge taxes, should they fail to get him married to her. The chief of the village, along with those of the nearby 83 villages, decided to abandon their villages. It is also said that the villagers, before leaving, cursed the village that no one could ever inhabit the land.
How to reach Kuldhara – Jaisalmer
Jaisalmer can be travelled by road, bus, train or domestic flight from Delhi. Jaisalmer Airport is located 17 kilometres south-east of Jaisalmer. On reaching Jaisalmer you can take a taxi to Kuldhara Village. The distance between Kuldhara and Jaisalmer is around 35 KM.
4. The Charleville mansion-Shimla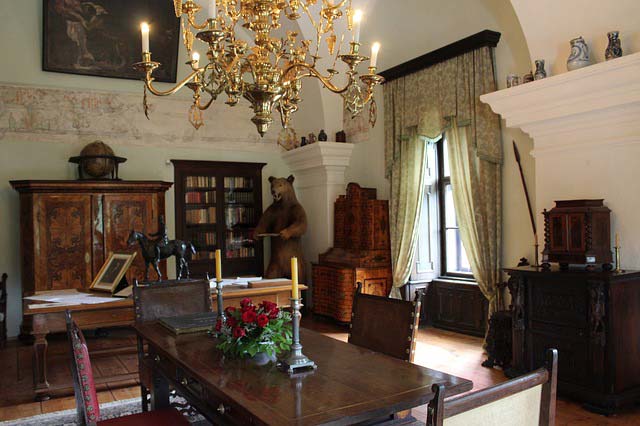 Charleville Mansion, a century-old deserted castle. It was built during the British colonial time and was rented in 1913 by the British officer Victor Bayley and his wife.
Even Rudyard Kipling in his book My Own True Ghost Story talks about this mansion in Shimla. According to the legend, Victor Bayley came to Shimla with his wife in 1913 when he was appointed the Assistant Secretary of the Railway Board.
The couple decided to stay at Charleville Mansion because But, little did thye know that this mansion had paranormal presence. When he heard the story of the paranormal presence from a local, he decided to test the authenticity of the haunting stories. So, he locked the room where most of the haunted activities were reported.
When he opened the room, to his surprise, he found the room in shatters. Many other stories have been reported by the Bayleys and subsequent residents.
How to reach The Charleville mansion-Shimla
Road/Self Drive. Around 340 KM from Delhi
By Air. Jubarhati, which is about 23 kilometres from the town, is the nearest airport. …
By Bus. There are several bus services including Himachal Road Transport Corporation buses as well as private operators connecting Shimla to the major cities in North India.
By Train from Kalka, 90 KM from Shimla. Shimla has a toy train station where the toy train runs to Kalka.
5. Ramoji Film City, Hyderabad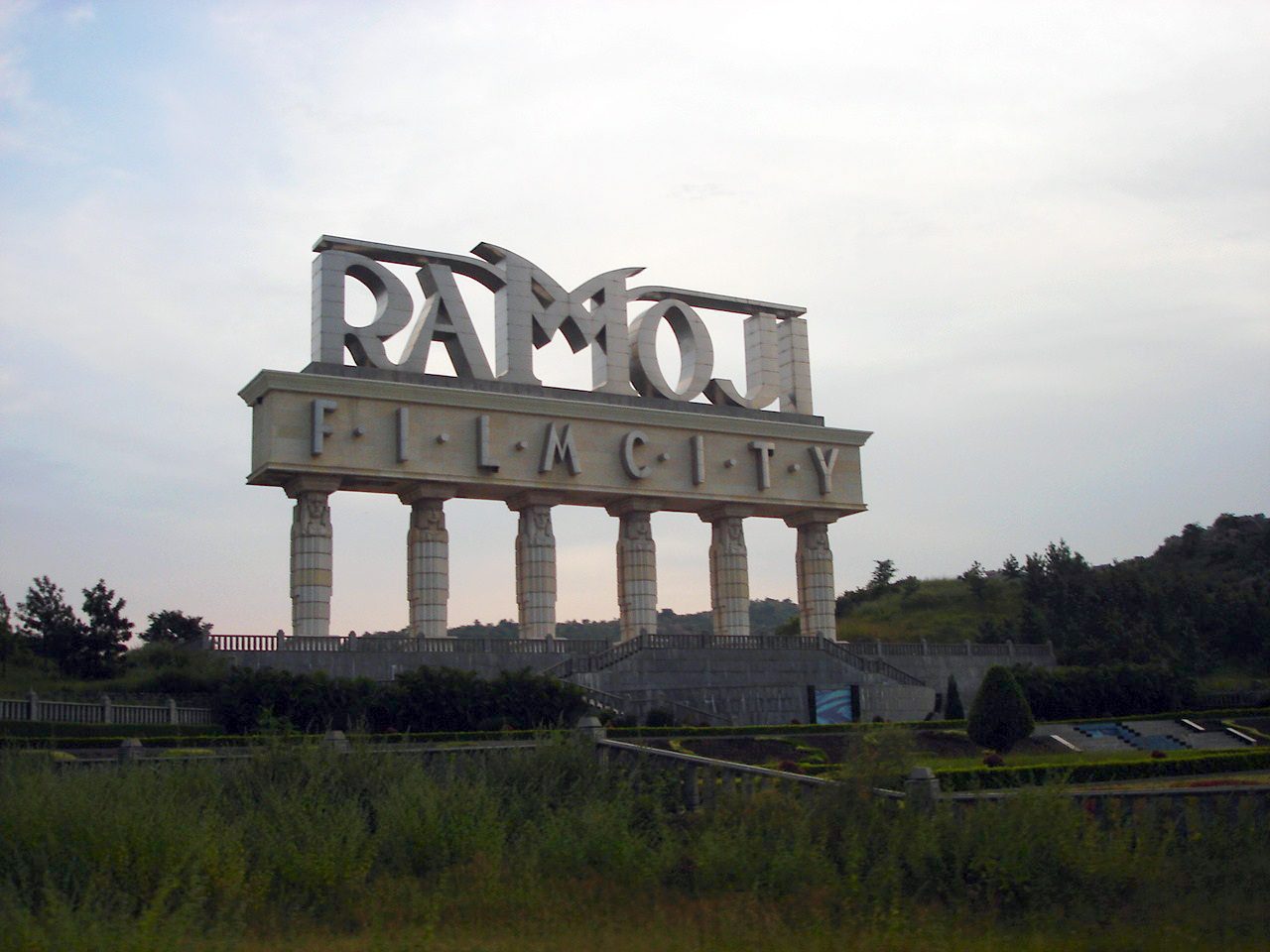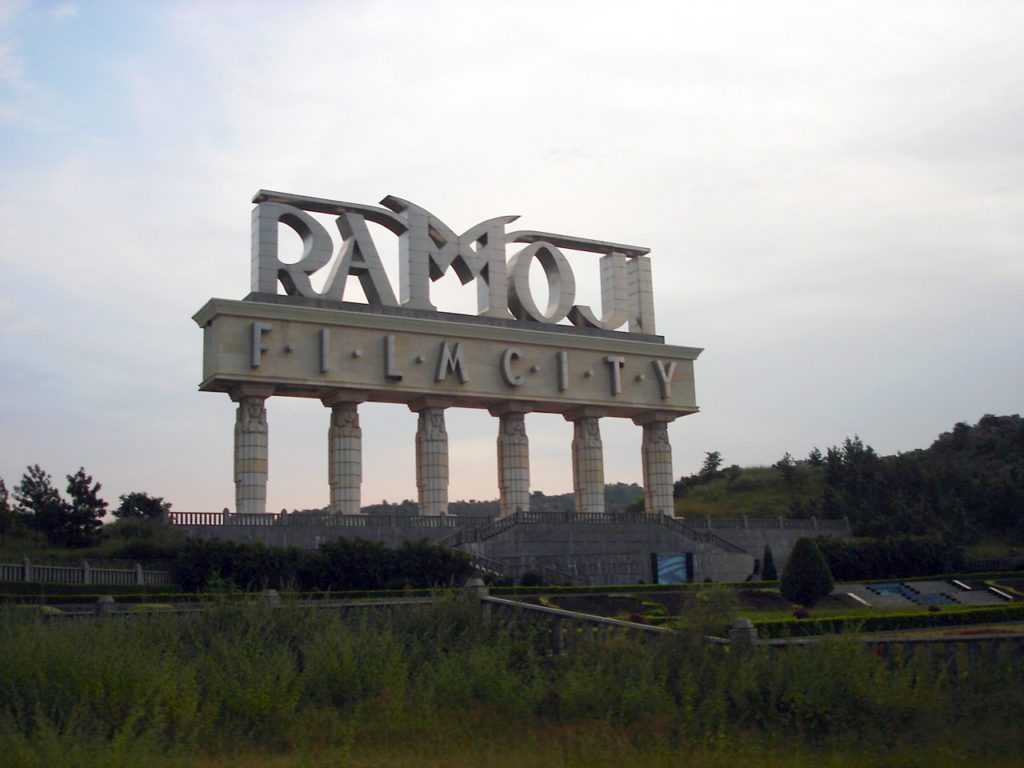 Being one of the biggest film cities in the country, this place is home to a lot of hotels which have been projected to a lot of controversies because of the reported "supernatural activities" in and around them. Interestingly this is the place where famous Indian Film Bahubali and Bahubali-2 have been shot.
Many people report the studio lights falls of without any apparent reason, some studio assistants have been injured and have complained about somebody pushing them. The food left in rooms also get scattered around the room and unknown marks are left on the mirrors.
Furthermore females are more targeted by the alleged ghosts than the males. Girls reported an invisible force tearing their clothes off, some said they felt someone knock their washroom doors while the rooms remain locked from the inside. They create havoc. Many preventive measures have been taken but in vain. Must visit haunted place in India in case you want to experience the paranormal for yourself.
How to reach Ramoji Film City, Hyderabad
Ramoji Film City is well within the driving distance of Hyderabad . Hyderabad is well connected with all other major Indian cities by train and bus. Hyderbad also has an international airport with direct flights from many countries
Ramoji Film City is within Driving distance of Chennai (613 Kms – 10.00 hours) as well. Just in case you wish to travel from Chennai.
Some other major options
IRCTC Ramoji Film City Tour – The IRCTC has a Ramoji Film City Tour as well. They can pick you up directly from Secunderabad. Vehicle can be AC or non-AC, depending on the package you choose.
AP Tourism Ramoji Film City Tour – Pickup from Secunderabad, in Yatri Nivas, is at 7:30 am.
6. Brindaban Society, Thane – Most Haunted places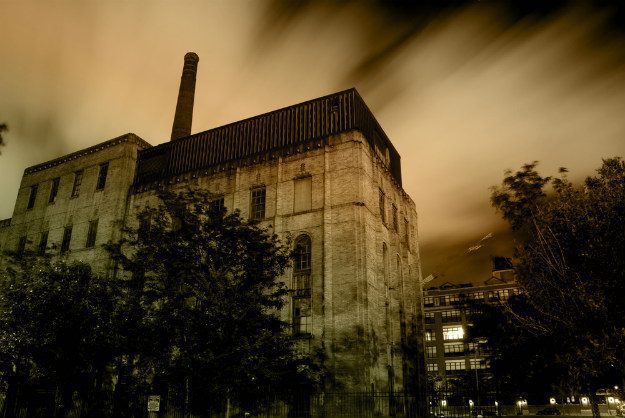 Also sometime referred as Vrindavan Society, is a large residential building complex in Thane, Maharashtra, India. It was developed by a venture of Mittal and Raheja Developers. The first building in this 100+ apartment building complex was constructed in 1984 and the project was completed in the early 90s.
In early days this was considered to be situated at a secluded location, away from the city However with fast infrastructure development of Thane, this complex is now considered to be centrally located.
Brindavan is now generally considered to be a safe neighborhood and has a number of schools in the vicinity. There are also a number of grocery stores, dry cleaners,internet cafes, health clubs and eateries in the complex.
There are hundreds of building in the complex. Despite this, every once in a while there are stories of people who are slapped by ghosts!
Story behind Brindaban Society haunting
The story is about a man who lived in building 66B during early days. He committed suicide in his flat in the Society. Ever since then, his spirit has haunted people in the middle of the night.
Allegedly the ghost of this man has slapped guards on night duty.  Some residents also talk about an eerie presence in their flats at night or see his spirit in the society. Though there are non-believers too who haven't experienced anything of this sort despite living in the society for years, those who have can never shake it off.
The slapping ghost has gained enough coverage and has made Brindaban Society one of the most haunted places in India. People continue to stay here but there is always something mysteriously spooky about 66B and not many like to go near that building late at night.
Why the ghost slaps people isn't clear but word on the street is that there is spirit and it refuses to leave even after so many years.
How to reach Brindaban Society
It is in Thane which is an easy drive from Mumbai, Mumbai connects with all major cities in India and abroad.
7. The Shaniwarwada Fort in Pune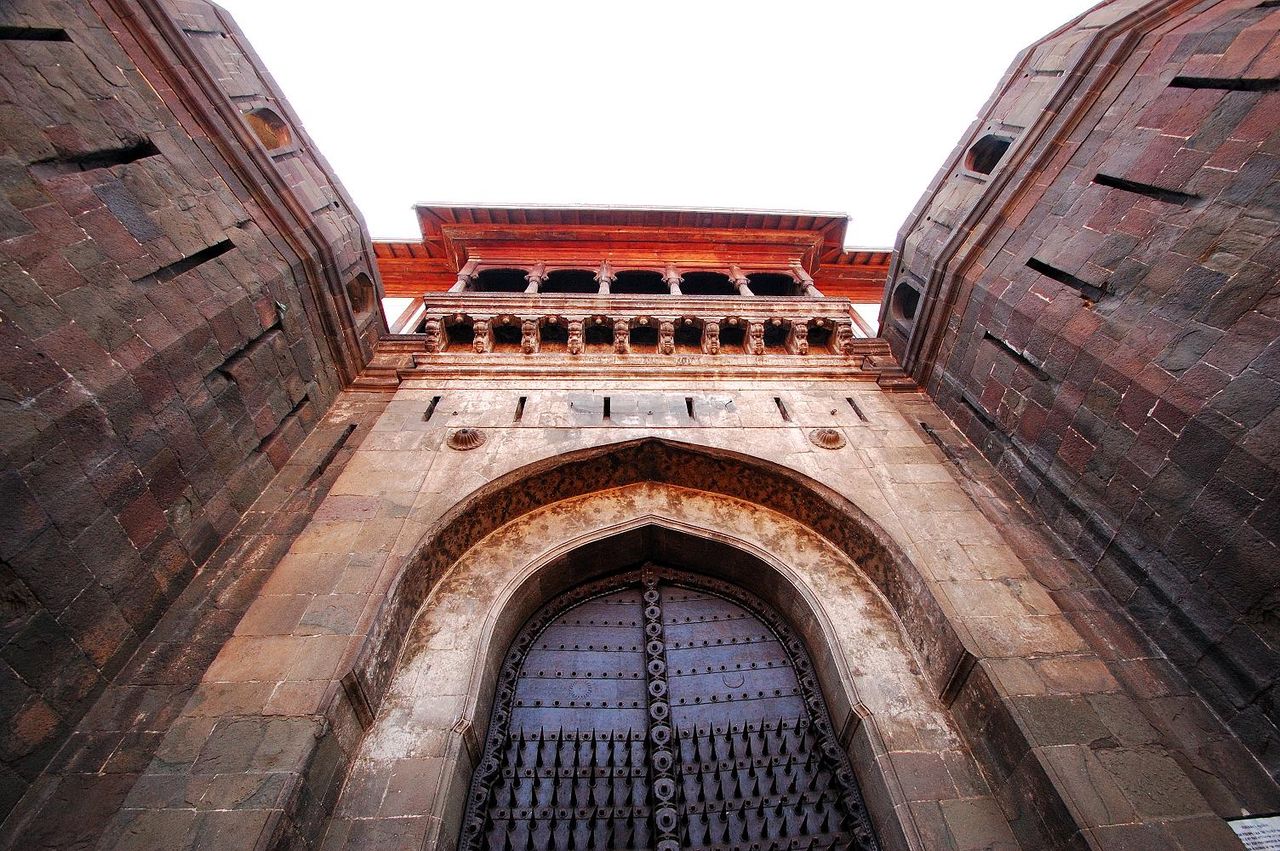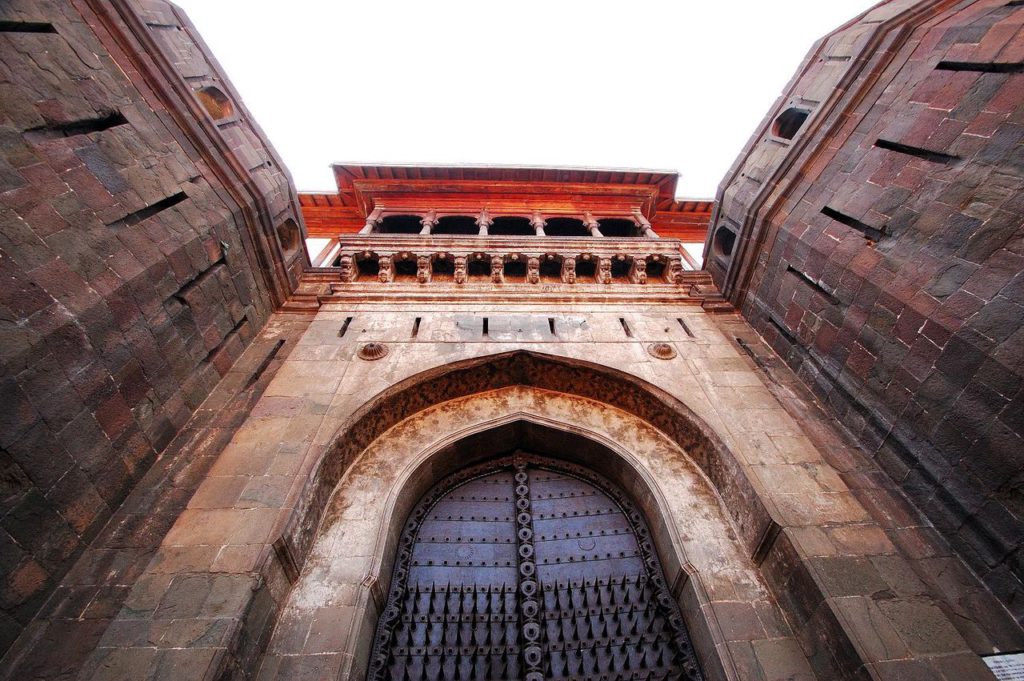 The Shaniwarwada Fort in Pune is a historical delight in addition to being one of the ghostly places in India. In fact, there are many who are of the opinion that the story that is associated with this fort is one of the most chilling stories. Lauded for its architectural brilliance, this fort has witnessed various strange occurrences.
Story behind The Shaniwarwada Fort
Local legends hold that the Pandyas cursed the village with a haunting to frighten anyone who tried to occupy it.The local residents around the area do not believe in the legends, but propagate them for tourism. The Indian Paranormal Society's Gaurav Tiwari believes the village is haunted.
Legend has it that during a full moon, the level of supernatural activity increases. The mysterious story surrounding this fort talks about how a young prince was brutally murdered by one of his very own relatives in the fort. Therefore, his spirit still haunts the place and in the night, sounds of him shrieking almost violently can be heard. There are many locals who actually camp at night on the fort grounds just to hear that little boy's scream for help. A chilling story indeed.
However, most visitors prefer to visit the fort during the morning hours as it is desirable. In fact, the fort is deserted at night except for maybe a caretaker doing the rounds.
How to reach The Shaniwarwada Fort
It is situated within Pune. Pune is well connected city in India with major railway, air and road connectivity. Pune also has an international airport.
8. Tunnel No. 33 on Shimla-Kalka Train Route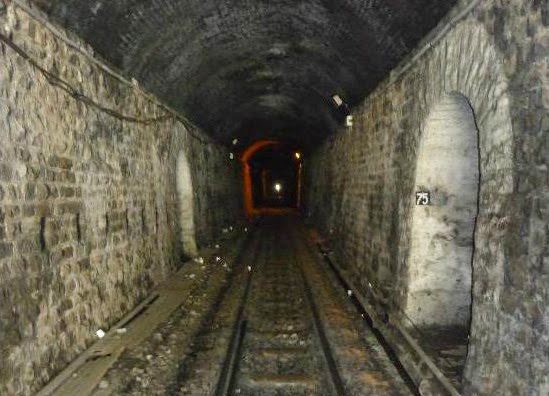 In North West India, the Kalka – Shimla Railway is a 2 feet 6 inches (762 mm) narrow gauge railway which travells along a beautiful mountainous route. A contract for construction of a 2 ft gauge railway line between Kalka and Shimla was signed in, 1898, between the Railway Company of Delhi – Ambala – Kalka line and the Secretary of state. T
he railway line between Kalka and Shimla was opened for public on Monday, November 09, 1903, which included 889 long and short bridges and 107 tunnels. All the tunnels were renumbered in 1930, and 4 out of 107 tunnels were found unfit for operations and were discarded. Thus only 103 tunnels were in operation after 1930. After 76 years, in 2006, tunnel number 46 near the Solan Brewery was also dismantled, leaving 102 tunnels in operation at present. These 102 operational tunnels constitute 8% of the total length of the Kalka – Shimla Railway. The Kalka – Shimla Railway is a real tribute to the daring and efficient engineers who bored 107 tunnels in a very small span of time and showed the world how a railways could steer through a mountainous terrain without destroying the natural flora and fauna of the hills.
Story Behind the tunnel Haunting
After the death of Colonel Barog, there were rumors of his ghost being seen lingering in the adjacent areas. It is said that many people saw the ghost of the Colonel in and around the tunnel.
People are damn sure that the darkness of the tunnel, contains something mysterious and eerie in its silence. The tunnel is quite scary with is wet and damp walls. It is 140 yards long, water drips from its ceiling, and only after a few steps it gets very dark in the tunnel.
The Government has tried to block the entrance of the tunnel by fitting a metal door but the lock is broken since a long time and anyone can open the creepy old door and feel the eeriness.
9. Savoy Hotel, Mussoorie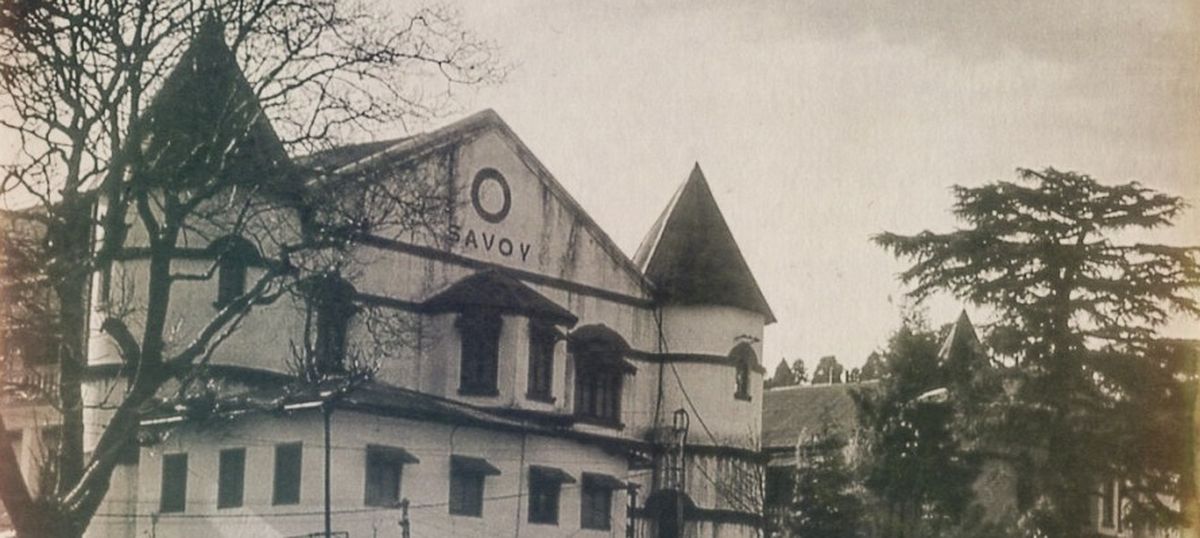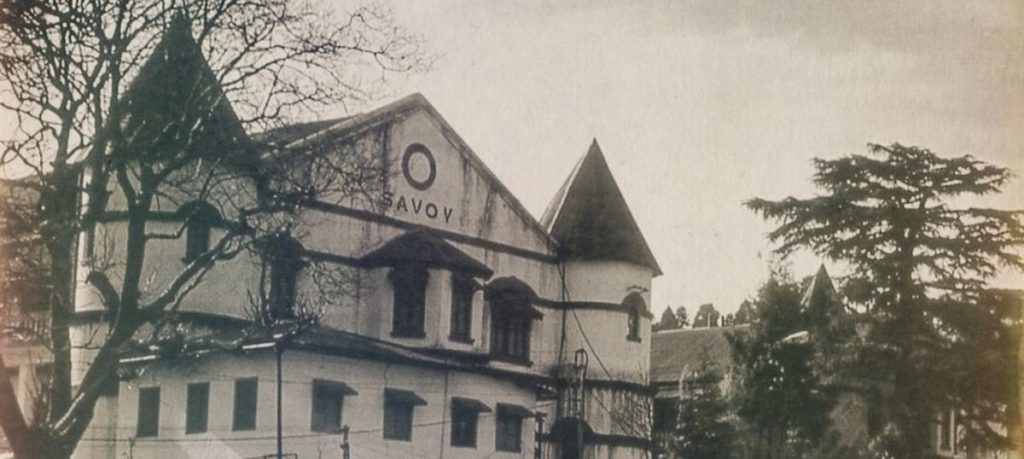 The ghosts of the Savoy: The Mussoorie murder mystery that inspired Agatha Christie's first novel
An unresolved mystery at Mussoorie's Savoy Hotel gave Agatha Christie her first novel, The Mysterious Affair at Styles (1920). The death of an English spinster under mysterious circumstances in one part of the British Empire led to the birth of Christie's avuncular aesthete, Hercule Poirot, in another. But there was something very distinct about the melancholy air of Mussoorie that enabled this transmogrification
Story behind Savoy Hotel, Mussoorie haunting
In 1911, a British spiritualist was found dead at the Savoy in her room, which was locked from inside. Her ghost is still said to haunt the property.
How to reach
A little ahead of Mussoorie Library, on the road to Happy Valley, lies the Savoy. The hotel was built by Cecil D Lincoln, an Irish barrister from Lucknow, on the site of Reverend Maddock's Mussoorie School, and was completed in 1902.
10. Delhi cant,  New Delhi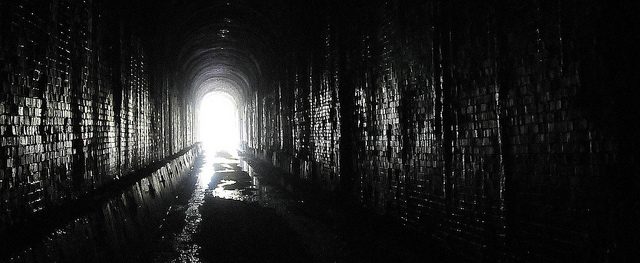 The tenth haunted place in our list is Delhi Cantonment. It is one of the most haunted sites in Delhi. It is said that Delhi Cantonment is a shelter of a lady ghost, who was supposedly killed in a car accident.
Many people who have visited the area have experienced her existence. The lady's spirit tries to attract people who pass by the area.
Story Behind Delhi Cant
People says various stories about the ghost lady of Delhi Cantonment. It is said that Delhi Cantt is a shelter of a lady ghost, who supposedly killed in a car accident. Many people who have visited the area have experienced her existence over and over again. The lady's spirit tries to attract passer-bys and if people do not stop their cars, she runs afters the car and if they stop she disappears.
Older people advices not to stop vehicles if someone tries to stop you while passing this area.
How to reach Delhi Cant
It is in the heart of National capital of Delhi. Do I need to give more inputs to you? Visit at night if you really want to explore the place at its best!