Hyderabad baked herby chicken korma
Chicken was not widely cooked in Hyderabad. In fact, it was considered unclean for a while, so red meats were the dominant protein. As a result, there are few traditional chicken dishes in Hyderabad but they do make chicken korma and they often pot-roasted it. I bake it in the oven, as it is easier. You can also add blanched almonds, blended with water, as that would normally be used to enrich the korma, but I add a little cream instead. Do blend the herbs to a fine paste if possible for a silky smooth sauce. Serve with Indian breads, sliced fried potatoes, vegetables or pilaf rice. Serves 4–6
---
Ingredients for Hyderabad baked herby chicken korma
[su_list icon="icon: adjust" icon_color="#e32323″]
20g (1½ tbsp) roughly chopped root ginger (peeled weight)
6 large garlic cloves
275g (1 cup) Greek yogurt
salt and freshly ground black pepper
8 medium-small, bone-in, skinless chicken pieces (around 1.2kg/2lb 12oz)
4 tbsp desiccated coconut
vegetable oil
2 medium-large red onions, finely sliced
40g (1? packed cups) coriander (cilantro) leaves and stalks, plus more to serve
20g (¾ packed cup) mint leaves (around 40g with stalks)
1 rounded tsp garam masala (fresh if possible)
2 tsp lemon juice, or to taste
2–4 green chillies (chiles), stalks removed, pierced with a knife
4 tbsp single (light) cream
[/su_list]
---
Cooking Instructions for Hyderabad baked herby chicken korma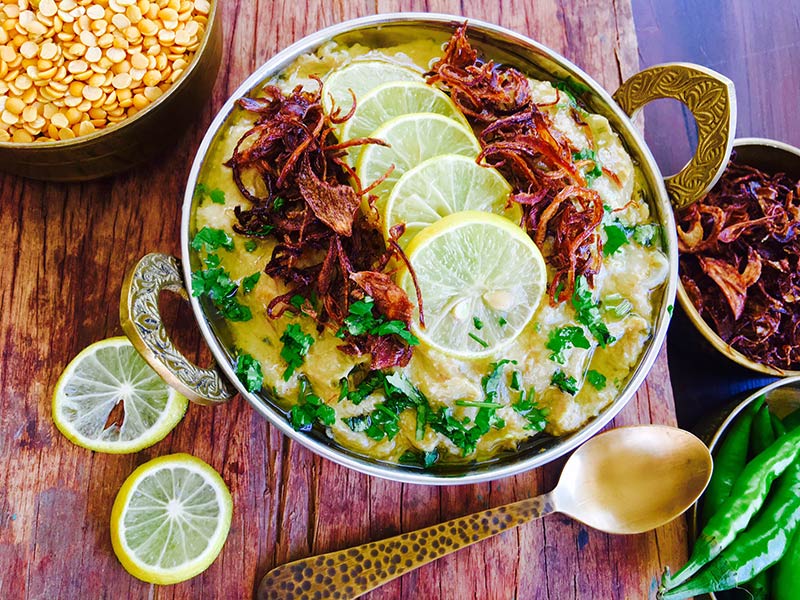 [su_list icon="icon: adjust" icon_color="#e32323″]
Blend together the ginger, garlic and yogurt and 1 tsp salt. Rub this under the skin of the chicken and leave to marinate for 1 hour, if possible. Pound the coconut in a mortar and pestle until it is powdery.
Heat 4cm (1½in) of oil in a small-ish saucepan over a medium heat. Add the onions and fry until golden and crisp on the edges. Drain off the oil and set aside.
Set aside a quarter of the onions and place the rest in the same blender container as you used for the yogurt mixture (no need to wash) along with 2 tbsp of the cooking oil (use the rest for cooking another dish, it will taste of delicious fried onions), the herbs, coconut, garam masala and lemon juice. Blend until smooth; you might need to add a little water to help the blades turn. Pour this over the chicken and mix well. Now, leave it for as long as you can to marinate, covered in the fridge, or at room temperature if it is just for 1 hour. If you are in a hurry, you can also just cook it now.
Preheat the oven to 180°C/350°F/gas mark 4. Place the chicken and marinade in a large baking dish that can take the chicken in a single, snug layer. Tuck in the chillies, if using.
Bake on the middle shelf of the oven until done, 40–45 minutes, basting every now and again. Once done, if the chicken doesn't have any colour, place on the upper shelf for 5 minutes or so.
Stir the cream into the pan juices and mix well. Taste and adjust the seasoning and lemon juice to taste. Serve hot, sprinkled with the reserved onions and extra coriander, along with potatoes, rice or Indian breads.
[/su_list]