Chinese immigration in the 18th Century to work at various Indian port cities gives India its first taste of Chinese food. Then two cultures met with the best of their cultures and cuisine. In modern days at almost all major fast food joints, Chilli Panner is among the most sought items with vegetarians.
It gives a lovely sticky, spicy, sweet sauce that clings to the paneer. The green chilies here add depth but not too much heat as they do not cook too long and the seeds and membranes remain inside. Interestingly Paneer Chilli is the only recipe by IndianYug where we use ketchup, as it works, adding a sweetness and some vinegar. It is good to be served with some rice, but it is great to have chilli paneer in standalone. Serves 3–4
INGREDIENTS FOR PANEER CHILLI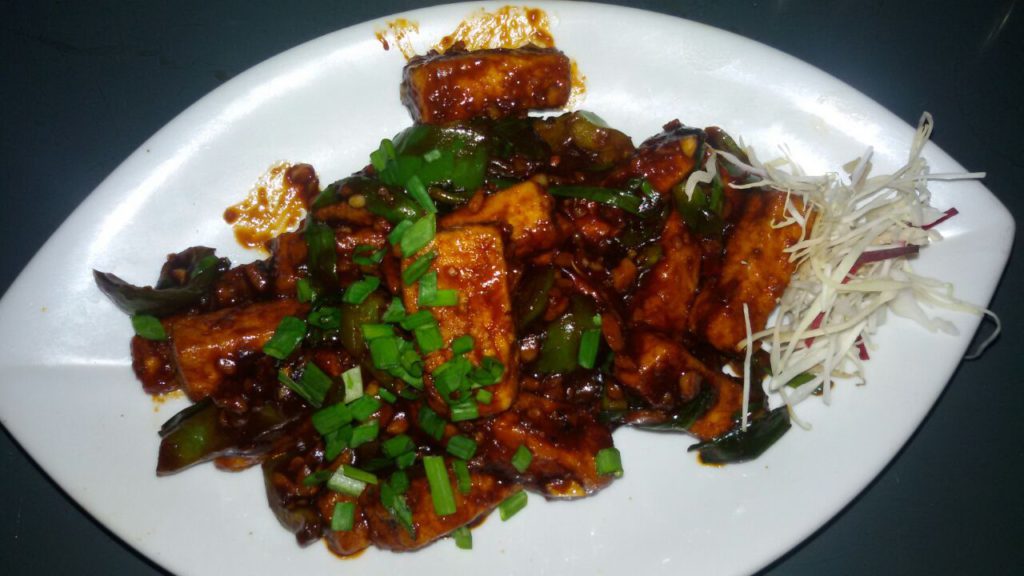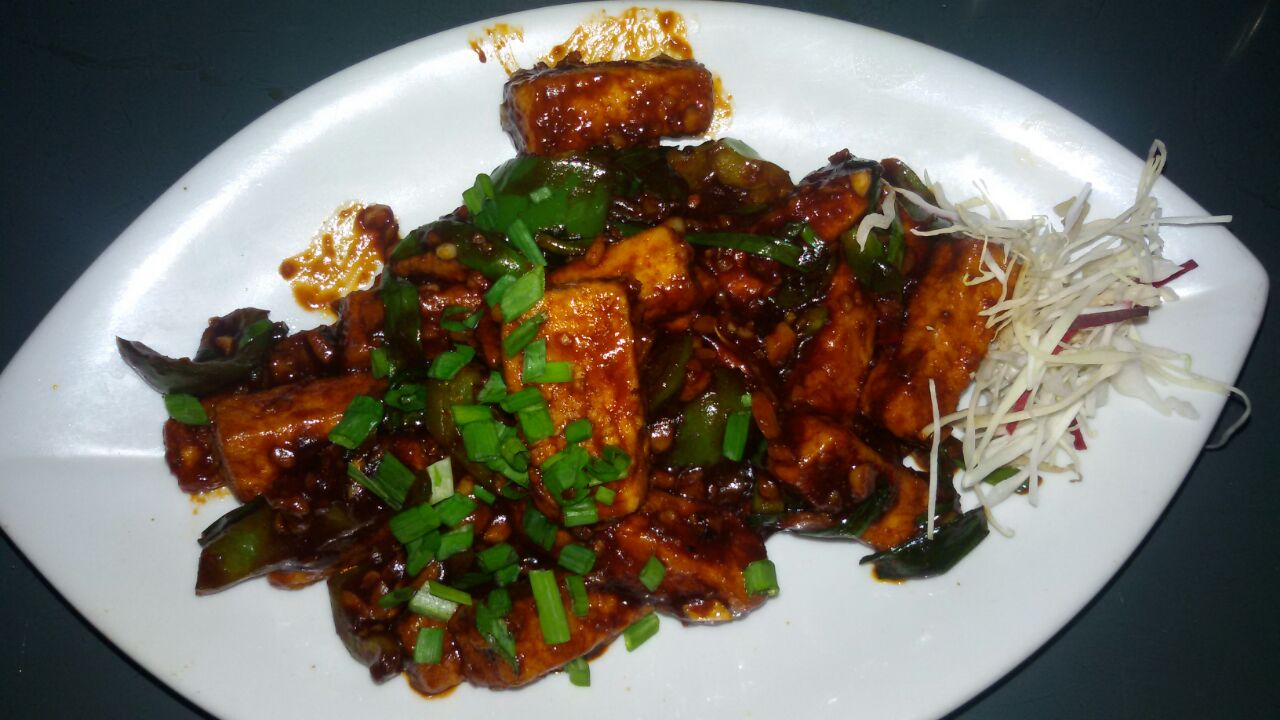 4 large garlic cloves
12g (1 scant tbsp) roughly chopped root ginger (peeled weight)
2 tbsp tomato ketchup
2 tbsp tomato purée
3 tbsp dark soy sauce
3 tbsp cornflour (cornstarch)
2 tbsp plain (all-purpose) flour
300g (10½oz) paneer (ideally fresh), cut into 2.5cm (1in) cubes
4 tbsp vegetable oil
1 small red onion, cut into 2.5cm (1in) cubes
1 small green or red (bell) pepper, cut into 2.5cm (1in) cubes
3–6 green chilies, stalks removed, pierced with a knife
1½–2 tsp white wine or rice vinegar, to taste
1 large spring onion (scallion), thinly sliced on the diagonal
salt
¼ tsp freshly ground black pepper, or to taste
COOKING INSTRUCTION FOR PANEER CHILLI
Blend the garlic and ginger until smooth, adding a little water to help the blades turn. Separately, mix together the tomato ketchup, tomato purée, and dark soy sauce. Lastly, stir together the cornflour, flour and 4–5 tbsp water and gently stir in the paneer.
Heat 2 tbsp of the oil in a large, wide frying pan over a medium heat. Add the paneer in a single layer; if it does not fit, brown it in 2 batches (don't throw away the flour slurry). Fry the paneer, turning, until golden on all sides.
Take out of the pan and place on kitchen paper to blot off excess oil.
Add the remaining oil to the pan.
Add the garlic and ginger paste and cook over a medium heat until it is just starting to color.
Add the onion, pepper, chilies and a small splash of water to stop the garlic from darkening too much. Stir-fry for 4 minutes or so, splashing in a little more water if the garlic is getting dark.
Add the paneer, the ketchup mixture, vinegar and 2 tsp of the flour slurry, with a good splash of water from the kettle. Stir-fry until the whole thing comes together into a lovely sticky sauce. Add the spring onion, season to taste and serve.