Amritsar has a unique recipe for tandoor-cooked bread stuffed with potatoes or paneer, onions and many other vegetables and even non-vegetation dishes. Amritsari Kulcha Bread Spiced Potato Stuffed is  one of the dishes I had a chance to eat in Amritsar and, when you eat the real Amritsary version, it become very clear why they are so loved in Indian breakfast, lunch and even dinner.
Amritsari Kulcha Bread Spiced Potato Stuffed, are crisp outside and soft within with lots of different flavors and textures. However when you eat them fresh on a city street with a cup of masala tea, you are blown away by the taste. Therefore I have tried my best to be as close to original as I could.
Amritsar Kulcha Bread is  normally made with plain flour, but I sometimes make it with chapati flour which makes it healthier to ear. And sometimes I mix the both. This bread is also amazing cooked on a barbecue and you can just brush up with a little ghee or butter before serving. Makes 10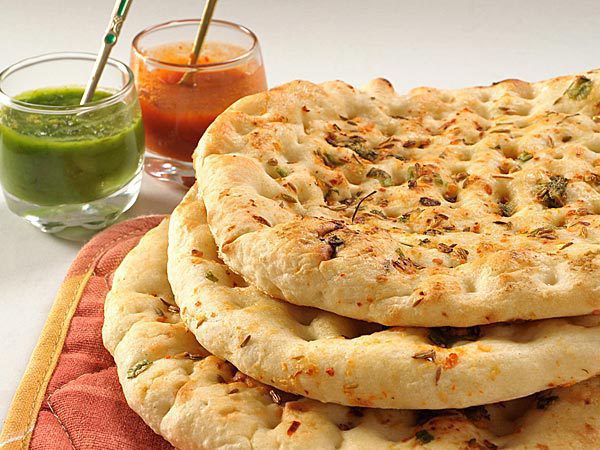 For the dough in Amritsari Kulcha Bread Spiced Potato Stuffed
300g (2⅓ cups) plain (all-purpose) flour, or chapati flour, plus more to dust
1 tsp sugar
1 tsp salt
¼ tsp baking powder
2 tbsp ghee, plus more to form and cook
175–185ml (scant–generous ¾ cup) water
For the filling in Amritsari Kulcha Bread Spiced Potato Stuffed
650g (1lb 7oz) cooked floury potatoes, ideally baked, or boiled in their skins, or microwaved until soft, cut into cubes
½ red onion, finely chopped
1 tbsp ghee
½ tsp carom seeds
2 tsp coriander seeds
½ tsp cumin seeds
½ tsp garam masala (fresh if possible), or to taste
large handful of finely chopped coriander (cilantro)
½–1 Indian green finger chilli (chile), finely chopped
Salt
Instructions of making Amritsari Kulcha Bread Spiced Potato Stuffed
Start with the dough. Then In a bowl, mix together all the dry ingredients.
Add the 2 tbsp ghee and the smaller amount of water and bring it together, and start adding the remaining water if needed.
The dough will sticky in the beginning, but it will absorb the water and soften as it is kneaded.
Divide the dough evenly into 10 balls, cover with a dish towel and leave to rest for around 1 hour.
Meanwhile, mix together the ingredients for the filling with your hands, almost squashing the potatoes in your fist, so the mixture is mostly smooth and homogenous.
Taste and adjust the salt.
Dust a work surface with flour and take a ball of dough. Flatten it with your fingers, dust more flour on top and roll out into a large, thinnish round.
Brush or smear with ½ tsp ghee. Sprinkle over more flour, then take about one-tenth of the filling (around one fistful) and crumble it over the top.
Pat down into a thin layer all over the dough, leaving the edges clean.
Your Amritsari Kulcha Bread Spiced Potato Stuffed is ready. Please do share and comment and provide your valuable feedback by rating the recipe