Yulia Minina from Russia got the surprise of her life when she bought what she thought was a cute little kitten. Instead, it grew into a massive cat that's as big as her four-year-old daughter.
Yulia Minina, who lives in Oskol in Russia, owns a cat named Kefir, who has been dubbed the 'world's biggest cat' and it's not hard to see why.
She brought home the Maine Coon kitten around three years back. Now, she finds it amusing that many people mistake her enormous white cat for a dog.
She's been sharing videos of her huge cat, Kefir, on Instagram. In one such video, Kefir, who belongs to the Maine Coon cat breed, shows off its smarts by standing on its back legs and trying to open a door. Then it rushes outside to enjoy the sun, stretches, and plays in the garden.
The video's caption says, "Tanks are not afraid of dirt. The Yard is our favorite family location. Not a day without the street; not a day without the help of the coolest tools.
Ps: The video is only a small part of all the entertainment of Cafe and a small part of my favorite assistant's cleanliness." Watch the video of the huge furry companion here:
Since it was posted on June 4, the video has been a sensation, racking up an impressive 144,000 views. People can't help but be amazed by the sheer size of the cat.
"I could not even think that an ordinary baby could become so big. He not only grew up big in appearance, he is also very smart and always behaves calmly," Yulia was quoted as saying by The Mirror. 
The Maine Coon is a large domesticated cat breed. It is one of the oldest natural breeds in North America. The breed originated in the U.S. state of Maine, where it is the official state cat.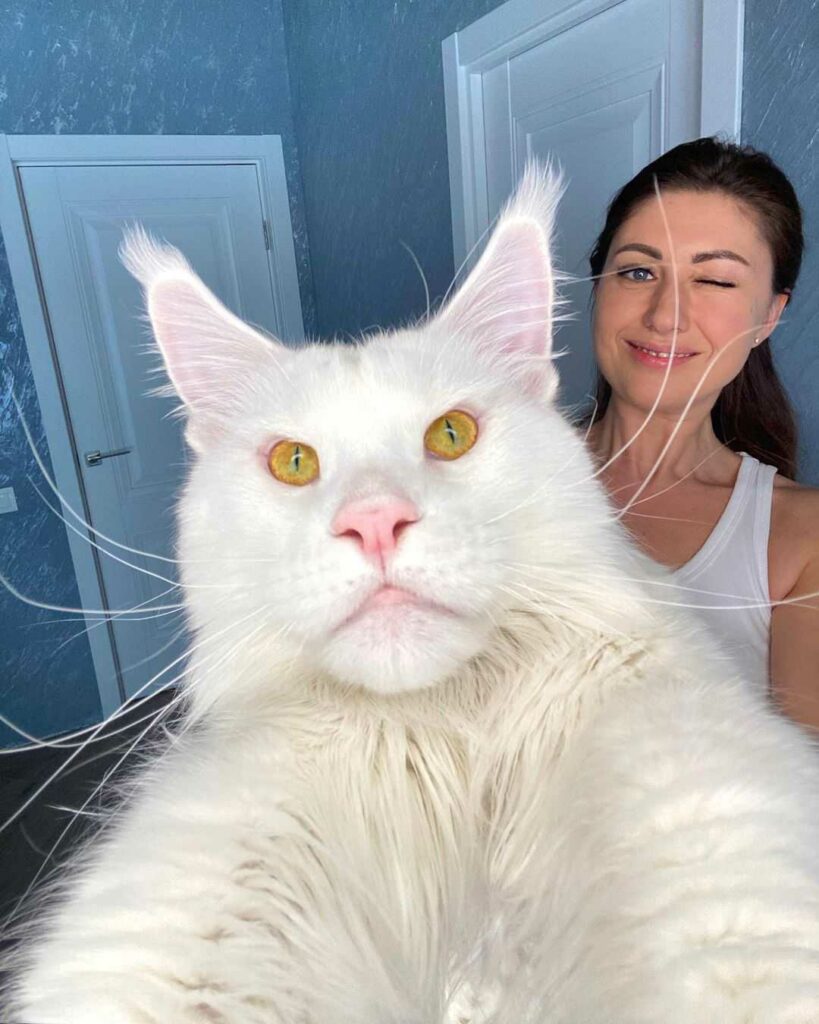 The Instagram post created a storm of comments while watching the huge cat. One Instagram user marveled, saying, "What an amazing kitty! I thought my 25-pound Mason (Moose) was huge when he stands up to check out what's on the table… but Kefir has him beat by a mile."
Another person chimed in, "That's one incredible cat. I didn't even know house cats could get that big, and he seemed so calm and friendly. I think he's just stunning.
I hadn't heard of Maine Coons until I saw them on the internet, but I guess they need more space than an apartment, although I'd definitely consider having one." Another comment simply read, "Yes, he's big and beautiful."
In another heartwarming video, Yulia Minina's daughter and Kefir share precious moments together inside their home.
The pair form an adorable and affectionate bond as they enjoy their time together.
Initially, the video shows her daughter and the cat playing in the kitchen. As the video progresses, the duo relaxes on the couch, watching a movie side by side. You can watch the video below: