From a promise to make Uttar Pradesh a crime-free state to CM Yogi Adityanath declaring 'Gunda Raj' over in UP, the reality strikes again in Uttar Pradesh. If allegations of multiple fake encounters, including that of infamous Vikas Dubey was not enough, a Ghaziabad journalist was shot in front of 2 daughters and succumbs to injuries today.
He has been murdered just 4 days after he filed a complaint regarding the molestation incident involving his niece. What makes this worse is that there seems to be indifference by the police in an incident involving a minor girl just 17 years old, which eventually led to the murder. Uttar Pradesh tops the list in crimes against women and the government seems to have turned a blind eye to such a damaging report.
Murdered journalist's family members alleged police did not investigate the initial complaint. They claimed a police team merely enquired about the whereabouts of the accused but they were not found. The family further alleges that on July 17, a letter had been sent via post to the SSP office demanding action but nothing was done. The police did not arrest the accused in the case which involved crime against a minor girl.
Police version of the action on his earlier complaint regarding eve-teasing by accused
Police said the molestation complaint was filed on June 16, and they registered an FIR the same day. Ghaziabad SSP Kalanidhi Naithani has suspended booth in charge of Vijay Nagar police station SI Raghvendra for alleged dereliction of duty, and an inquiry has been set up under a DSP-rank officer to ascertain the delay in action.
"We are very strict when it comes to crimes against women. The family approached them with a case of molestation. The accused had also filed a counter FIR, alleging they were assaulted by Vikram's relatives. But the policeman should have acted swiftly since it was a crime against a woman," said Dr. Rakesh Mishra, CO 1st, Ghaziabad.
How the events unfolded in the Journalists murder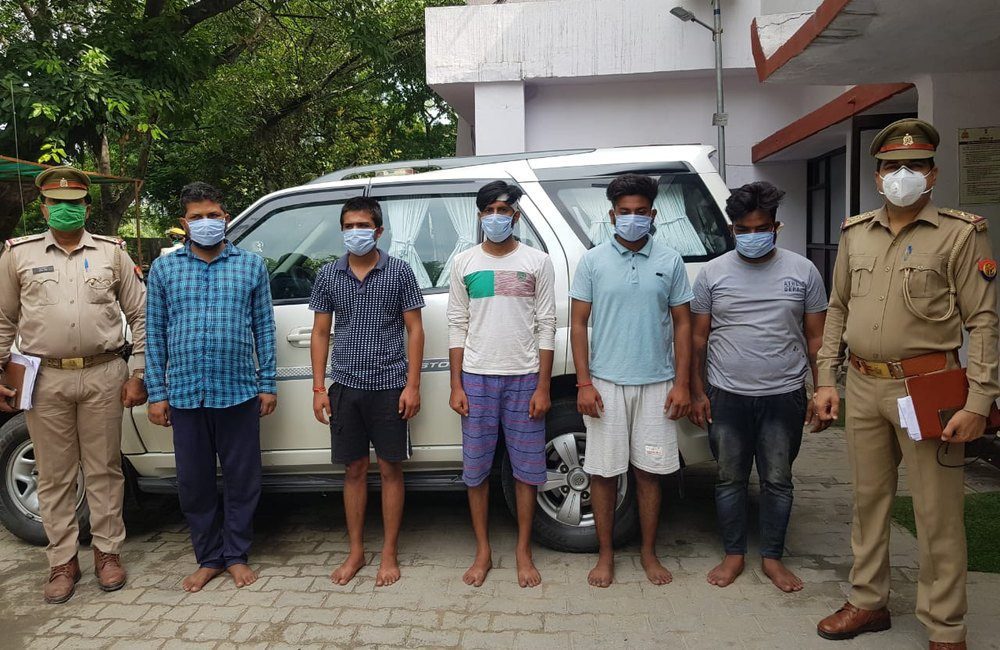 Ghaziabad-based journalist Vikram Joshi, who was shot in the head in front of his two daughters on Monday night, succumbed to injuries on Wednesday morning. "Yes, he is no more. He passed away at around 4 am during treatment at the hospital," a family member told news agency PTI.
The journalist was attacked four days after he filed a complaint against some men for allegedly molesting his relative. Police have arrested nine people so far — Vijay, Mohit, Dalveer, Aakash, Yogendra, Abhishek Mota, Abhishek, Shakir, and the main accused, Ravi.
Police said Joshi, who works with Jan Sagar Today, was on a scooter with his two daughters in Pratap Vihar when he was cornered by a group of men who assaulted and later shot at him. He was rushed to Yashoda Hospital and was in a critical condition in the ICU.
In a dramatic CCTV footage of the violent shooting, that looks like a dramatized version of a movie scene but unfortunately belongs to the national capital region of Ghaziabad, Joshi can be seen riding a two-wheeler with his two daughters when he is ambushed by the accused and loses balance.
A group of people is then seen attacking and beating him up. In the middle of the assault, one of the accused shoots at him as he falls to the ground. As the accused leave, one of his daughters rushes back to Vikram, asking passersby for help.
The Ghaziabad SSP said: "We received information around 10.45 pm that a Pratap Vihar-based journalist, Vikram, has been shot at. Senior officers rushed to the spot and the victim was admitted to hospital. Within a few hours, five persons were taken into custody; in the afternoon, four more were arrested. The main accused, Ravi, also a resident of Pratap Vihar, confessed to us that he orchestrated the attack and carried it out with his accomplices."
Vikram's brother Aniket Joshi said: "We were told by locals that Vikram was cornered by a group of people. These are the same men who had been passing lewd comments at one of our relatives and harassing her. We had given a complaint but no arrests were made. My brother is now fighting for his life." Police and doctors said the bullet was not buried deep inside the skull. While his heart vitals are stable, Vikram is yet to regain consciousness, said an official.
Congress leader Priyanka Gandhi, meanwhile, hit out at the UP government: "Ghaziabad is in NCR. If the law and order here are such, one can guess how it must be in the entire state. One journalist was shot because he complained against the eve-teasing of his niece. How can a common man be safe in this 'jungle raj'."