Ramayan along with Mahabhrata are two great epics in Hinduism and have a huge impact on Indian culture and way of life. India as a country has always aspired to bring Ram Rajya, the ideal kingdom by Lord Rama. When the TV series Ramayana was re-telecasted in 2020, after a span of over 33 year when on 25 January 1987 it was aired first, it was able to break all records.
Such is the fanfare for Ramayana, yet there are many unknown yet very interesting facts about Ramayana that many people don't yet know about.
Here is the list of Lesser-known yet very interesting facts from the Ramayana. How many do you know about?
1. There are hundreds of versions of Ramayana apart from the original version from Valmiki, with very different narratives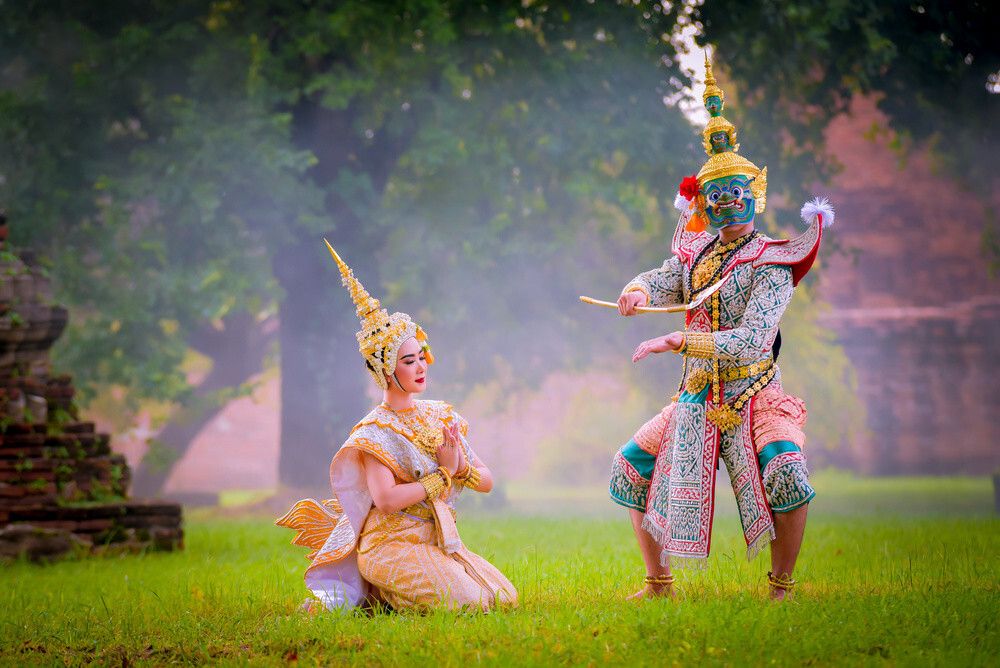 It all depends on how and what you count a different version, but there are approximately three hundred versions of the great Indian epic Ramayana. The oldest and original version is generally recognized to be the Sanskrit version attributed to the ancient sage Valmiki.
The Ramayana has spread to many Asian countries outside of India, including Burma, Indonesia, Cambodia, Laos, Philippines, Sri Lanka, Nepal, Thailand, Malaysia, Japan, Mongolia, Vietnam, and China. What is notable is that some versions are drastically different from the original.
For example, The Dasaratha Jataka, which is one of the earliest, Buddhist, versions of the epic. there is an unbelievable plot where Rama and Sita are depicted as brother and sister in this version. The duo is not banished but sent away to the Himalayas by king Dasaratha in order to protect them from their jealous stepmother.
One of the Jain versions of the Ramayana is titled Paumachariya, authored by Vimalsuri. The Jain Ramayana removes all elements of fantasy from Valmiki's version and presents a very rational view of the epic.
2. In the original version of Valmiki's Ramayana, Lord Rama was not a god, the story was central to Sita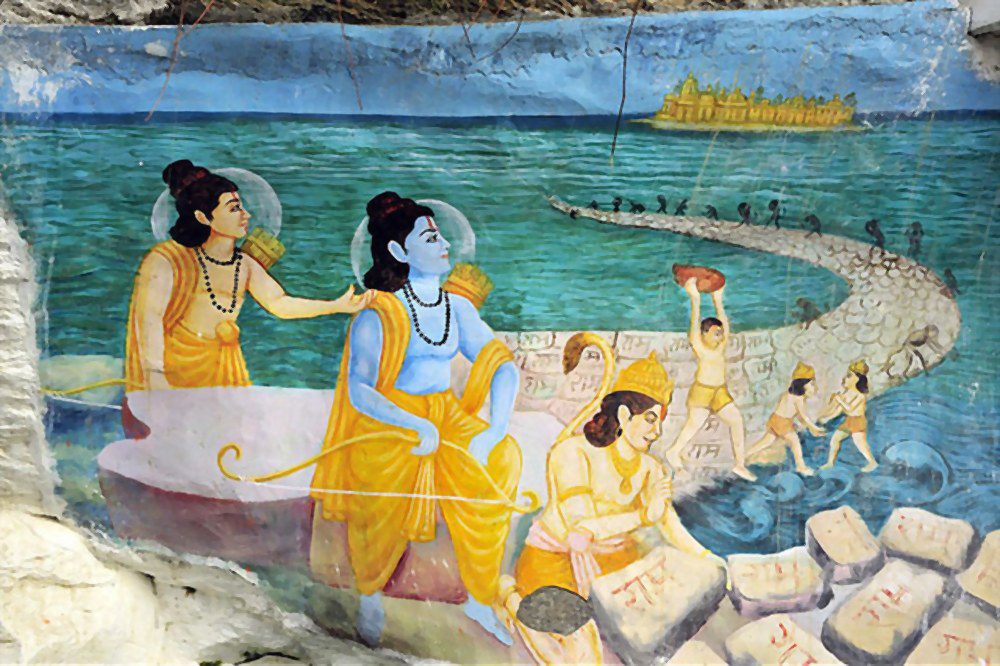 The original Ramayana was written by sage Valmiki during Treta Yuga in the Sanskrit language. Sage Valmiki is considered to be a contemporary of Lord Ram. At no place in Valmiki Ramayana, Valmiki ever mentioned that Ram is a God.
He is just a mortal human character in his story. In fact, even before Ramayana, it was named "Sitayas Charitam Mahat" wherein the story was meant to be cental to Sita.
However, in order to make people see an ideal person who sticks to Dharma so that they can emulate him despite all adversities, it was called "Ramayana".
Valmiki tells us the story of a man who learns his life lessons through various challenges life threw at him as a human. He grows up from a mere human to a 'Maryada Purushottam' (propriety of conduct) king who is then worshipped as God.
God who comes down to earth to set an example of good deeds. It starts with the worship of Lord Vishnu who decides to take the incarnation of Ram. Each deed of Ram, in this case, has a story behind it.
The version of Tulsidas is more common as it was written in the Avadhi language spoken by common people, Sanskrit in which Valmiki Ramayana is recited and passed as Smriti (memory) was the language of elites.
By the time of Tulsidas, Rama became more of a God and less as a human. He became a symbol of divinity and people instead of learning from his deeds and actions started worshipping him as any other god. Tulsidas saw Ram as God and not as a human. So, the story was written in that manner. The TV serial also follows the same premise.
You may also Like: 4 Events in Ramayan Serial Are Actually Different From Original Ramayan
3. Lakshman didn't sleep at all during the 14 years of exile in an attempt to guard Rama and Sita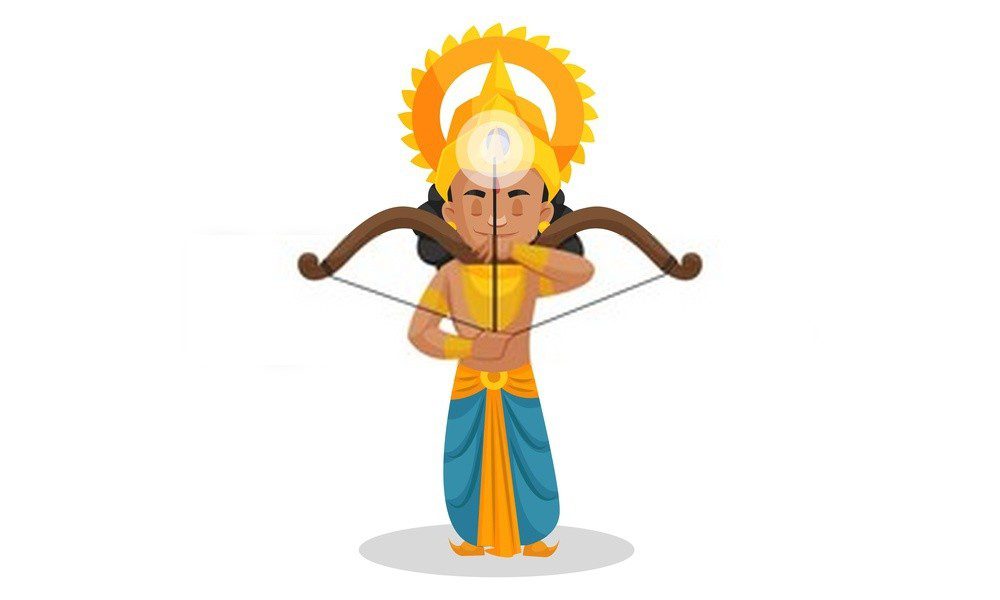 It is mentioned that during the 14 years of exile, Lakshman never slept to protect his elder brother and sister-in-law, for which he is also known as Gudakesh (one who conquers sleep).
On the very first night of exile, when Ram and Sita were asleep, Nidra Devi (Goddess of sleep) appeared to Lakshman and he immediately urged her to give blessing so that he would never feel asleep. Nidra Devi asked him if you have anyone else to take his place and share his sleep?
Lakshman proposed that his wife Urmila can sleep. After hearing this, Devi Nidra asked Urmila whether she agrees, and Urmila happily accepted it. In place of Lakshman, his wife Urmila slept for 14 years, completing both her own and Lakshman's, share of sleep
4. Lakshman's no-sleep penance has a reason
In the epic Ramayana, everything happens for a reason. Ravana's (the main antagonist in Ramayana) son Meghnad had a boon that he could only die at a Gudakesh person's hands. Lakshman's win over his sleep qualified him to be the slayer of the Meghnad aka Indrajit.
The latter is considered as one of the Atimaharathi class warriors born on the earth who wields Trimurti – the three powerful Astras (weapon systems) viz. Brahmandastra, Vaishnavastra, and Pashupatastra.
Lakshman uses Anjalika-Astra to slay Maghnad on Day 3 of the battle. It is worth noting that defeating him was critical to the narrative as we know it today.
5. Hanuman covered himself with sindoor to keep Lord Rama safe thus the name Bajrangi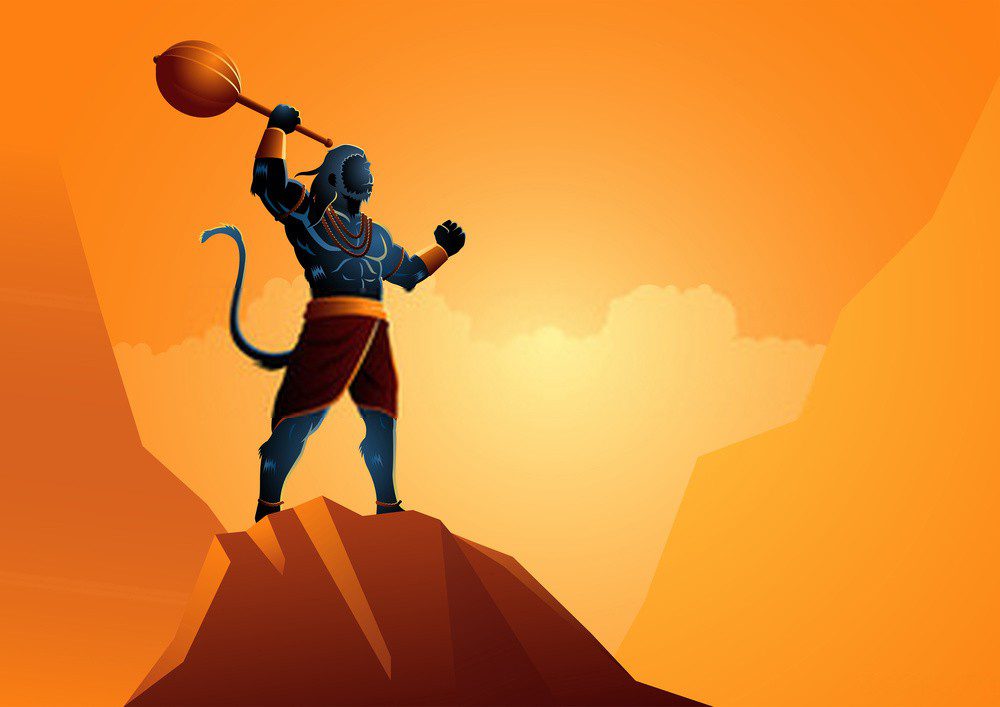 Many people are aware that Lord Hanuman is also known as Bajrang Bali, in fact in some parts of India he's preferably recalled by this alias. However, not all know about the origin of the name.
Lord Hanuman was extremely devoted to Lord Rama. Once when Sita put sindoor on her forehead, Hanuman asked her why. To this, she replied that since she is the wife and companion of Lord Rama, the sindoor was a sign of her unconditional love and respect.
Hanuman then went on to cover his entire body with sindoor as a sign of his devotion, love, and duty as protector of Lord Rama. Lord Rama was really impressed by this and granted a boon that those who worshiped Lord Hanuman in the future with sindoor would see all their troubles go away.
You May Also Like: 25 Interesting Lesser Known Facts From The Mahabharata That You Should Know About
6. Sita managed to lift the Lord Shiva's bow (Dhanus) during her childhood, that's why King Janak put the condition of breaking the bow at Sita's Swayamvar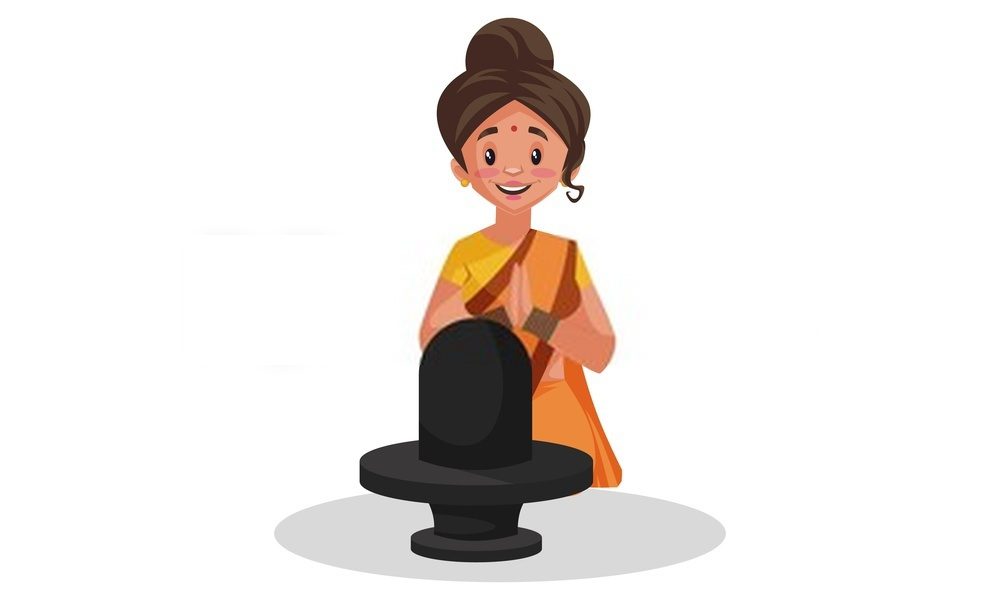 Seeta was known to lift the Shiva's bow during childhood. It was therefore essential for Janak to find a groom who can at least match her prowess.
The inability of other kings to lift the Shiva's bow became the reason that Sita wasn't getting married and that worried Janak. The disappointed kings who failed even tried to wage war against her father Janak
When Ram came to Mithila there was no Swayamvar. It was Vishwamitra, who before going to Mithila, told Rama that he would be showing one insuperable bow of Lord Shiva kept over there.
7. Nandi, the bull, had cursed Ravan that monkeys will become a cause of your destruction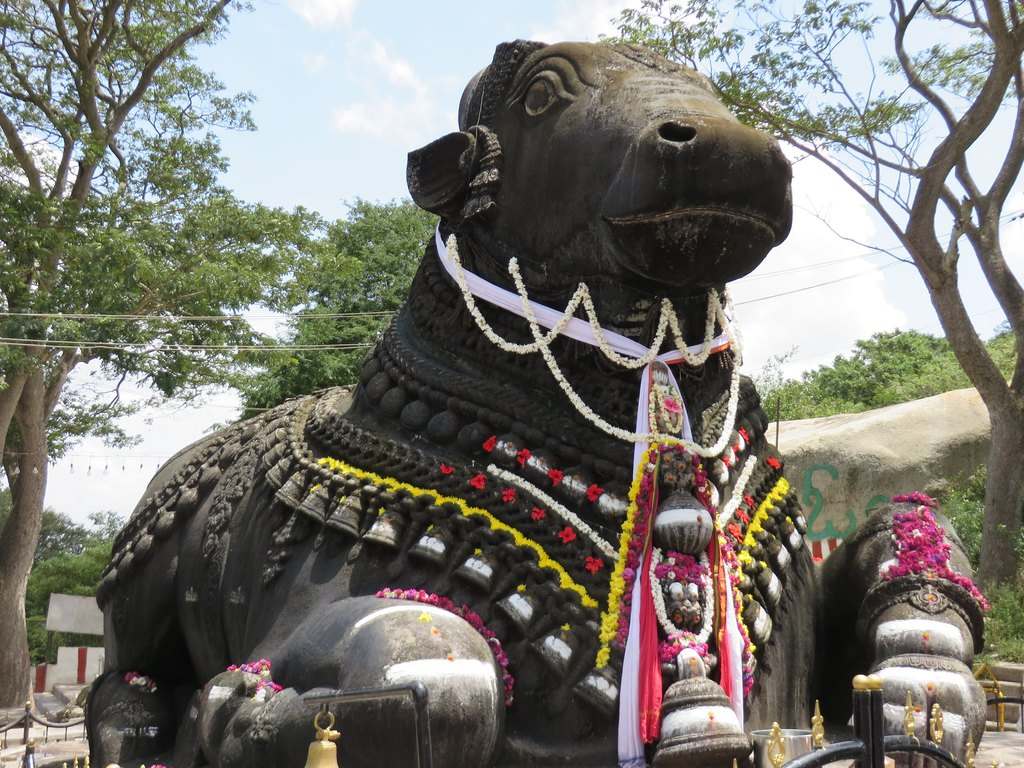 After defeating Kuber (the lord of wealth) and looting Alakapuri, Ravan was flying back to Lanka in the Pushpak Vimana. On his way back he saw a beautiful mountain, which was Mount Kailasha, and was unable to fly over it.
Ravan then tried to enter Kailash but was stopped by Nandi. He asked him the reason for his inability to pass. Nandi told him that his Shiva and Parvati were enjoying dalliance on the mountain and nobody was allowed to pass. Hearing this Ravan called Nandi a Vanar(monkey) and tried to enter and uproot Kailash.
Angered, Nandi cursed him saying that Vanars will destroy you. (The curse materialized when the Vanar Sena defeated Ravan in the Ramayan later.) Ravan continued to shake the mountain. A terrified Parvati embraced Shiva.
Being omnipresent, Mahadev understood the cause and placed the mountain into place by pressing his big toe. Ravan was crushed below the mount. He cried in pain. He performed extreme penances for the next thousand years to please Shiva. He sacrificed his heads and sang hymns of praise, including the Ravanrachit Shiv Tandav Stotram.
8. The white stripes on a squirrel's body are given by Lord Rama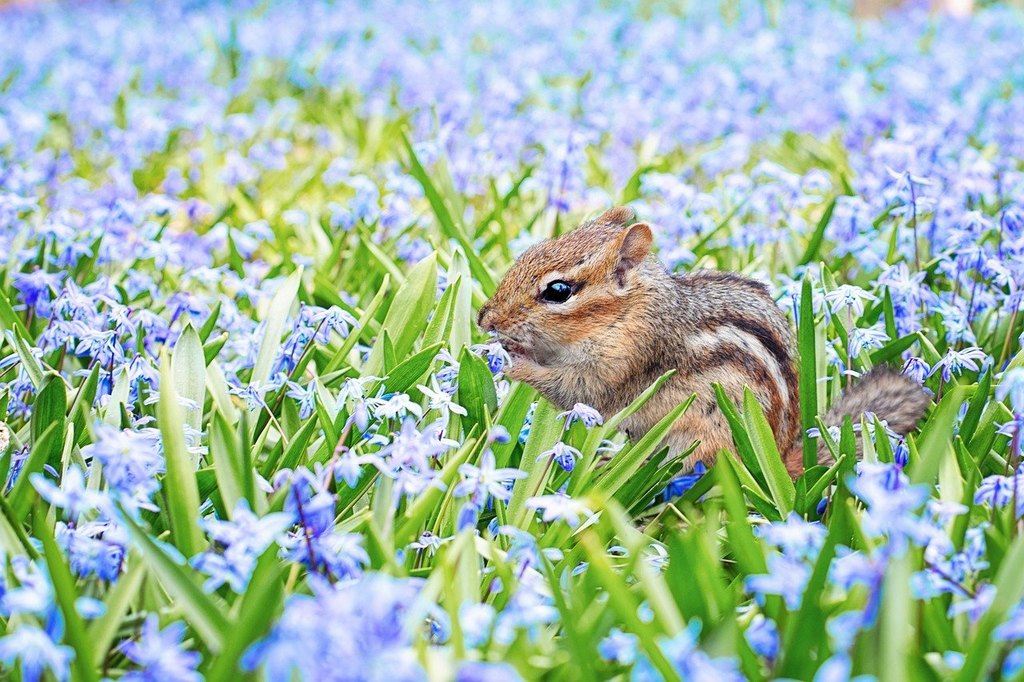 When the monkeys were making Ram Setu, a squirrel tried to help them. The monkey's made fun of it, but lord Rama was impressed with its dedication.
Ram pleased with the efforts of the little rodent, patted the back of the squirrel and the white stripes appeared as his fingerprints.
9. Ravana had seven great warriors sons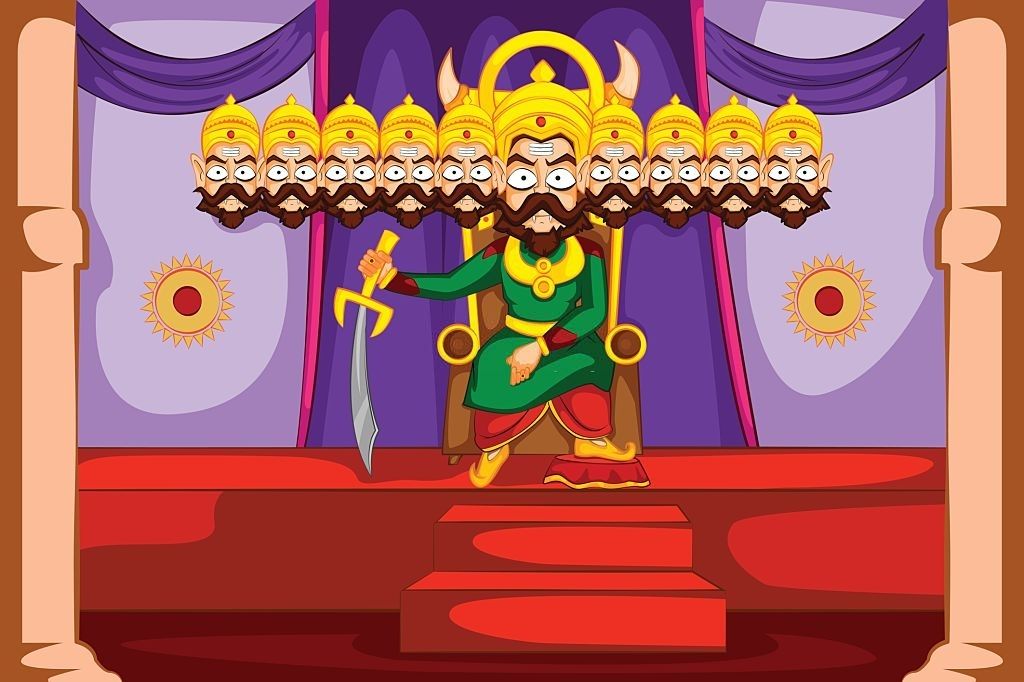 Most people remember Meghnad but Raavan had seven sons from his three wives. They were Indrajit Atikaya, Akshay Kumar, Narantak, Devantaka, Trishira, Prahstha.
Out of the seven, three sons of Ravana – Meghnad, Prahast, and Atikay were killed by Lakshman, Devantaka, and Akshayakumara were killed by Lord Hanuman during the war.
Narantaka was killed by young monkey prince Sugriva
10. While Lord Rama is known to be an avatar of Lord Vishnu, Lakshman is considered to be an avatar of Sheeshnaag, the serpent associated with Vishnu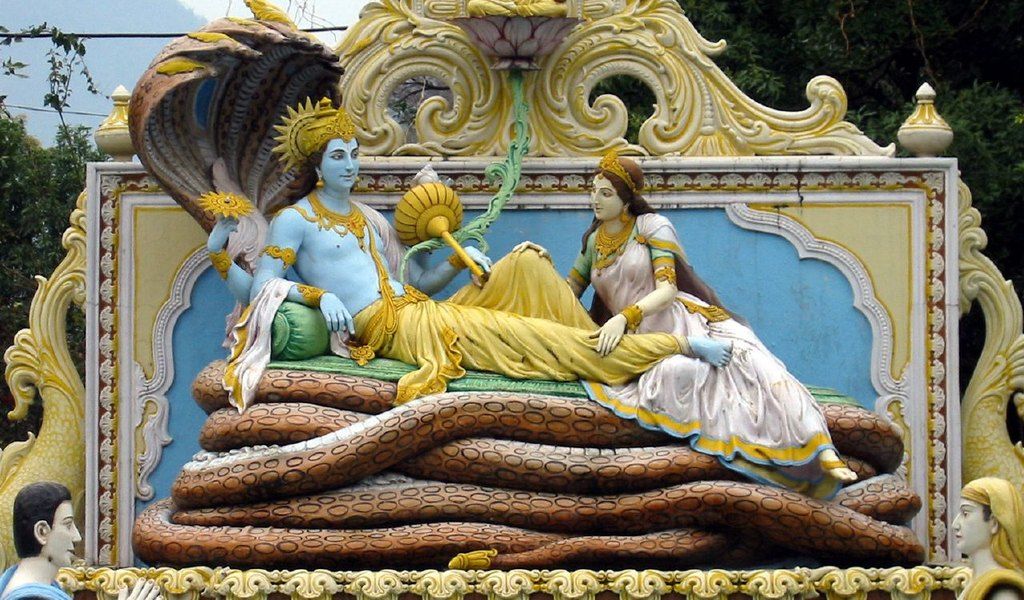 While most people know about Rama being an Avtar of Lord Vishnu, Lakshmana was an avatar of Sesh Naag, the serpent upon whom Lord Vishnu rests in Kshirasagara, which is the ocean of milk.
Shesh naga is the king of all nagas. He is regarded to hold all the planets of the universe on its hood. Lord Vishnu is often depicted as resting on Sheshnag, When Lord Vishnu descended on earth as Rama, Sheshang accompanied him as Lakshman.
This is the reason why we see 'Tatik' (a serpent sent by Ravan to destroy Mithila) running away after seeing Laksham.
11. Kuber, the god of wealth, had constructed golden Lanka for himself but was overthrown by his half brother, Ravana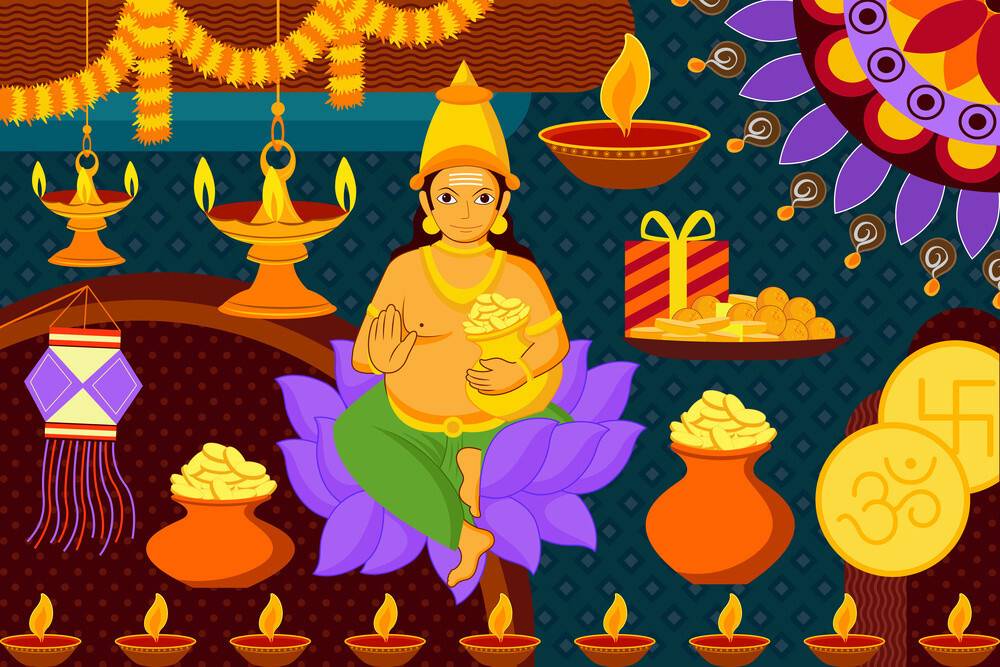 When one thinks of Lanka of the Ramayan days, one associates it with Ravana the devotee of Lord Shiva. But who ruled Lanka before him? Kuber, who was the chief of the demons and also believed to have a lot of wealth was asked was Lord Vishnu to create and remake Lanka. He was known as the 'God of Riches' and recognized by Lord Brahma as well. 
Ravan was the son of Kaikeshi and he wanted to move to Lanka and capture it. Kuber offered to make Ravana a part of the kingdom but Ravana had different plans and wanted the entire place to himself and have a kingdom of his own with his demons.
So they had a fight and finally, Kuber had to move to mountain Kailasa. Kuber was aware that he was safest at Mount Kailasa as the mountain is the abode of Lord Shiva that devout Shiva-devotee Ravana would never dare attack. The earlier fact about the encounter with Nandi followed this event.
12. Sita's name during the exile was Vaidehi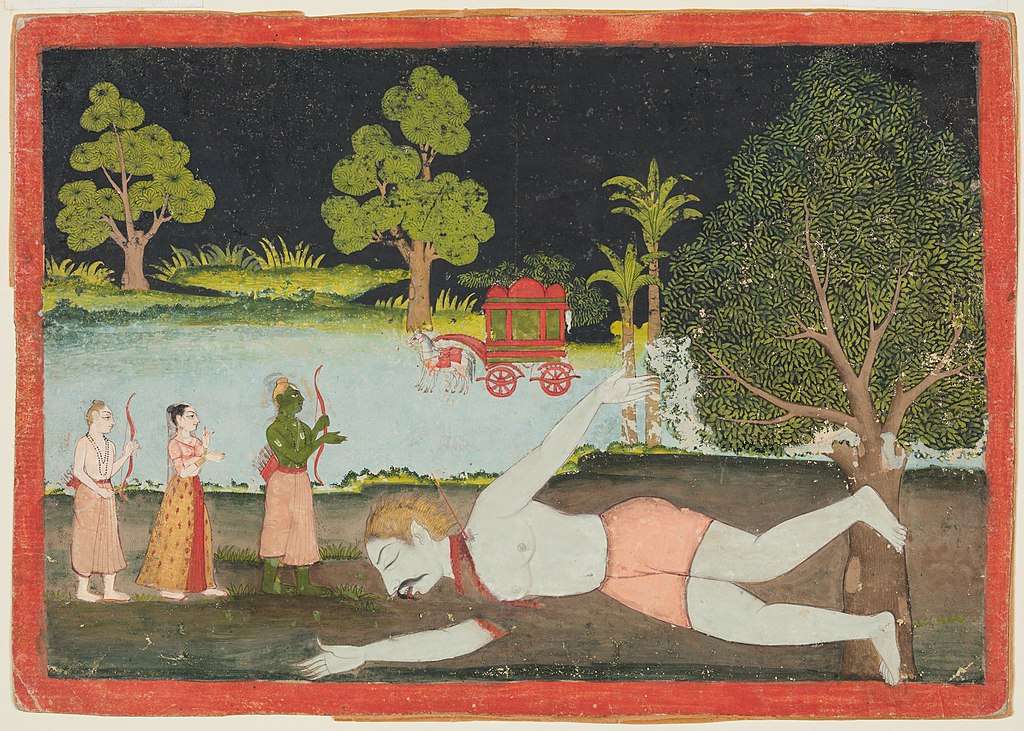 Ravana's sister Surpanakha was bowled over by Rama's handsome appearance and wanted to marry him. She is, however, humiliated by Lakshmana and goes wailing to her brother Khara.
However, Khara was no match for Lord Rama, his 14000 men strong force is destroyed single-handedly by Rama. While this battle was taking place, Sita takes refuge in a cave, and Lakshmana stays guard.
When the battle with the demons is over and Khara has also been eliminated, Sita emerges from the cave. She is very pleased with her husband's acts of courage, and here Valmiki refers to Her as Vaidehi.
There is a significance to the use of the name Vaidehi here. When Rama was banished to the forest, Sita wanted to accompany him but Rama had rejected the idea pointing to the dangers in the forest.
Sita had angrily wondered whether Her father, the King of Videha, would have got Her married to Rama if he had known Rama would be so lacking in courage. Now that Rama has got rid of 14000 demons all alone, Sita is pleased with this proof of His courage.
There is no reason for Her father to feel his father chose the wrong man for his daughter. That is why Valmiki now uses the name Vaidehi — meaning daughter of the King of Videha
13. Gayatri Mantra is formed from the first letter that comes after every 1000 verses of Ramayana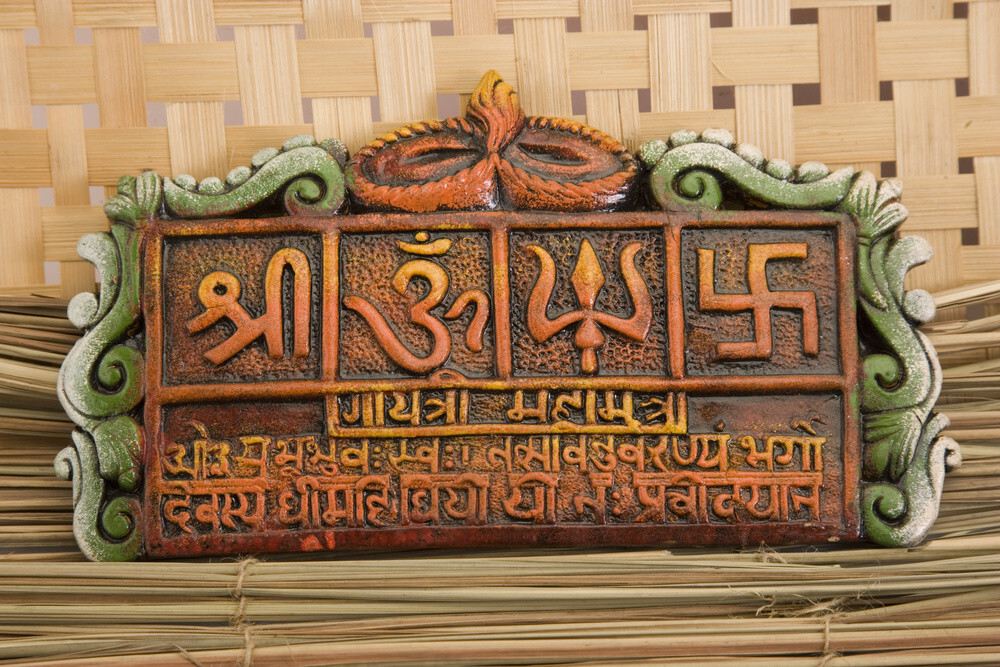 Gayatri Mantra is the most well-known mantra among Hindus. It consists of 24 letters and the Valmiki Ramayan has 24,000 verses. The first letter that comes after every 1000 verses of the Ramayan forms the Gayatri Mantra.
This mantra is symbolically the essence of this sacred epic Ramayana. The Gayatri Mantra finds its first mention is the oldest of Vedas, the Rigveda.
14. Besides Ram and his brothers, King Dasharatha was also had a daughter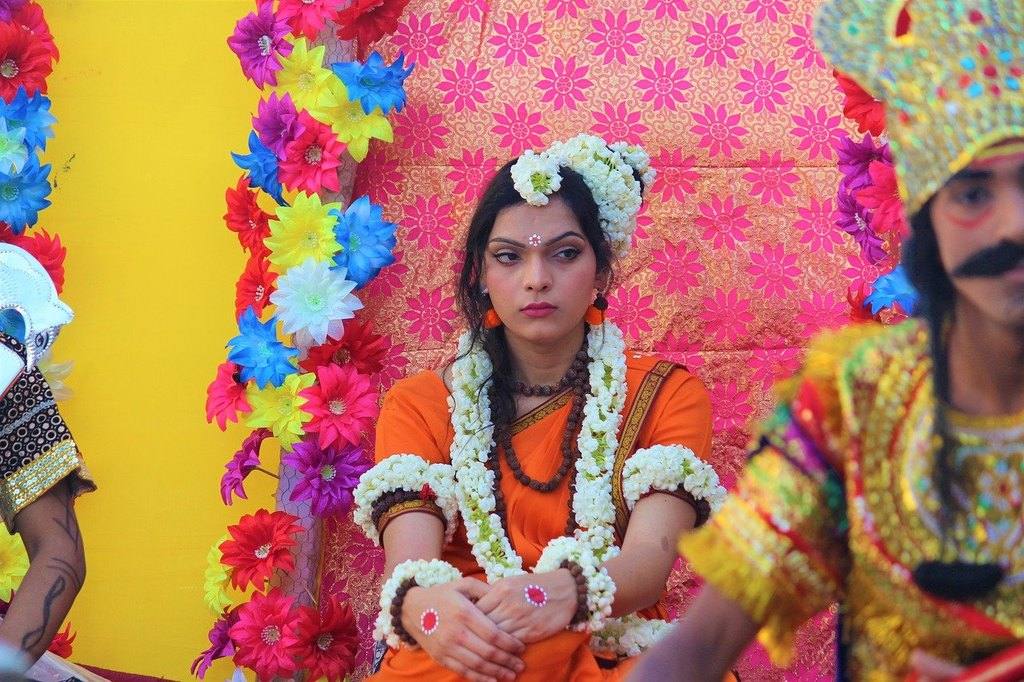 Yes, Lord Rama had a sister! Almost everyone knows about Shri Ram's parents and his four brothers, but very few people know that Ram also had a sister named "Shanta".
Furthermore, she was much older than all the four brothers. Kaushalya was her mother. It is believed that once Rompad's king Angadesh and his queen Varshini came to Ayodhya, they had no children.
During the conversation when King Dasaratha learned about this and said that he will give his Shanta to them. On hearing this, Rompad and Varshini were very happy. They took care of him with great affection and performed all the duties of her parents.
15. Lakshman Rekha is not part of the original Valmiki Ramayana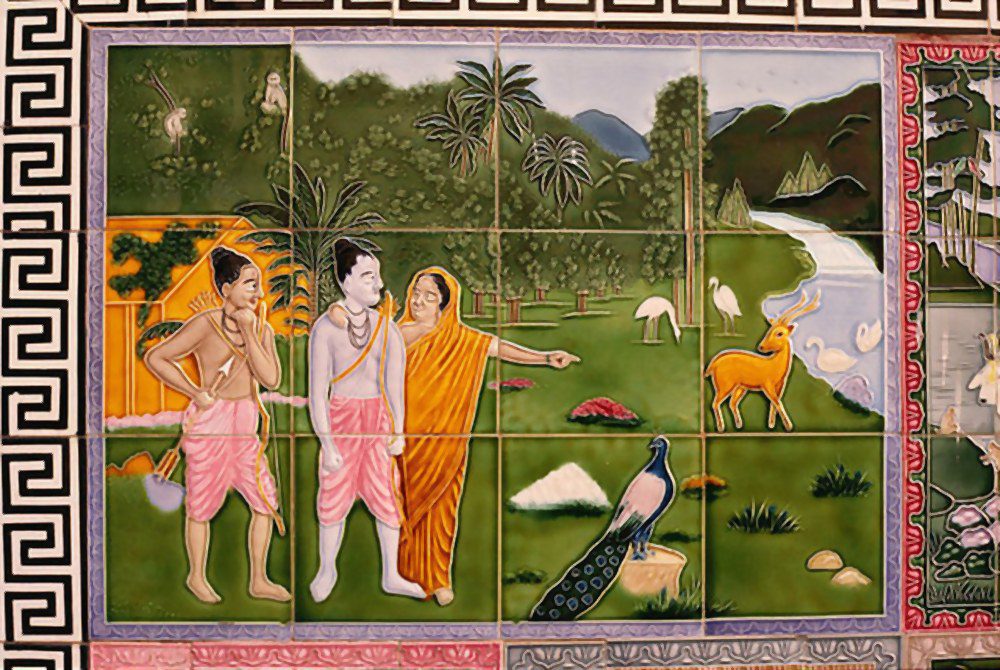 You will be surprised to know that there is no mention of Lakshaman Rekha in the original Valmiki Ramayana. The well-known term very commonly used as a metaphor for a line that can't be crossed is actually line (border) drawn by Lakshama by his arrow to protect Sita.
The story goes like this — Sita sees a golden deer wandering around the forest, she asserts her husband Ram to catch it.
Lord Ram tracks and follows it into the forest. Meanwhile, Lakshaman hears a scream of Ram, which was actually a trap by Marich, a Rakshasa (demon) who was disguised as golden deer.
Sita insists Lakshaman go and look for his brother Ram. Lakshaman initially refuses then agrees on one condition. He draws a line around the cottage and requests Sita not to cross that line in any situation.
As the story goes she does cross the line and is kidnapped by Ravan the antagonist of Ram but in the real Ramayana, there is no mention of Lakshaman Rekha.
Even in Ramcharitmanas, which was written by Saint Tulsidas, it also doesn't directly feature this story.
However, there are more than 200 book versions of Ramayana. In northern parts of India, old tribes used to tell stories about Ramayana, from which this story of Lakshamana Rekha came.
16. Kumbhakarna get the blessing of sleep because Indra was jealous of him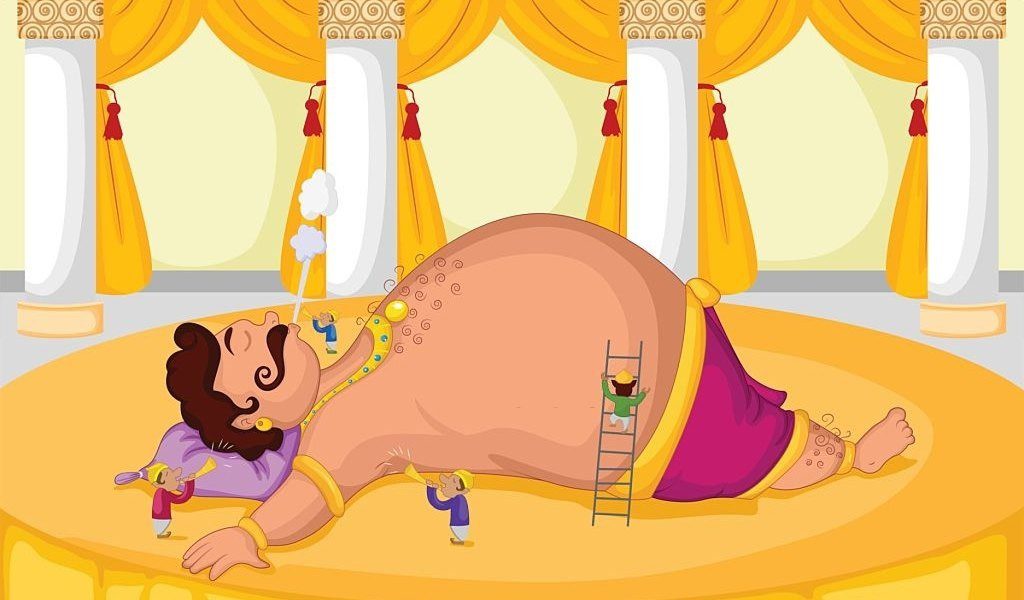 Kumbhakarna was the younger brother of Ravana, whose body was huge in body size and a gourmet. It is mentioned in the Ramayana that Kumbhakarna slept for six consecutive months. He used to get up only one day and only to eat food and sleep again for six months. Do you know why Kumbhakarna was like this?
Once he conducted a Yagya and after the end of Yagya, Brahma appeared in front of this and asked him to make a wish. After listening to this Indra afraid that he might ask his position, Indra requested Saraswati to help. Saraswati sat on Kumbhakarna's tongue and while telling about his wish Kumbhakarna said 'Nindrasan' (Sleep) instead of 'Indrasan' (position of Indra).
17. Ravana had prior knowledge that he would be killed by Rama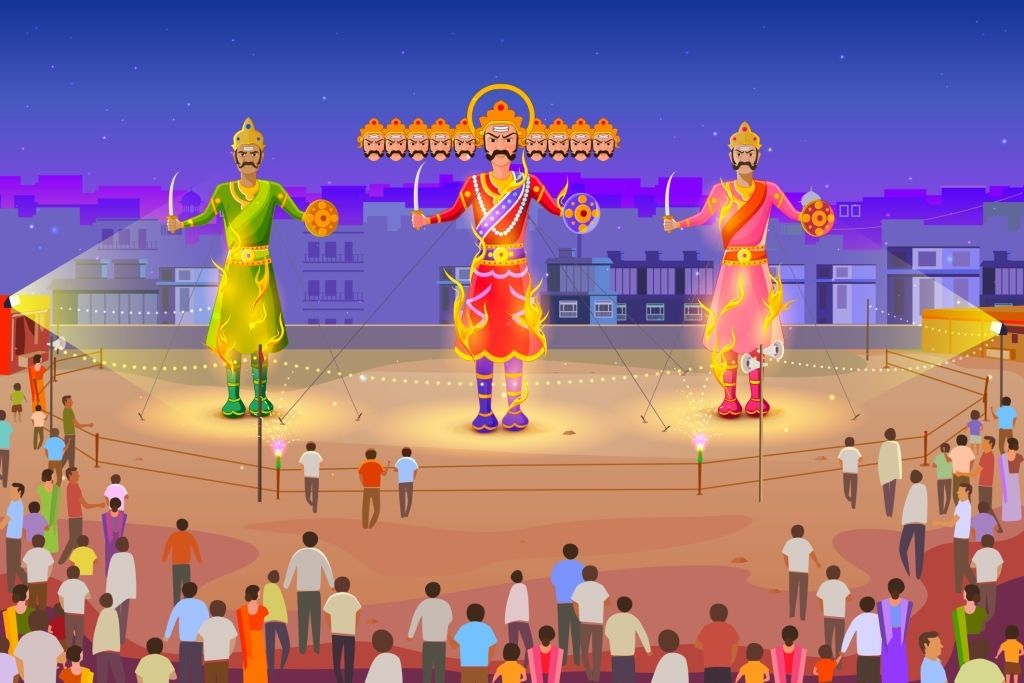 After reading the full story of Ramayana, one can learn that Ravana was a cruel and most vile demon that everyone hated.
When Ravana's brothers heard about Rama's attack because of Sita's kidnapping, he asked his brother to surrender. Ravana refused to surrender and expressed his desire to attain salvation by dying at the hands of Rama.
He said that "If Rama and Lakshmana are two normal human beings then Sita will remain with me as I will easily defeat them. And if they are god then I'll get salvation."
18. Lord Rama gave the death penalty to his much-loved brother Lakshman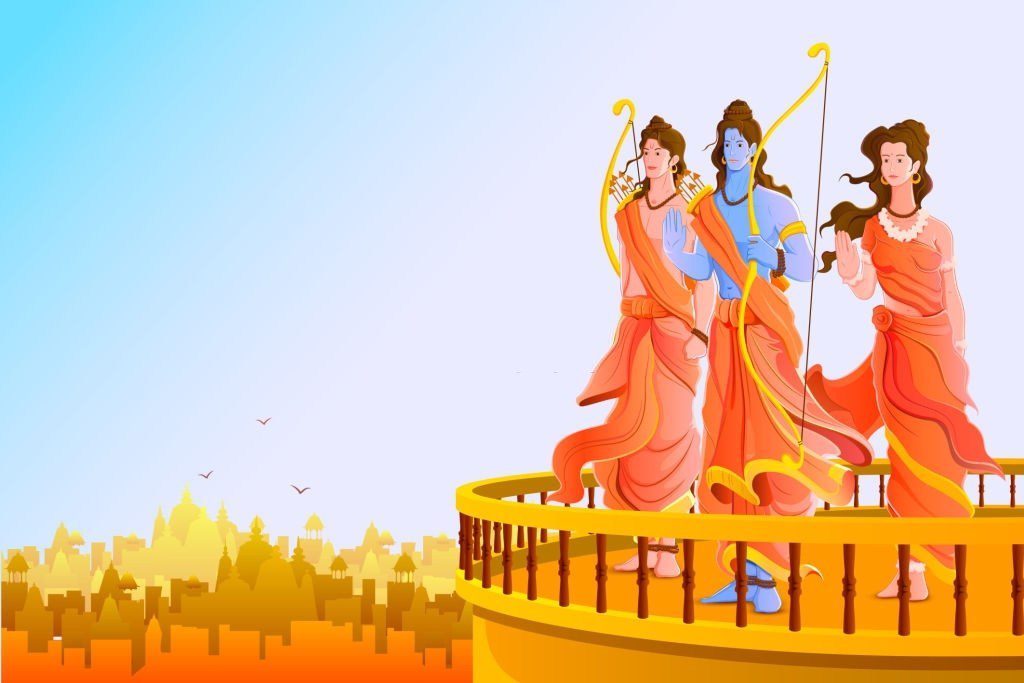 It is mentioned in the Ramayana that Shri Rama had given the death penalty to his much-loved younger brother Lakshman, but do you know why Lord Rama had given a death sentence to Lakshman?
This incident follows the time when Sri Ram returned to Ayodhya after Lanka's victory and is coronated as the king of Ayodhya.
One day Yama Devta came to see Sri Rama and to discuss something important. Before starting the discussion he asked Lord Rama to promise him that nobody disrupts this conversation until it is over otherwise he has to give death penalty to that person.
Ram appointed Laxman as the gatekeeper so that no can disrupt their conversation. A few moments later, Durvasa rishi visited the place and asked Lakshmana to inform Ram about his arrival, Lakshmana humbly denied it.
Rishi Durvasa got angry with him and he said he will curse the entire Ayodhya. To save Ayodhya, Laxman decided to sacrifice himself. He went inside to inform Lord Ram about his arrival
Now, Shri Rama got confused because he had to give the death penalty to Lakshman according to his promise. In the event of this dilemma, Shri Ram remembered his Guru Vasishta and asked him to show the other way.
Guru Vasishta, you can leave Laxman and it is the same as giving the death penalty. Laxman after listening to this told that he can't stay away from his brother for his whole life. Laxman decided to embrace death by obeying his brother's word. After that, Lakshman took water samadhi.
19. Lord Ram's wife Sita wasn't King Janak's own daughter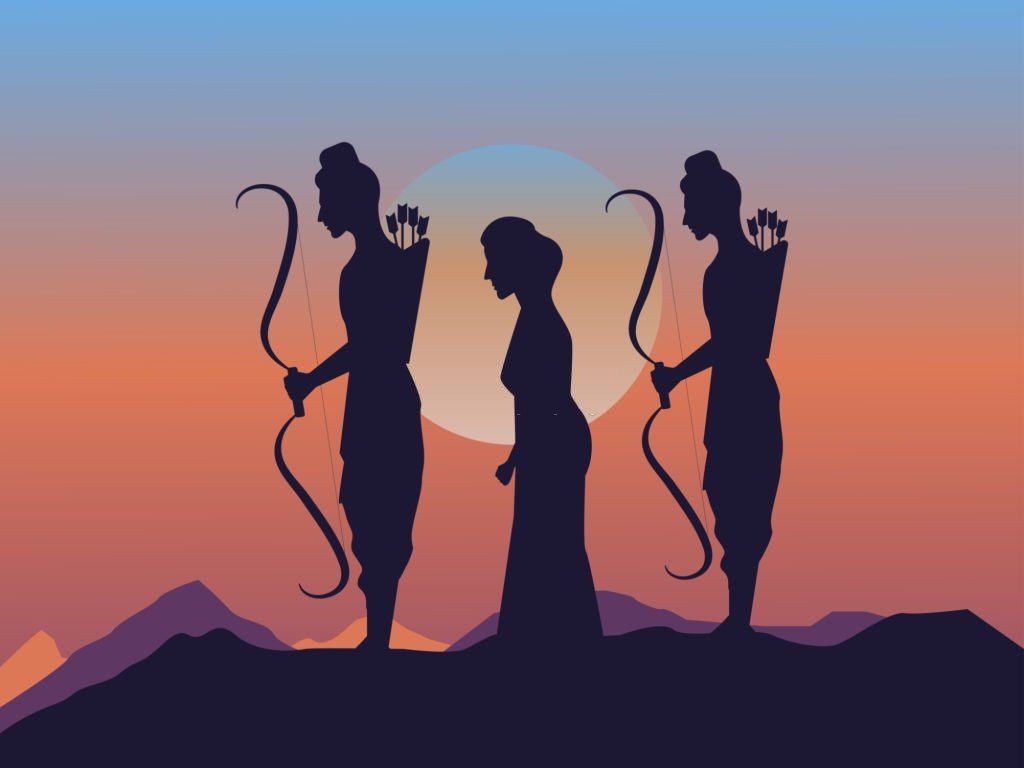 Different versions exist about who was the real father of Sita. But one thing they all agree on was that Janak the king of Mithila and his wife Sunaina were not the biological parents of the child.
Original Ramayana mentions that as a part of the worship of the Bhumi (Mother Earth) goddess, Janak was plowing the field and his plow struck a box that carried a newborn that the Bhumi Devi had meant for him to adopt as his own.
In a startling alternate narrative of the Ramayan, the Jaina version of Ramayana by Sanghadasa – called the Adbhuta Ramayana – Sita is called Vasudevahindi and is said to have been born as the daughter of Ravana and Vidyadhara Maya (Ravana's wife). It also claims that astrologers predict that first child of the duo will destroy his lineage. The child is then abandoned and found by Janaka.
20. Lakshman laughed uncontrollably at Ram's coronation
After staying awake for 14 years at a stretch, and having defeated Ravan (Dussehra commemorates that) in the month of Kartik, the trio of Ram, Sita, and Lakshman arrive at Ayodhya (Diwali is the commemoration of that day).
Now Bharat is eager to see elder brother take charge of the empire as he has ruled in Ram's name with the latter's Paduka (wooden slippers) placed on the throne as a proxy. The coronation ceremony is about to happen when Lakshman begins to laugh uncontrollably.
That is because Goddess Nidra had promptly appeared before Lakshman and now he must submit to her powers as Ram and Sita are safely back home. So before Ram is crowned king, Lakshman falls asleep and his wife Urmila wakes up.
22. Rama departed earth by sinking into the river Saryu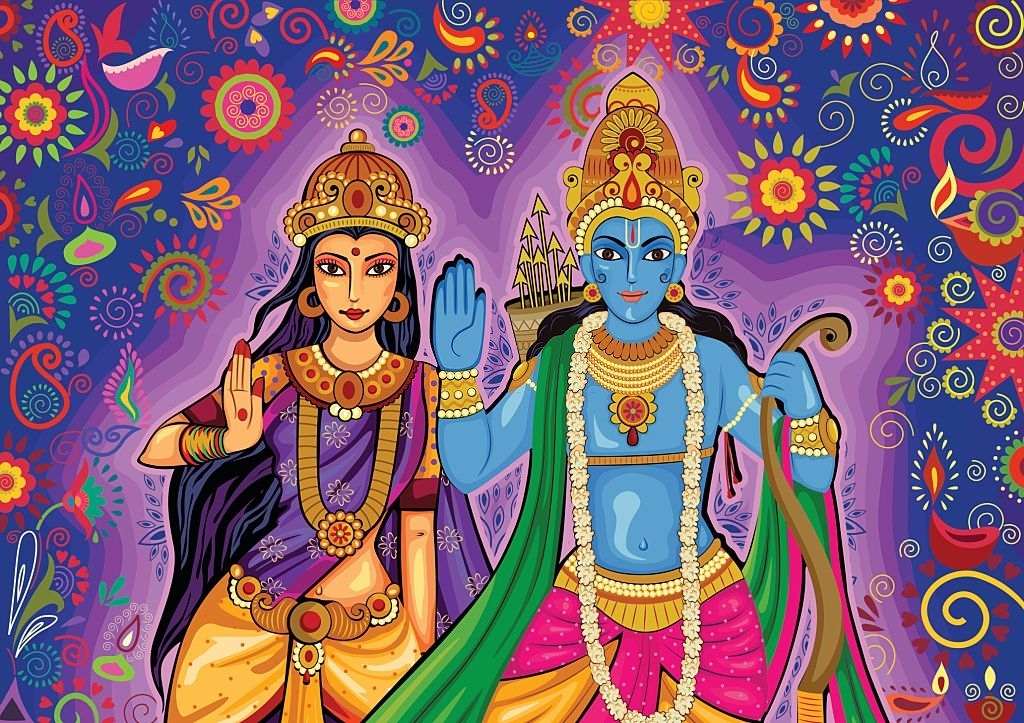 It is believed that when Sita abandoned her body after being absorbed in the earth, lord Ram abandoned the earth after taking water samadhi in the river Saryu.
One day Yama Devta (Lord of Death) came to see Sri Rama and to discuss something important. Before starting the discussion he asked Lord Rama to promise him that nobody disrupts this conversation until it is over otherwise he has to give death penalty to that person.
Ram appointed Lakshman as the gatekeeper so that no can disrupt the conversation. Lakshman stands as the gatekeeper. After a short time, Durvasa rishi visited the place and asked Lakshmana to inform Ram about his arrival, Lakshmana humbly denied it.
After this, rishi Durvasa got angry with him and he said he will curse the entire Ayodhya. To save Ayodhya, Lakshman decided to sacrifice himself. He went inside to inform Lord Ram about his arrival
Now Shri Rama got confused because he had to give death penalty to Lakshman according to his promise. In the event of this dilemma, Shri Ram remembered his Guru Vasishta and asked him to show the other way.
Guru Vasishta, you can leave Lakshmanand it is the same as giving the death penalty. Lakshman after listening to this told that he can't stay away from his brother for his whole life. Lakshman decided to embrace death by obeying his brother's word. After that, Lakshman took water samadhi.
23. Lord Rama's banishment (Vanvasa) was a revenge of stepmother Mathara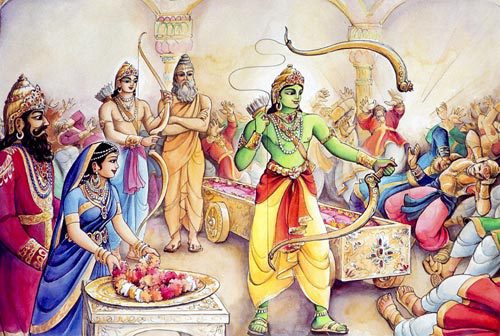 Everyone knows it was Manthara on whose advice Kaikeyi sought Rama's exile. It is said that when Sri Rama was a child, He once playfully hit Manthara's hunch back with His play toy and that Manthara sought revenge through Kaikeyi.
24. Ravana performed the commencement puja for the Setu build by Rama and his army of monkeys and also blessed him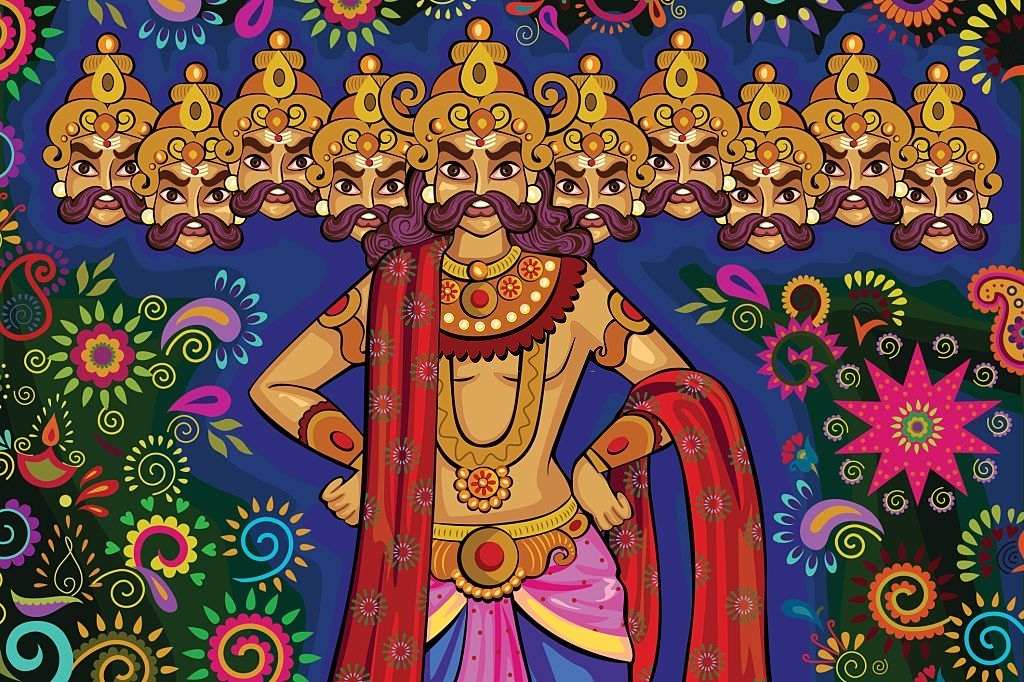 Lord Rama wanted to do be victorious in battle against Ravana, and he had to perform a puja, he also needed a Shivalinga to worship it. However, a priest was needed, but in those days there were no priests found in Rameshwaram.
Ravana was a staunch devotee of Lord Shiva and was also a Brahmin by birth. So Ravana's brother Vibhishana (who was on Lord Rama's side), told Lord Rama that Ravana was very well-versed in the rituals. So Lord Rama sent an invitation to Ravana to come and preside as the priest for the puja at Rameshwaram.
Ravana accepted the invitation and came. But then he told Lord Rama that the puja would be incomplete without his wife being present. Rama reminded him, It is the duty of the priest to provide an alternative for anything that is missing. Since my wife is not with me (having been kept in captivity by Ravana at that time), please tell me what the alternative for this problem?
Can we keep a doll in her place as a substitute?' Then Ravana said, `I do not believe in an alternative. I would want everything to be present for the worship of Lord Shiva. So I will call your wife here for the puja. After the puja, please send her back to Lanka'.
So Ravana brings Sita for the puja. After the puja, when Lord Rama and Sita bow down to touch the feet of the priest, that is, Ravana, to take blessings, then Ravana blesses Lord Rama by saying Vijayi bhava' (May victory be yours!).
He had no choice but to do so. When someone touches the feet of a priest, he is left with no choice but to bless that person. Ravana had to give that blessing to Lord Rama for which He had organized the puja. He also blessed Sita by saying 'Sumangali bhava' (May you receive all that is best and auspicious always!) Such was Ravana's magnanimity. After blessing both of them, Ravana took Sita back to Lanka with him.
25. There is a Gita by the name of Ravana Gita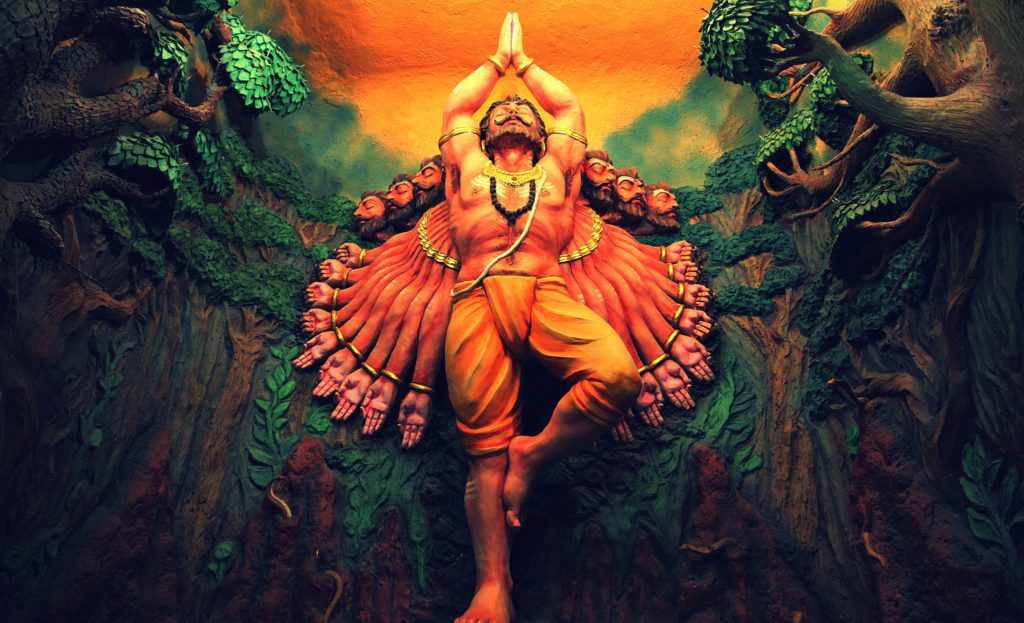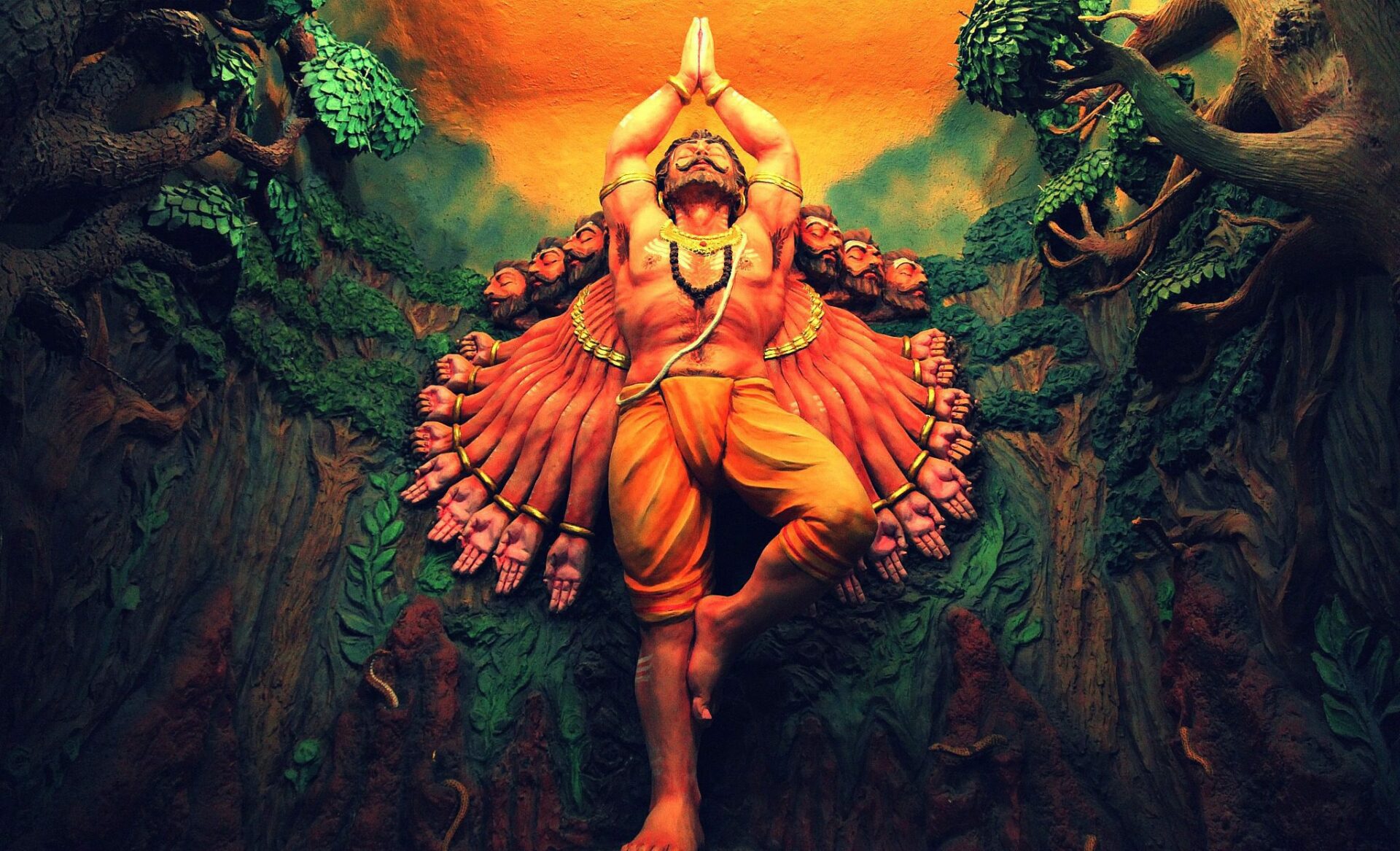 Do you know, there is a Gita by the name Ravana? It is called Ravana Gita. Of the five Gitas that are present, it is one of them.
Like the famous Srimad Bhagavad Gita, and Ashtavakra Gita, Udhhava Gita, and Guru Gita — there is another Gita called Ravana Gita (the song of Ravana). In it, Ravana teaches many sermons to Lakshmana. After Ravana completes his teaching, Lakshmana gives a signal to Lord Rama to come to Ravana.
When Lord Rama comes to Ravana, his soul leaves his body as a bright light and merges with Lord Rama. This is a story from the Adhyatma Ramayana.