Varanasi (Benaras)
Varanasi is one of the most famous spiritual destination in India for foreigners. It is the real India that you imagined. One of the most colourful and fascinating places on earth, surprises abound around every corner. Varanasi Travel guide is our endeavor to let you know the place better.
[usrlist "Location:5"  "Accessibility:5"  "Accomodation:5" Engagement:4.5]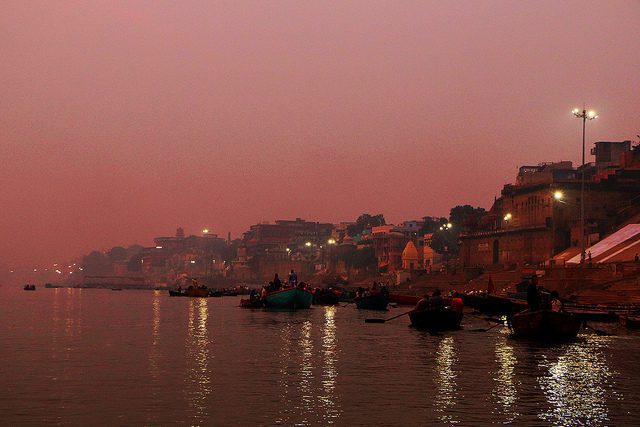 History and Significance
Varanasi , also known as Benares or Banaras and Kashi, is an ancient city in northern India. The city is sacred to Hindus and Jains and also one of the oldest continuously inhabited cities in the world, with settlements dating back to the 13th century BC. Many Hindus visit Varanasi to seek salvation as it is believed that dying or the practice of ashes being submerged in Varanasi and Ganga river provides salvation.
Varanasi is located in the banks of river Ganga. It is said that it was discovered by Lord Shiva and people in Varanasi are highly devoted to Lord Shiva.  This town has immense historical as well as religious importance in India and World. Not only a place where pilgrims throng to visit the temples, Varanasi is also the destination where most people come to spend their last days.
Just be aware that, the culture shock of the burning corpses in plain view can be a bit overwhelming. However, the scene of pilgrims doing their devotions in the River Ganga at sunrise set against the backdrop of the centuries old temples is probably one of the most impressive sights in the world.
Who should travel to Varanasi
Varanasi is the ideal destination for religious and spiritual tourism. It is a wonderful destination for people who want to experience the diverse yet united, Indian society at its best, for connoisseurs of food and photographers. It is also a good spot for a family vacation.
Travel Options
How to reach
Through air: Lal Bahadur Shastri Airport is located in Varanasi. It is nearly 22 KM from the city center.
By rail: There are three major railway stations near and in Varanasi and it is among the most well connected railway destination
By road: Direct buses till Delhi and other major cities in UP.
Best time to visit: Summers are very hot. Best time to visit is October to March
Things to do: Visiting Ghats (River Bank), Religious ceremonies, boating, temple visit, spiritual centers