One fine morning of April 17 in the year 2017, annoyed by the loudspeaker playing near his apartment Sonu Nigam took his voice to Twitter.
Who knew that the tweet will resurface after 3 years. There is a fresh call to boycott Bollywood singer Sonu Nigam, who is currently living in Dubai during the coronavirus pandemic based on the same tweets.
The famous singer made those comments in 2017 while he was in India, where he spoke about 'Forced Religiousness', that he is not a Muslim and still is woken up by Azaam in the morning.
He further wrote in a tweet soon-after "And by the way Mohammed did not have electricity when he made Islam, Why do I have to have this cacophony after Edison?"


Some believed the tweet to be Islamophobic, while others believed that he has raised his personal concern. Soon he started getting support as well as contempt on various social media at the time.
Over the last few days, those comments have resurfaced on social media, provoking a cross-section of Twitter users from the region to even tag Dubai Police, asking for action to be taken against this singer since he's now temporarily stranded in the UAE during the ongoing national sterilization drive.
Stuck in Dubai now deactivated his twitter account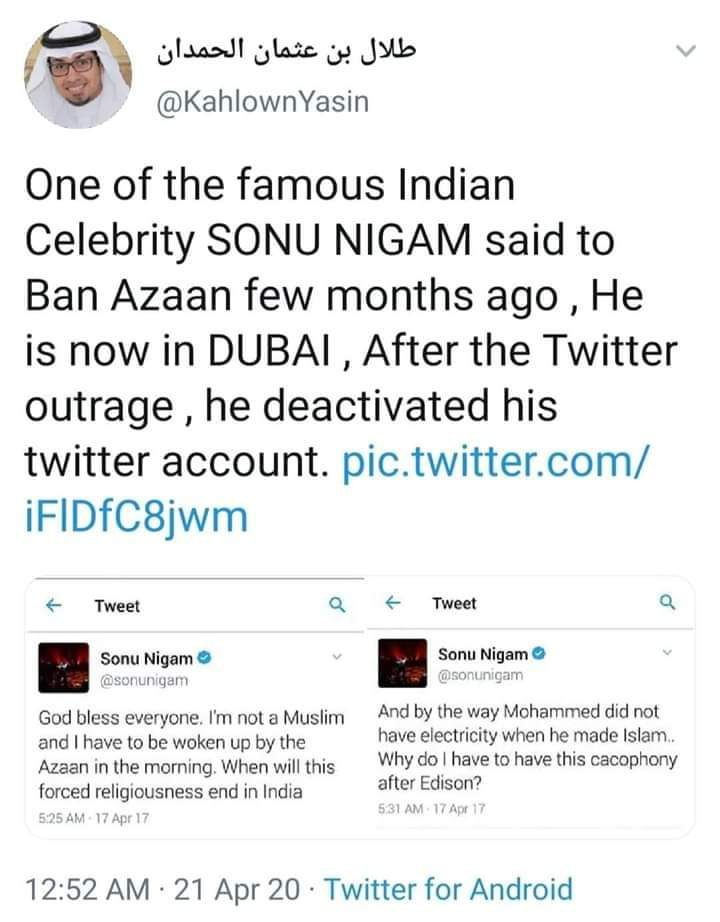 It is Nigam's son who studies in the UAE, the singer decided to stay back during the coronavirus pandemic as he did not want to endanger his aged father in India. The COVID-19 is believed to impact the elderly the most as far as server symptoms are concerned.
The active twitter users who might have been aware of his presence in Dubai started posting screenshots of his controversial tweets from 2017 that led Nigam to quit Twitter during his stay in Dubai.
I quit Twitter because it became a nuisance more than any assistance

In April 2017, Nigam posted a series of tweets to his over six million Twitter followers, about how the morning prayers from mosques in India had disturbed his sleep.
However, he also commented that the noise from loudspeakers emerging from temples and gurudwaras — the place of worship for Hindus and Sikhs was also problematic and added to the "noise pollution".
Still, the Bollywood singer's comments caused some backlash at the time.
In an interview Nigam said "I quit Twitter because it became a nuisance more than any assistance. Anybody has the right to say anything to anyone. For instance, I am talking to you now on the phone, but if I start abusing you I can be punished for it.
You will write about me being bad-mouthed and question what my parents taught me… I will pay for it. But how do these guys go scot-free?" asked Nigam during that interview.
He used the example of how he had spotted Twitter users directing expletives at Bollywood legend Amitabh Bachchan on his Twitter feed.
Nigam added that the lack of filter on that social media platform prompted him to quit Twitter at the time.
He also received support from as some believe that his tweet was not aimed at any religion but the problems caused by noise pollution due religious activities of all religions.
While Nigam –who has performed in Dubai more than a dozen times over the years –was criticized for his remarks back in 2017, the renewed call for boycott brings the issue back in focus.
Meanwhile, Nigam has been performing virtual concerts from Dubai to bring cheer to his fans during the global pandemic.