On social media, Shashi Tharoor is perhaps more famous for his fluency, command, and above all superlative vocabulary in the English language than for this political discourse. This has been a constant butt of jokes and memes on social media and beyond.
This however took a wrong turn when a recent incident was brought to the fore where a mobile application in its ad claimed to teach spoken English like him. They even fraudulently used the politician's name and picture in order to deceive naive students and make some quick money.
The app, which was in circulation for quite some time was brought to the notice of Tharoor who then took to social media to clear the air on the subject.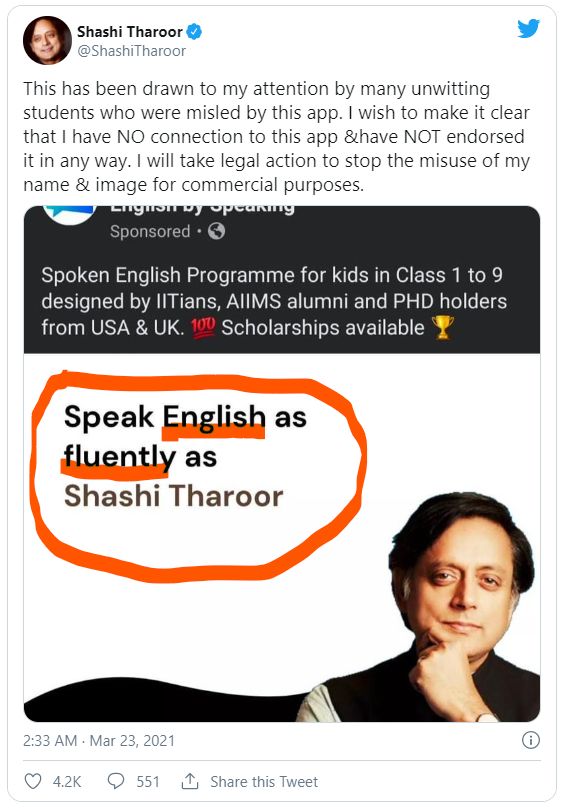 Taking to the microblogging site Twitter, the Congress MP from Kerala wrote, "This has been drawn to my attention by many unwitting students who were misled by this app.
I wish to make it clear that I have NO connection to this app & have NOT endorsed it in any way. I will take legal action to stop the misuse of my name & image for commercial purposes."
Reactions from Social Media were still hilarious
Many social media users also reacted to the application's misuse of the Congress MP's name. However, a few were quick to point out that they indeed would be very happy to learn English, the Tharoor way.
However, there were many who believed that it's a small issue. The problem however lies with the fact that the advertisement uses his unauthorized image and associates it with false claims that someone could be taught English like him. Those who would be enrolling in the program may be cheated by assuming that it was somehow has been endorsed by him and that's a typical breach of trust apart from unauthorized use of his photograph.
On a lighter note, Tharoor's alluring vocabulary skills have been used as an inspiration for many such English learning classes or just quoted as an example of excellence in English, in some cases. Last year, the Congress MP ended up featured in an online advertisement for an English coaching class.
In an ad that went viral on social media, KD Campus Live – an online, video-based teaching platform – used the following phrase in Hindi to promote an online English coaching class: "Angreji ke maatra 50 shabd seekh kar bane Shashi Tharoor aaj raat 10 baje". Roughly translated, the line reads, "Learn just 50 english words and become Shashi Tharoor tonight at 10 pm".
The ad had gone viral and reached Tharoor himself. The witty politician and author took to Facebook to share an image of the ad on his page and take a dig at the ad. "Mujhe nahin lag raha hain ki 50 shabdon se Shashi Tharoor banega," Tharoor wrote. Meaning, "I don't think anyone can become Shashi Tharoor by just learning 50 words".
As for those who wish to learn English the Tharoor way, the Congress MP might not be endorsing or teaching it through apps, but he has written the Tharoorosaurus, a thesaurus-style book in which he teaches people how to be more eloquent by replacing common verbiage with complex words.
Click here to view the book on Amazon
So if you wish to come anywhere near the kind of vocabulary he possesed, have a look at the book. For his accent and flluency in Enligh you may need to work really hard by yourself.