A resounding election victory for the third time is what the result says for Delhi Election 2020. This hattrick for Aam Admi Party(AAP) was not easy. Just months ago it lost all 7 seats in the General election with a considerable margin.
This resurrection within a short span was not easy but Arvind Kejriwal led AAP, did manage to overcome the difficult challenge. Many changes and circumstances had to come together to make this victory possible at a time when AAP was losing its shine.
There are 10 major reasons that led to the victory of Arvind Kejriwal led AAP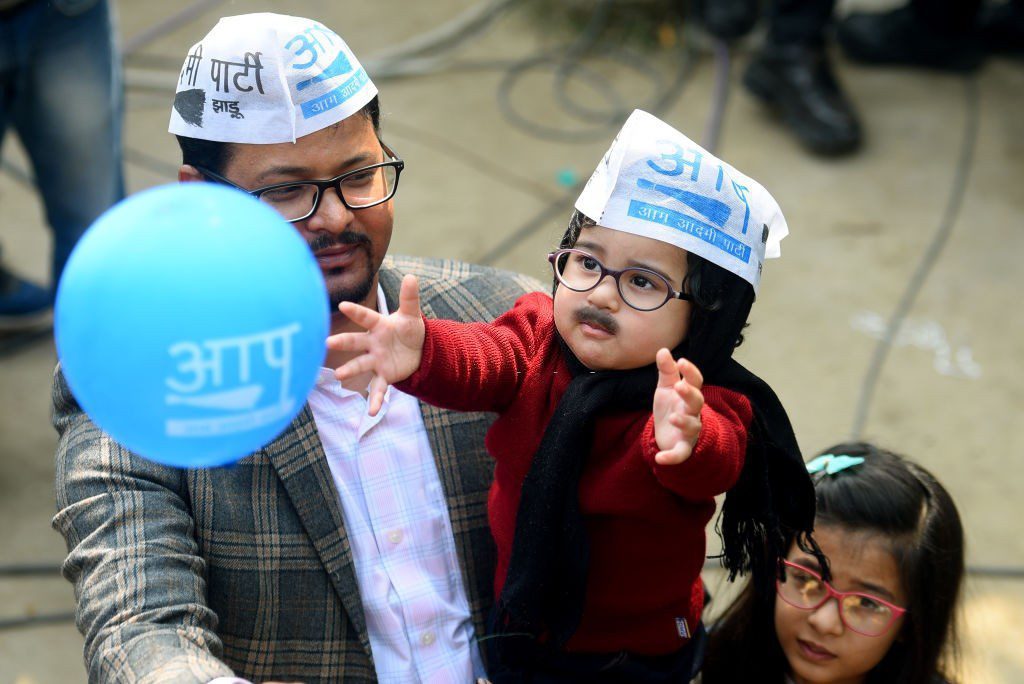 1. Tap on rising private school fee
Most people agree that the major achievement of the Kejriwal led AAP government has been in the field of education. Work in the education sector is perhaps also the major factor in AAP victory in the Delhi election 2020.
This all started with not allowing the 200-odd private unaided schools to arbitrary hike fees for his entire stint of 5 years in power.
The battle was not easy, the schools decided to move to Delhi high court against the decision. A single judge quashed the Delhi government circular against the fee hike in March 2019.
The government fought back and challenged the order, result, the division bench put a stay on the interim fee hike.
With almost all families having at least one child who goes to a school, this was a big relief. Kejriwal promised that he will continue with this policy of putting checks and balances on private schools if re-elected. This seems to have worked well for him if results are to be believed.
2. Free water and Electricity
Who doesn't like free lunches? "Those in Delhi, who consume up to 200 units of electricity, need not pay their electricity bills. They will get a zero electricity bill. Consumers of 201-400 units of electricity will receive approximately 50% subsidy" were the words from Kejriwal.
This was huge financial relief for the majority of the population who apparently also vote in elections.
On the waterfront, the AAP government gave free delivery of 20,000 liters of water per month.
Interestingly BJP the major opponent and favorite to win Delhi elections just 6 months back gave mixed-signal and even at one point said they are against free water and electricity, not a prudent thing to say just months before the election for sure!
3. Improving government schools
The Deputy Chief Minister and Education Minister Delhi made it a point to focus on Government schools to bring them at par with private schools in Delhi. From teacher's training to the parent-teacher meetings, which was unseen in government schools, left parents and teachers see the change instantly.
Kejriwal said, "We have ensured that our government schools are at least as good, if not better than the private schools in Delhi". Almost 25 percent of Delhi's annual budget was reserved for improvement in the education sector, a big leap from the previous government.
4. Free ride for women in Delhi Metro and DTC buses
The Kejriwal led government facilitated free Delhi Metro ride and DTC buses to women in Delhi. The DTC buses offered pink slips to women passengers for a free ride.
The step was aimed at women's safety. It is yet to be seen how much does it contribute to the women's safety in the national capital but the move was apparently like by women in the city.
5. NCR factor
One of the overlooked contributing factors in the AAP victory is the "NCR (National Capital Region) factor". Delhi is not just the city, its adjoining areas like Gurgaon, Faridabad, Noida, Ghaziabad, play a major factor in how people see and perceive the city.
One lives in Delhi but works in other suburban cities and vice versa. In such a situation a comparison is always going to happen with your neighbors.
If my friend in Gurgaon is paying a hefty water and electricity bill and his wife has to pay every day for things like commuting, I may see myself in a privileged position, and it is all thanks to Kejriwal and one wants to vote for the person who put me in the privileged position.
6. Goli Maron Salon ko
Shoot those anti-nationals, if these words are coming from some unemployed citizen of the city if a feat of rage it can still be reluctantly conceivable. But, if a union minister says those words in an election campaign people may not be inclined to vote the party.
BJP lost its track when Anurag Thakur, the union minister of BJP used exactly the same words in an election rally.
7. CAA and anti-national vs nationalist does not play well in Delhi election
To be honest a union territory like Delhi allows only a limited amount of power to the chief minister of the state. National politics has an even lesser impact on Delhi assembly elections.
BJP perhaps relied too much on national vs anti-national debate, when people wanted some relief in a slowing economy.
8. Manoj Tiwari factor
Even AAP Chief and current Delhi CM, Arvind Kejriwal challenged BJP to announce their chief minister candidate while presenting their manifesto.
Although names like Manoj Tiwari and Harsh Vardhan had popped up as possible CM candidate of BJP for Delhi election, nothing confirmed came out of those speculations.
That, exactly was the problem, when you don't have a CM candidate, people will assume the person who is getting the most TV screen space as the CM candidate. And it was none other than Manoj Tiwari singing and dancing his way through with his single answer to all questions as "Modi hai na" (Modi is there).
The only mistake he made is that he just forgot that Modi is not contesting Delhi assembly elections nor is he the chief minister candidate for BJP.
9. Failing policies of the BJP government
No doubt that Modi led BJP government has taken some tough decisions which no one dared before, from demonetization to abrogation of article 370, these were some bold steps. But for the general voting public of Delhi, these were national policies not related to Delhi.
Furthermore, some of the steps like demonetization and GST which saw unprecedented support from the general public did not seem to provide any benefit to the common person on the street. Some see them as hurried and unthought steps. Rising fuel and onion prices also did not help BJP.
This made them fear the uncertainties if BJP comes to power in Delhi as well. After all, they are comforted on the financial front from the various schemes of the AAP government.
10. Image makeover of Kejriwal
From a constant ranting by Kejriwal and seemingly bitter relationship with PM Modi and team, to constantly blaming the central government about not allowing him to work from people, Kejriwal changed and changed for good in the last one year or so.
Perhaps driven by his national ambitions he tried to establish himself as a formidable opponent of Modi. Numerous defeats taught him a valuable lesson. it is better to remain CM of Delhi than to disappear in oblivion. He indeed needed to prove himself in Delhi first. Fortunately, he realized that just in the nick of time.
He avoided making comments on national issues and Modi. After all, questioning and asking for proof of India's surgical strike on Pakistan had not served him well earlier. A changed Kejriwal now has 62 seats out of 70 in Delhi (down by just 5), a result that seemed impossible just six months back.