Very rarely would you see a central minister of a country completely unaware of the ground realities and making an attempt to incite a mutiny in another country. Well, you haven't known the Pakistani government yet.
In a bizarre statement on twitter, Pakistan's science & technology minister Fawad Chaudhry on Tuesday urged Punjabis in the Indian Army to deny duty in Kashmir (sic). Naturally, his remarks drew a sharp reaction from Punjab Chief Minister Amarinder Singh among many others who asked Pakistan to mind its own business and keep out of India's internal matters.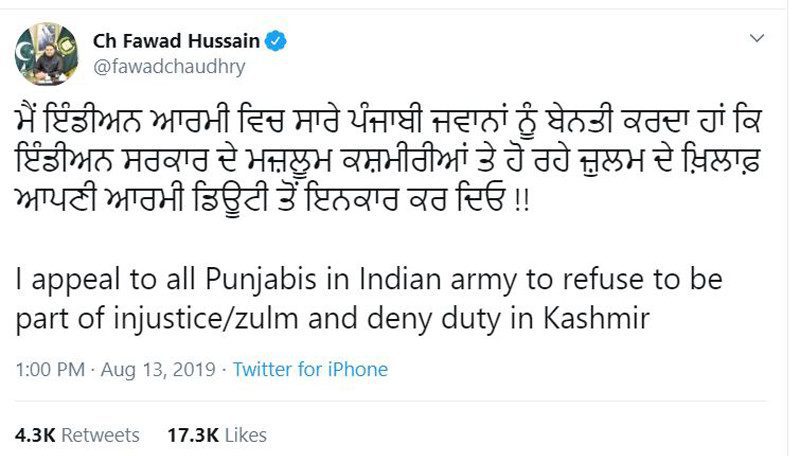 Reactions from India
As far fetched from the reality as Mr. Choudhry was without realizing that Sikh soldiers are the backbone of Indian armed forces and have unwavering patriotism. Indian armed forces, however, unlike Pakistan does not recognize soldiers by their religion.
Still, reactions came sharp and fast. The Indian Punjab chief minister who himself is an ex-soldier said: "Indian Army is a disciplined and nationalist force, " while he also warned Islamabad against continued attempts to interfere in Kashmir.
"Stop trying to interfere in India's internal matter. And let me tell you that the Indian Army is a disciplined and nationalist force, unlike your Army @fawadchaudhry. Your provocative statement will not work, nor will the Soldiers in our Army follow your divisive diktats. @adgpi," he tweeted.
He has gone so overboard with his statement that sane Pakistani citizens are asking to ignore him. Some are complaining about Imran Khan leadership
There were some hilarious responses from India too
There has been a rise in tension between India and Pakistan after New Delhi abrogated Article 370 that gave special status to Jammu and Kashmir, and bifurcated the state into two Union territories on August 5.
Following India's decision, Pakistan suspended all bilateral trade, cultural exchange and downgraded the diplomatic ties. Islamabad has also expelled the Indian high commissioner and stopped cross-border train and bus services.