There is no other festival that has a celebration as amazing as the Holi, the festival of colors in India. We often wonder, which places are the best to celebrate Holi in India and the places where you can see and experience the Holi celebration at its full glory.
The weather in India during the springtime is also very good to have some of the experiences of the Holi Festival that will remain with you for your lifetime. To make things easier for you we have come up with the list of best places to be on the occasion of the Holi festivity in India.
Here's a list of best places to celebrate Holi in India
1. Vrindavan, Uttar Pradesh: Bankey Bihari Temple, and Phoolon Wali Holi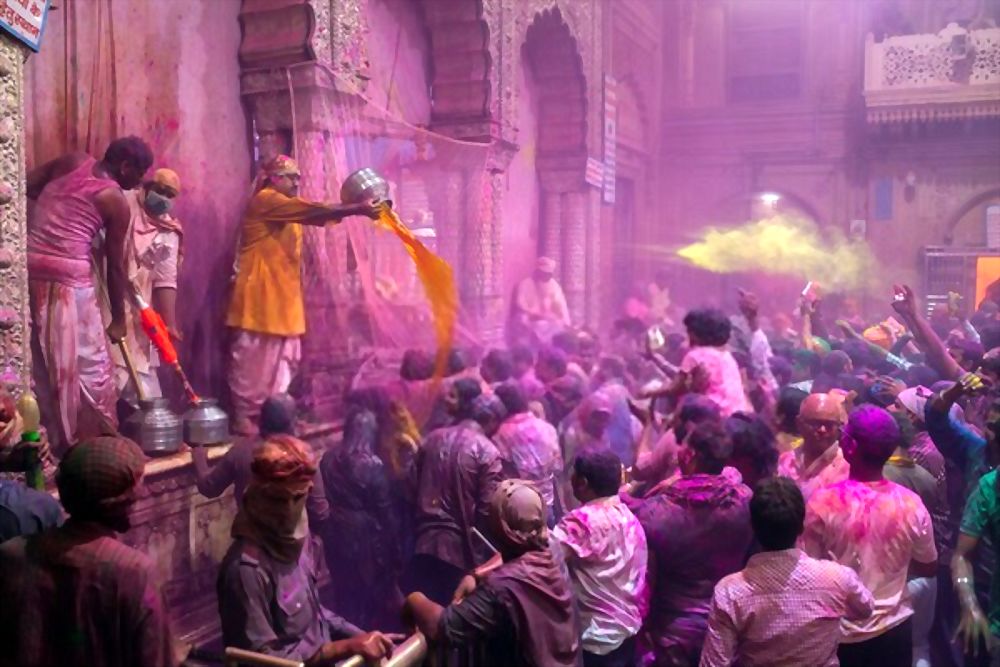 Make no mistake, Holi is celebrated with the utmost enthusiasm across the country but even then there is no match to the way it's celebrated across Braj region.
Braj is a historical region that covers the area of Mathura, Vrindavan and some nearby villages. It is the place where Lord Krishna is said to have spent his childhood. Holi celebration of the region is the most famous in India and attracts tourists and pilgrims from all over the world because of its unique customs and traditions.
The Bankey-Bihari Temple in Vrindavan is the foremost place to enjoy the festivities of Holi. The temple hosts a week-long Holi celebration.
During these days, the idol of Bihariji (Lord Krishna's other name) is dressed up in white-colored clothes and it is brought closer to his devotees to play Holi. Vrindavan Holi is played with colored water and Gulal, a form of color made using organic substances like flowers and Kesar.
You May Also Like: Interesting Facts About Holi Festival
Goswamis (priests in the temple) sprinkle colors on everyone using buckets, water guns, etc. To add more magic to the atmosphere there is live Bhajan (music) playing in the background. People dancing and playing with colors is a sight to witness.
In the days immediately following, there is 'Phoolon-wali' Holi in Vrindavan, about 11 km away, where flowers are used along with traditional colors. You can only imagine the honeyed, enticing fragrances wafting through the air.
2. Barsana, Uttar Pradesh: Lath Mar Holi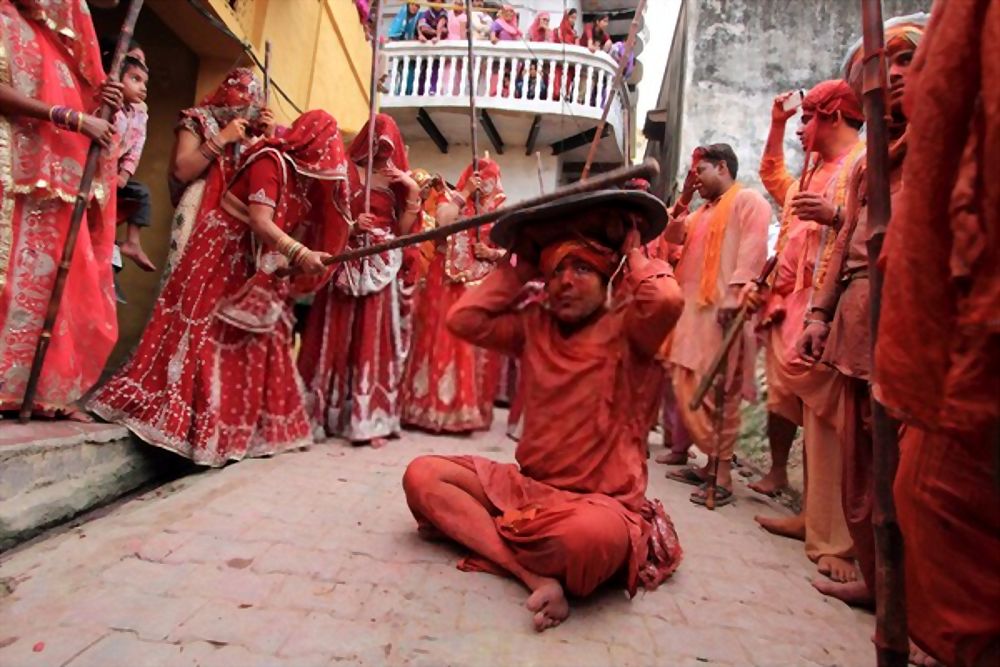 In one bizarre tradition that has been followed since ages in U.P, the men are beaten up with sticks by women while playing Holi. This celebration takes place in the Radha Rani temple in Barsana.
It is important to note that it is the only temple dedicated to Radha. Originating from a small village called Barsana near Mathura, the Lathmar Holi can actually be said to be the weirdest way of celebrating the festival.
According to a legend, it is believed that Lord Krishna from Nandgaon visited Radha's (his beloved) town in Barsana during Holi. Lord Krishna who was known to be friendly with all the 'Gopis', applied color on Radha's face in jest.
The friends and the elder females of the town, in turn, took offense and drove him out of Barsana, with bamboo sticks. Lathmar Holi thus keeps in tune with this tale and is a recreation of this episode from Lord Krishna's Life. Every year, men from Nandgaon visit the town of Barsana and the women there, drive them out, playing with sticks ( Lathi) and colors.
The Lathmar Holi lasts for a week where men and women indulge themselves in colors, songs, dances and of course the lathis!
3. Pushkar, Rajasthan: Cultural Holi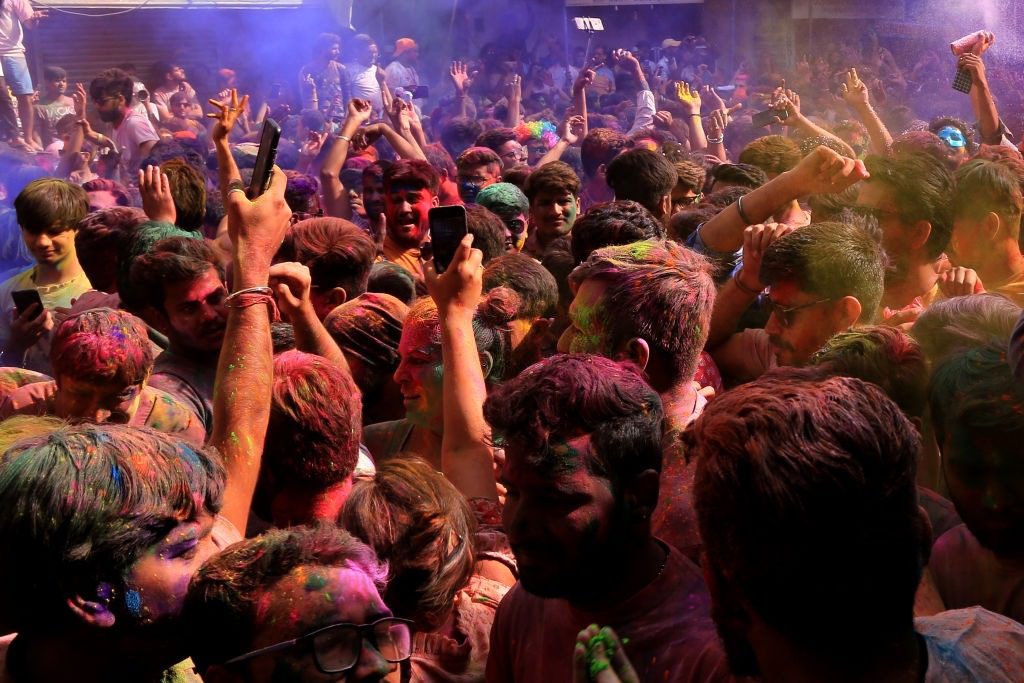 Holi Festival in Pushkar, a small holy town in Rajasthan is one hell of an experience. The celebration begins a day before Holi on Holikadahan with lighting up of a big bonfire. First, the locals gather around the unlit bonfire on a square, throw garlands and wooden branches onto the fire, to light the bonfire. The flames are known to grow higher than a two-story building
After the flames die out, everyone takes pieces of burning embers to their home. It symbolizes bringing good luck to the home. The color-throwing festivities start early in the morning of Holi. A dance party is held in the central square of Pushkar with everyone covered with beautiful colors.
You can expect at least a thousand people, completely covered in blues, pinks, greens, reds, and yellows, dance freely and madly about the heavy beats of electronic music. In this intimate space, revelers young and old, locals and tourists form a sea of undulating bodies, laughing, jumping, hugging, smearing, spraying, and splashing each other with dry and wet powder.
4. Rishikesh, Uttarakhand: Holi at Lakshman Jhula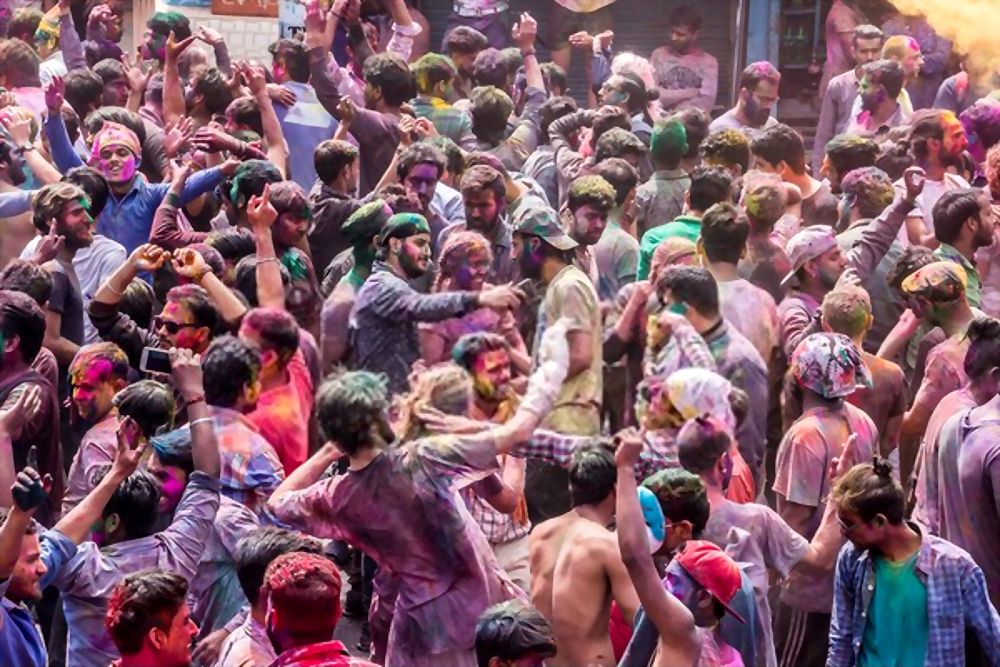 Holi celebration in Rishikesh has been getting better and better. If you are in Rishikesh at this time, you will come to the realization that the Holi fever has spread far and wide. Travelers from across the globe come specially to Rishikesh to experience the celebration, with Rishikesh being one of the most sought after Holi destinations.
The celebration like many others starts a night before, the "Holika" is burnt at Laxman Jhula chowk (main crossing), and mark the start of Holi. People gather around the fire, sing and wish each other.
On the day of Holi, the Laxman Jhula chowk becomes the venue for a huge celebration gathering. The crowds including both locals and tourists gather.
Then begins the ritual of Holi with some Bollywood music flavor in the background. With everyone smearing everyone else with colors and wishing each other, the atmosphere is beyond words to explain. Don't worry if you don't travel in a group, you will find a lot of takers to play Holi and dance away with.
The whole fun of being in Rishikesh is to experience the enthusiasm that non-nationals have for this wonderful festival of colors, and the general camaraderie going around.
Make sure you are armed with the mandatory Holi staples – Bhang, Thandai, Gujiya and of course, colors, water guns, and water balloons.
5. Anandpur Sahib, Punjab: Warrior Holi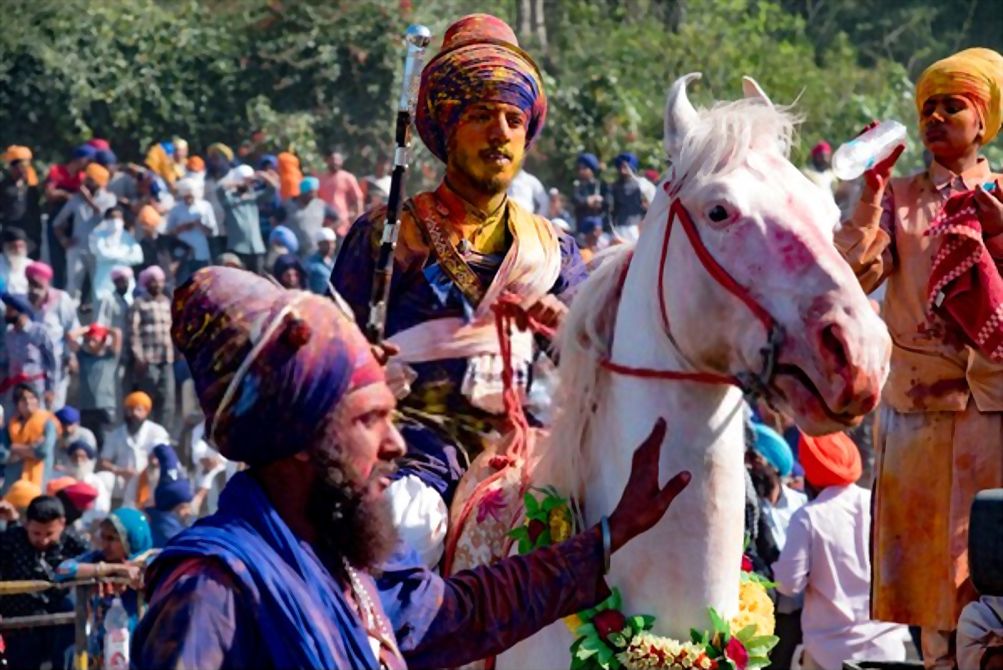 While the rest of India celebrates the festival of colors as Holi, it is a distinct and fascinating sight in the Anandpur Sahib.
The city celebrates Holi in the form of Hola Mohalla. This event makes it one of the best places to celebrate Holi in India.
Hola Mohalla is a rollicking event, indispensable to Sikhism. It is a tradition that is followed with utmost diligence by the Sikhs. It was started by the 10th Sikh Guru, Sri Guru Gobind Singh. It takes place in the Bikrami month, Phalgun.
Sometimes, Hola Mohalla is seen coinciding with Holi. However, mostly it follows Holi. In former days, the event would get organized to honor the ancient Sikh warriors and display the battling skills of people.
6. Udaipur, Rajasthan: Royal Holi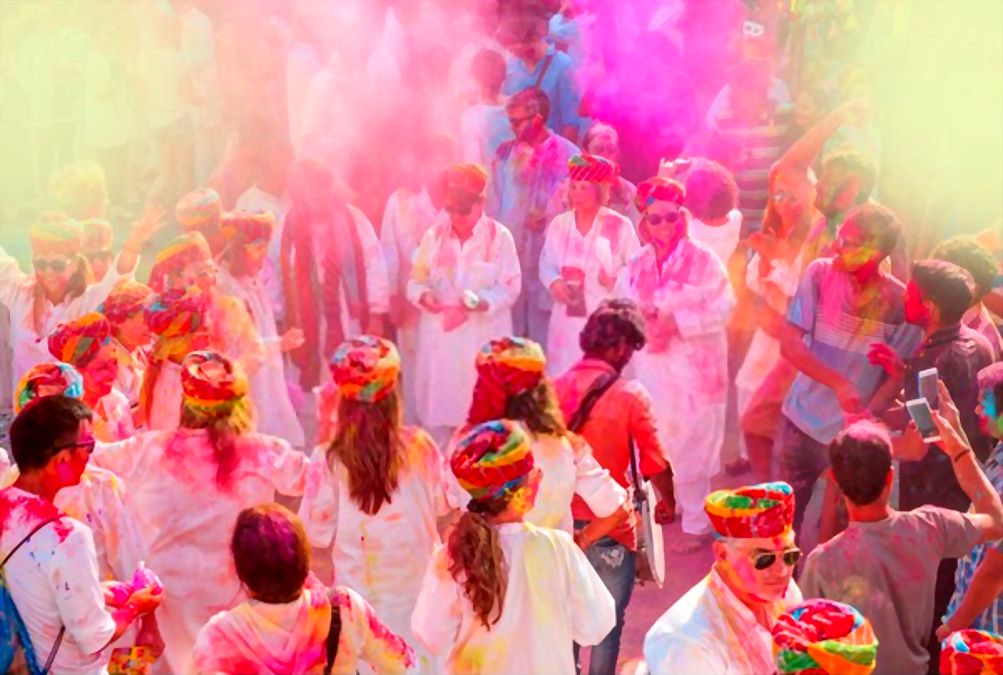 Holi celebrations in Udaipur, Rajasthan is no less than Mathura and Vrindavan in many ways. In Udaipur, the festival is celebrated in the most imperial and grand manner, where the royal family takes active participation in all functions and rituals.
From Holika Dahan, fireworks to spraying colors, the Holi celebration in Udaipur is an enchanting and exuberant experience. Udaipur is famed for most amazing and royal Holi celebrations, not only in Rajasthan but also in the country. Holi is celebrated in Udaipur for two days.
The Holi celebration in Udaipur starts with Holika Dahan, one day before Holi. Known as Mewar Holika Dahan; the bonfire takes place on the grounds of City Palace.
The ruling Mewar king and his family, grace the occasion, by lighting the Holi pyre, while the locals perform 'Gair'- a folk dance, around the bonfire. The king personally meets all royal guests, VIPs, and dignitaries, who have been invited for the celebration by the royal Mewar family.
Holika Dahan in Udaipur is followed by a large and vibrant rally, accompanied by royal family members, sitting on ornated camels, elephants and horses.
A music band also plays in the rally. This royal procession starts from Shambhu Niwas Palace and moves up to Manek Chowk royal residence. Finally, the cocktail and dinner are served at the royal palace and the celebration ends with magnificent fireworks.
On the second day, locals and tourists rejoice Holi throughout the city. In several parts of old Udaipur, local people play with dry and wet colors, water guns and balloons. Buckets full of colored water are thrown at anyone and everyone, walking by. Households prepare traditional sweets and local people dance and sing folk songs to rejoice the merriment. Even, every hotel and resort in Udaipur arranges for Holi celebrations with live DJs, colors, and refreshments.
7. Hampi, Karnataka: Holi of South India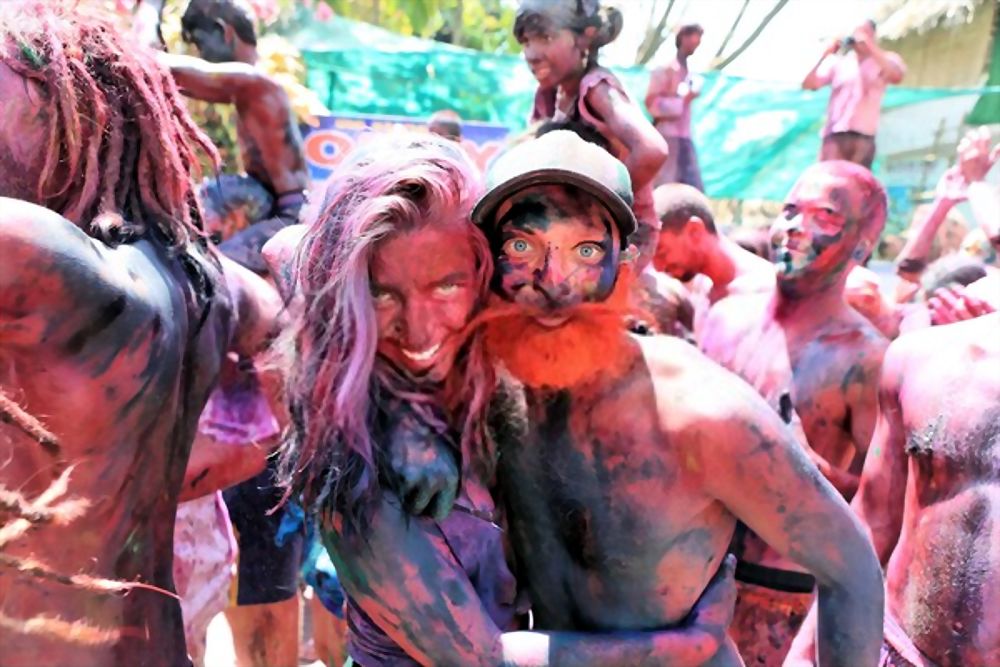 Hampi is among the top destinations in India to be when you want to witness and experience the revelry and frenzy of the Holi Festival. On the next day of Holika Dahan, people gather on streets and roads to play with colors. They splash dry and wet colors on each other and dance on the beats of the drum. It continues throughout the day.
After playing with colors, everyone comes to the river Tungabhadra and have a dive in it. This way, all the colors wash away, and everyone takes this bath as all the sins are washed away.
If you want to witness Holi 2020 in South India, be there in Hampi. You will simply love it.
There's undoubtedly something mystical about Hampi. A sense of surrealism and timelessness in its mesmerizing boulder-strewn landscape, interspersed by enchanting ruins and temples.
8. Jaipur, Rajasthan: Holi and Elephants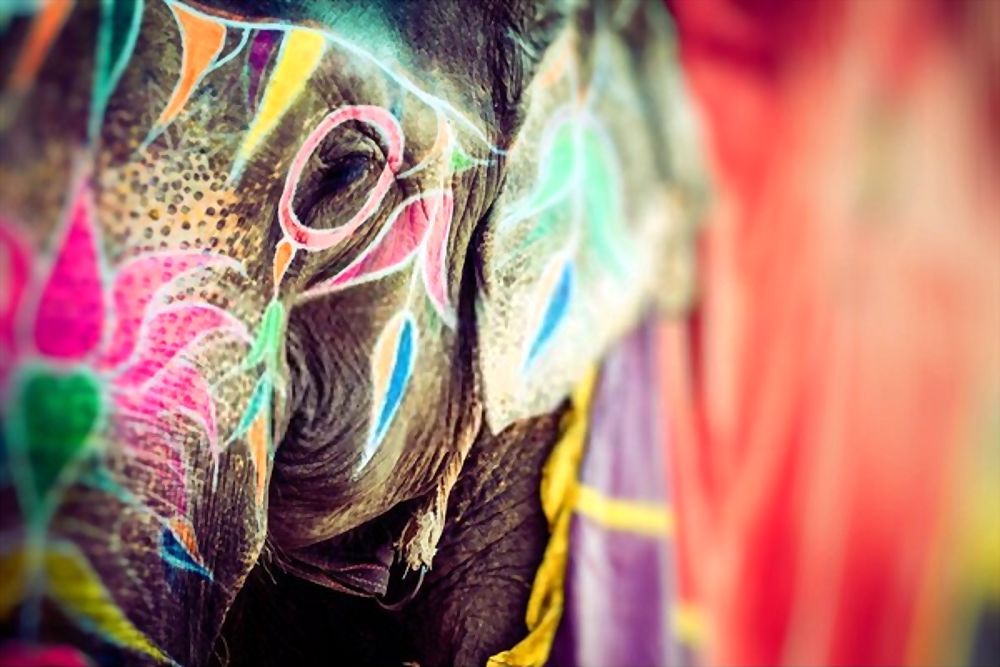 Jaipur Holi celebration is aided by the state Rajasthan Tourism. it organizes a special celebration for tourist and that makes it special.
The celebration is held on the lawns of its Khasa Kothi hotel, near the railway station on MI Road. There aren't any elephants at the event but it features local Rajasthani folk music and the throwing of colors.
Diggi Palace in Jaipur also hosts a popular Holi celebration. It includes a lunch buffet and cultural performances, as well as the sprinkles of colors of course.
Now about the main attraction of Holi celebration with elephants, try the Eleholi Fest. Eleholi is a special event that's held every Holi at Eleday elephant park near Amber Fort in Jaipur. Two different programs are held, offering varying degrees of involvement with the elephants.
One program offers include a full list of items for Holicelbration, photography, music, rain dance, food, and games. The other has additional elephant activities (riding, painting with organic colors, washing, and feeding), and Bhang Lassi.
9. Purulia, West Bengal: Folk Holi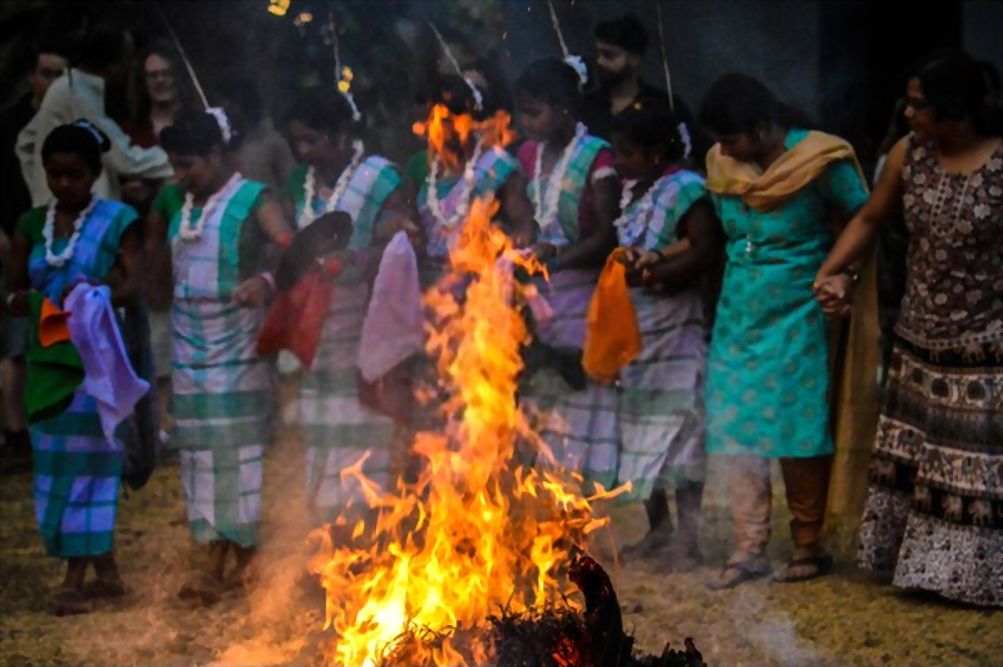 West Bengal always depicts a unique color of Holi. When it comes to Purulia district, Holi takes the color of Basanta Utsav that is more than colorful.
Purulia district of West Bengal arranges a Holi festival, which is the celebration of Basanta Utsav and also known as Basanta Utsab. This folk festival is organized by local villagers that help them earn some extra money. It continues for three days, and accommodation is also available at the spot.
The ritual of "Nerapora" also know as the "Holika Dahan" is also performed on the eve of "Holi". It is a very popular folk dance performed by the Santhal tribes during all special festivals and occasions. It not only reveals the culture or traditions of the local tribes but also showcases the strength of unity.
Visitors can play Holi of colors with the locals here. There is a lot of folk art, including songs from Baul musicians. There are some unique dance performances on offer like Darbari Jhumur, Chau dance, and Natua dance.
10. Delhi: Musical Holi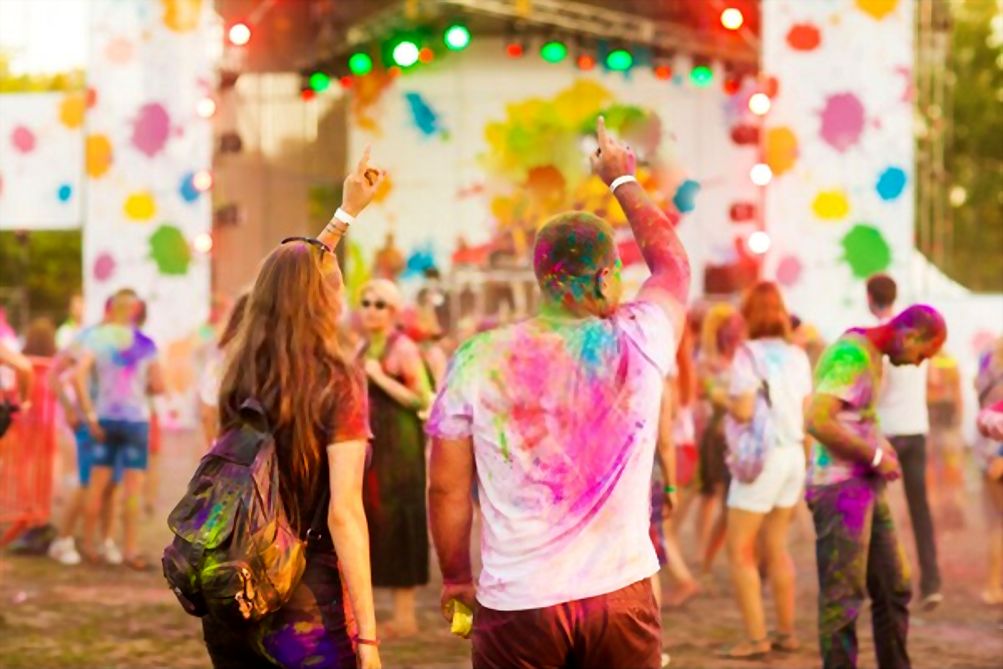 Holi celebrations in Delhi often begins with a 'Tilak'. A Tilak is a traditional mark of color drawn on a person's forehead. To some it is a symbol of honor, to some it represents confidence. Some wear it as a custom, for some, it brings a good omen.
People also greet one another with garlands before commencing Holi. Delhiites (people who live in Delhi) celebrate holy with endless music. Delhi is known to have a musical Holi.
The Unite Holi Music festival takes place in the Jawaharlal Nehru Stadium, New Delhi. The stadium thrives with a population between 5000-6000. You can expect great music that will continue for hours. There is an abundance of colors and fun at this Holi party.