Brands are not individuals — though they use emotions to sell their products, many believe they aren't supposed to troll an individual for fun.
Indian cricket team did not have a great world cup tour. Though they qualified for the tournament's Semifinals, their humiliating defeat by England in a one-sided match, made things worse.
With defeat comes all the baggages and many players who were considered match-winners were defamed and written out.
Some players, in particular, K L Rahul had to face fans' ire more as he only managed to do well against teams like Bangladesh and Zimbabwe, who are considered minions (we disagree though).
KL Rahul managed to draw a lot of attention to himself after Chris Woakes dismissed him only after scoring 5 runs in the crucial semifinal against England in the T20 world cup.
As KL Rahul departed the field, people took to social media to convey their dismay over his performance.
There were also certain accounts that trolled him incessantly, just like it happens to all sportspersons after they lose a crucial match.
However, what was unexpected was popular fashion e-commerce retailer — Myntra trolling him.
Myntra's official Twitter account shared a picture of a black t-shirt that read 'Out' and they captioned it, "KL Rahul's favorite t-shirt."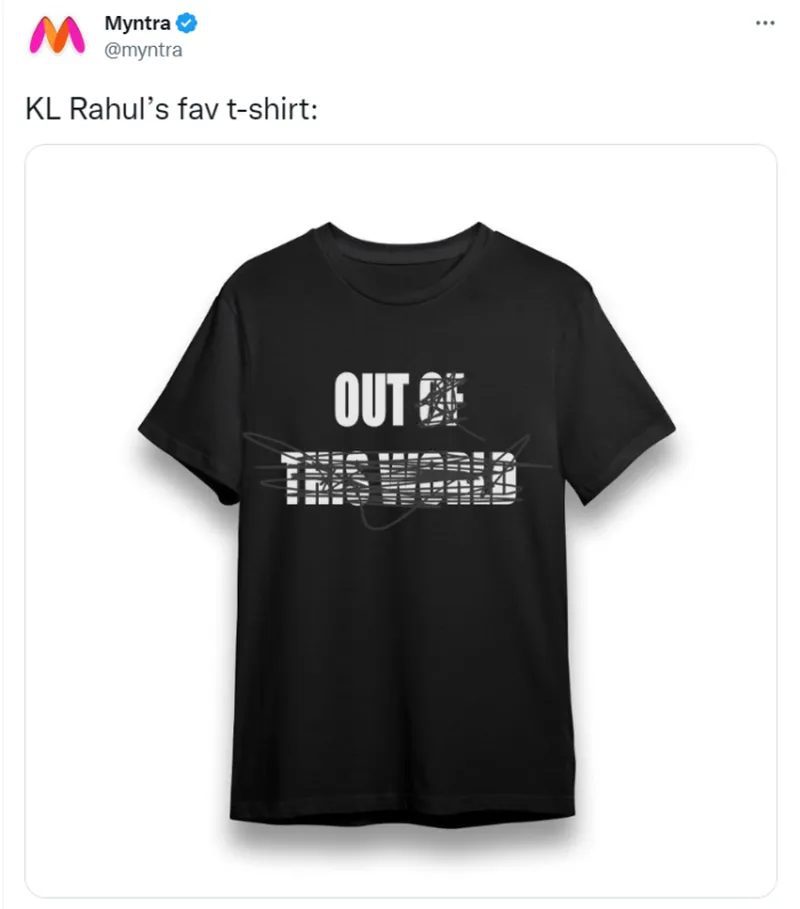 While the fans are disappointed by his performance, many didn't like the way a brand like Myntra chose to troll an Indian cricketer during the bad phase of this career.
A few believed that Rahul should take some action against the brand
Some rightly said, "When trolls do, it's fine. When reputed brands do it, it's bullying.
K L Rahul hasn't done too well in this world and he has the BCCI to report to and the cricketing board can take decisions regarding that. Fans have a right to criticize their players.
But like any other profession, if you aren't performing well, an established brand with a large following can't troll you for your performance. It's simply too personal and brands need to do much better than that.