A true story of immense courage, determination, and love of her son led a mother in Telangana to ride nearly 1,400 km on a scooter for over three days to bring him home after he got stuck in Nellore in neighboring Andhra Pradesh due to the COVID-19 lockdown.
48 years old Razia Begum set out for the strenuous journey on Monday morning armed with local police permission. She rode alone to Nellore and returned with her younger son on Wednesday evening. She's being applauded for showing an endurance level even seasoned motorists would find hard to match.
Her son Nizamuddin, 19, who is preparing for his MBBS entrance exam, had gone to Rahamatabad in Nellore district of Andhra Pradesh on March 12 to drop his friend but stayed back there. When the lockdown was imposed from the midnight of March 24, with just four hours' notice, he got stranded there and could not return home to his mother and older brother.
"It was a difficult journey on a small two-wheeler for a woman. But the determination to bring my son back overtook all my fears. I packed Rotis to eat and they kept me going. It was fearsome in the nights with no traffic movement and people on roads," the brave mother told PTI on Thursday.
The 1,400 km journey of the brave mother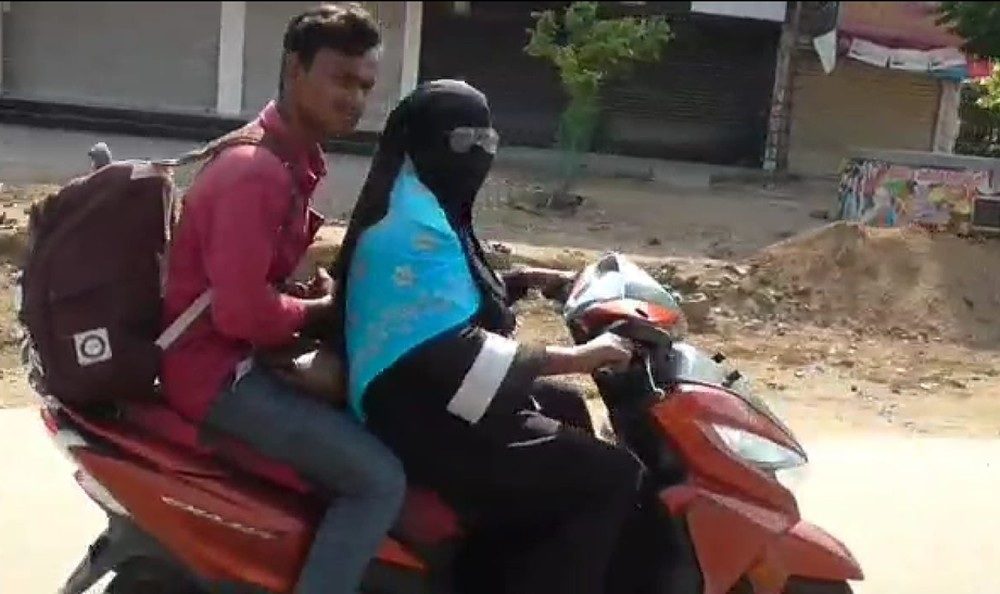 Razia is a government school headmistress from Bodhan town in Nizamabad district, about 200 km from here. She lost her husband 15 years ago and had been living with her two sons, an engineering graduate, and 19-year old Nizamuddin, aspiring to join MBBS.
Razia was heartbroken to hear from her son that he was desperate to join the family and decided to get him back all by herself. The woman did not send her elder son as she thought police might mistake him for a joyrider and detain him. After initially considering taking a car, she discarded the idea and chose her two-wheeler.
Begum said she spoke to Bodhan Assistant Commissioner of Police Jaipal Reddy and explained the situation. "He provided a travel permission letter to allow me to travel during the lockdown," she said. On the morning of 6 April, she began the journey and reached Nellore the next day afternoon.She left for home town on the same day along with her son and reached Bodhan on Wednesday evening, Razia said.
I packed rotis and they kept me going. It was fearsome in the nights with no traffic or people on roads," she said on Thursday
Razia Begum topped up petrol wherever she found a fuel station and carried a five-year-old can with additional fuel. She carried Rotis and sabzi for the journey. She took 15-20 minute breaks at fuel stations, drank water and let the scooty (scooter) engine cool down.
Fortunately for her, the scooty did not break down during the entire journey. When she reached the Telangana-Andhra Pradesh border, it was late evening and the cops there were obviously surprised to see a lone lady on a scooty during the lockdown. They were taken aback when she told them where she was coming from and headed. It really took a lot of convincing from her to allow the cops to venture further.
The cops were also worried about her safety – they said that there was no one on the highway and it was getting dark. However, she managed to convince them that she will be safe and drove away. The highway was dark and lonely but the determination to pick her son kept her moving.
She was again stopped by police at a checkpoint at 2 am on Tuesday on the outskirts of Nellore. After listening to her story, they said that the road ahead was dangerous and advised her to stop and rest for some time. She then waited at a roadside shelter near the check post till 4 am and then called her son that I was nearby," she said.
"She arrived at 7:30 am. She drove almost 23-24 hours to pick me up and I was overwhelmed and very happy to see her. We left again in the afternoon and returned to Bodhan Wednesday evening. She had her first good meal after two days," Nizamuddin said.
"She is a gutsy lady. I tried to persuade her to hire a car but she said she doesn't have that much money and went on the scooty. She requested a letter from me stating the reason for which she was traveling to be shown if she was stopped at checkpoints. Her courage to bring back her stranded son is very moving," Assistant Commissioner of Police (ACP) Bodhan V Jaipal Reddy said.
The courageous tale of the mother traveling 1400 km to rescue her son during the lockdown is proof that for a parent the love of their children can lead to unmatched determination and sheer will to overcome even the most difficult situations.