Mathematics and Physics as subjects in class 12 should not be compulsory for engineering students, says AICTE.
It has proposed bridge courses for these subjects in engineering colleges for non-maths and physics students
Many academicians have criticized the proposals made by AICTE for the upcoming academic year.
In a move that has polarized opinions and may have an impact on the quality of education, the AICTE has said that Maths and Physics are no more compulsory to get admissions to BE and BTech courses from 2021-22
It was revealed when the All India Council for Technical Education (AICTE) released its approval process handbook for the academic year 2021-22. Based on the details in the AICTE handbook, mathematics and physics will no more be compulsory subjects for students aspiring to pursue engineering.
The eligibility criteria for UG admissions have been modified, the revised rules said. Students who are seeking admissions into undergraduate engineering courses need not have mathematics and physics as their core subjects in Class 12.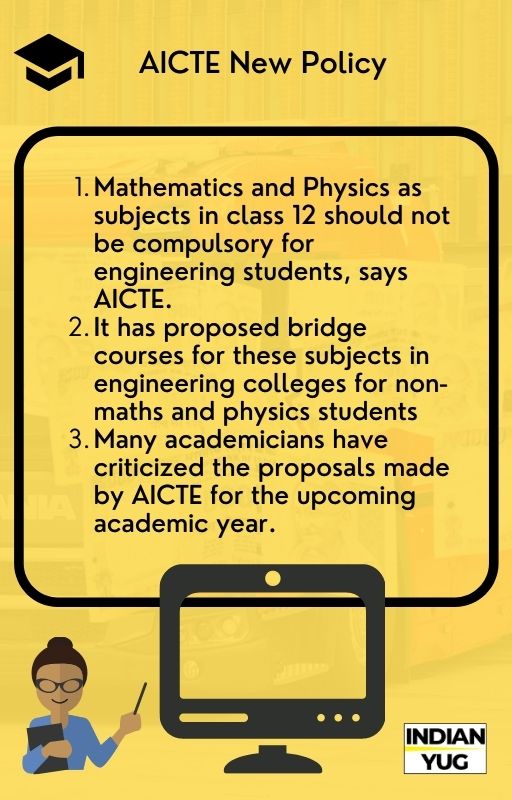 Now, students who are seeking admission to engineering colleges will be able to choose any three subjects from the following list.
Physics
Chemistry
Mathematics
Biology
Computer science
Electronics and IT
Information practices
Technical vocational subject
Biotechnology
Agriculture
Business studies
Engineering
In its handbook, AICTE further said that candidates will have to score 45 percent marks, and 40 percent if in the reserved category, in the above subjects taken together.
"The universities will offer suitable bridge courses such as mathematics, physics, engineering drawing for students coming from diverse backgrounds to achieve learning outcomes of the program," it said.
Reactions to the AICTE move
As the news about the new move from AICTE broke at it immediately became controversial and many experts said that physics and mathematics are absolute essentials for a course in engineering. Many experts have also urged AICTE to reconsider its decision.
A recent employability report has found that over 80 percent of engineers in India are unemployable as they lack the technical skills required by employers now. Having students who have not previously studied Maths or Physica and then studying it as a bridge course has the possibility of degrading the employability further.
Many argued that there was an immediate need to improve the quality of engineers and also revive the curriculum and practical experience. The move to exclude Maths and Physics as compulsory subjects in class 12 is like working in opposite direction.
AICTE Chairman Anil D Sahasrabudhe told TOI that the choice of three mandatory courses as input to engineering has been expanded. "Hence for different disciplines, there could be different three mandatory courses," he said.
He said that this would give a lot of flexibility in line with National Education Policy but acknowledged that physics and math are important to understand engineering otherwise a lot of bridge courses would be required.
Currently, the study of physics, chemistry and mathematics is mandatory for the students of Class 12 of the science stream to be able to apply for admission in undergraduate engineering courses.