Over the years  Jim Corbett National Park is known as one of the top nearby weekend destinations near Delhi.  Rightly so as It has some of the best properties to stay and lot many places to visit nearby. I am going to share my multiple travel experiences with Jim Corbett National Park. Also I will share the best places to stay, places to visit and also the jungle safari that people have always wanted to know about.
About Jim Corbett National Park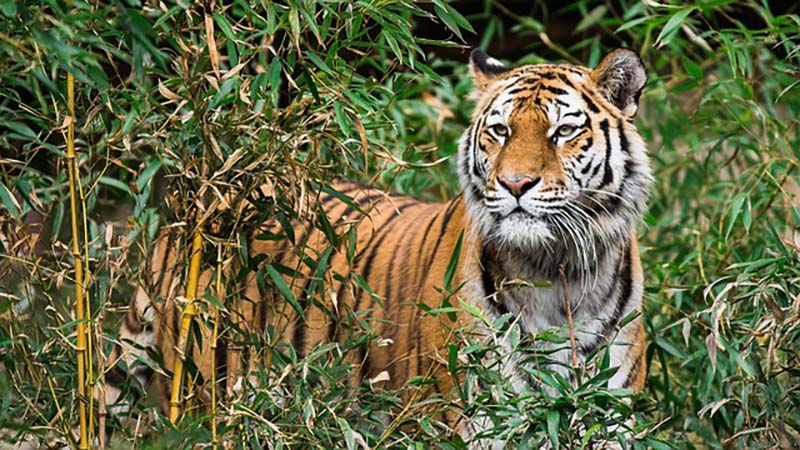 Jim Corbett National Park is a part of a larger Corbett Tiger Reserve. This Project Tiger Reserve lies in the Nainital district of Uttarakhand which itself is a wonderful hill station. This wonderful landscape is situated around 215 Km from New Delhi and is hardly a 4 hours drive from there. It is a huge advantage for Jim Corbett National Park as short distance from Delhi makes it highly accessible to people from Delhi NCR and is leading to a lot of development in recent years.
Jim Corbett National Park was established in the year 1936 as Hailey National Park, and has the glory of being India's oldest and most prestigious and famous National Park. It is also being honored as the place where Project Tiger was first launched in 1973. This unique tiger territory is best known as the father who gave birth of the Project Tiger in India to protect the most endangered species and the Royal of India called Tigers.
What is the best time to visit Corbett Tiger Reserve?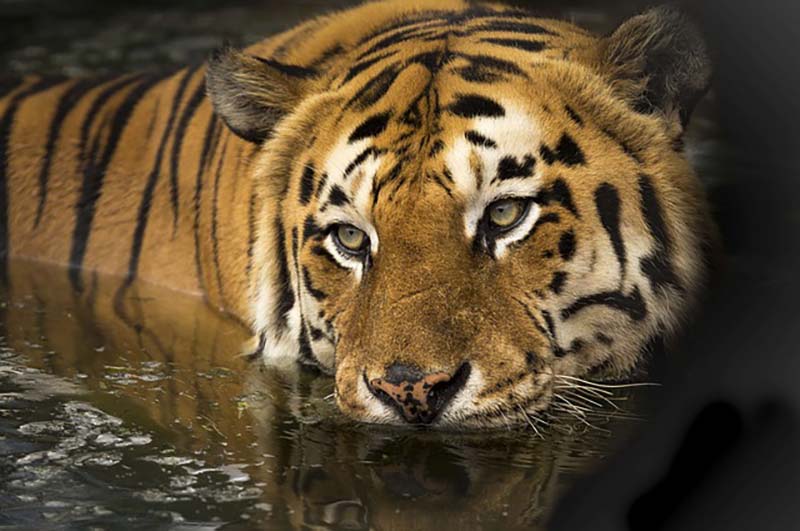 Corbett Tiger Reserve remains open from 15th November to 30th June every year. Best time to visit Corbett is from November to mid April as weather is good and not too warm during these days.
However you can travel throughout the year if you wish to spend some quality time with friends, family or colleagues, as the properties and nearby locations are open throughout the year. The properties are equipped with air conditioning and evening are generally not too hot.
Beyond the Jim Corbett National Park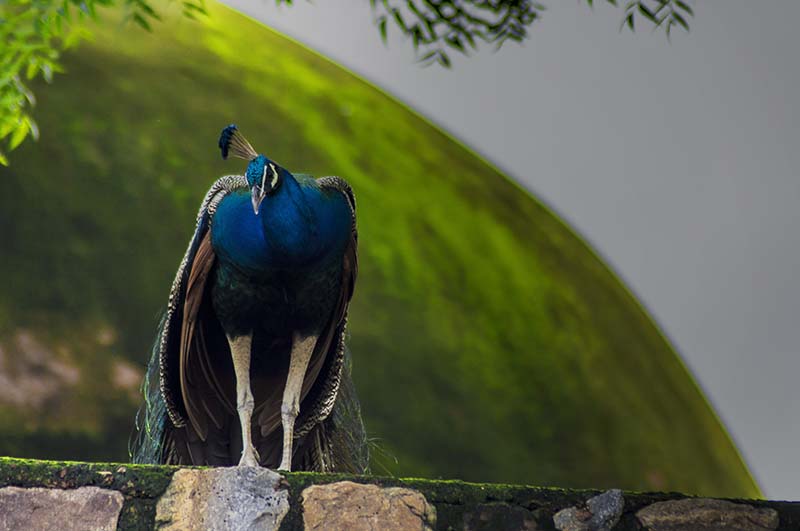 While one of the major attraction in Jim Corbett National Park is the jungle safari. However in recent years it has become a destination with upcoming and newly developed luxurious properties in and around the park that makes it a wonderful weekend destination.
In fact, out of my 20 odd visits to Jim Corbett National Park, only 5 times I could visit the interiors of the Jungle or do a Jungle Safari. Most of the other times I prefer staying in a resort nearby a jungle with nearby hills in full view with a high tea a wonderful dinner and some real good time.
Staying in a Resort Near the Woods
As I have stated earlier my major ventures into the Jim Corbett National Park are about staying in the wilderness and luxury with good food to spend a wonderful time with family.
The most Wonderful thing is the luxury in the vicinity of the Jungle at a reasonable cost near Delhi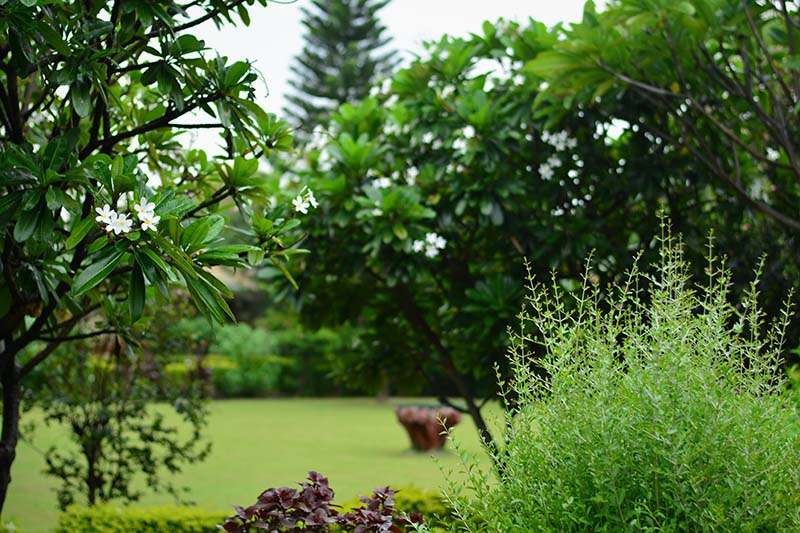 You can spend some real good time in the resorts near Jim Corbett National Park
Some of the properties are jungle within their own right and are filled with great plants, birds and even pet animals!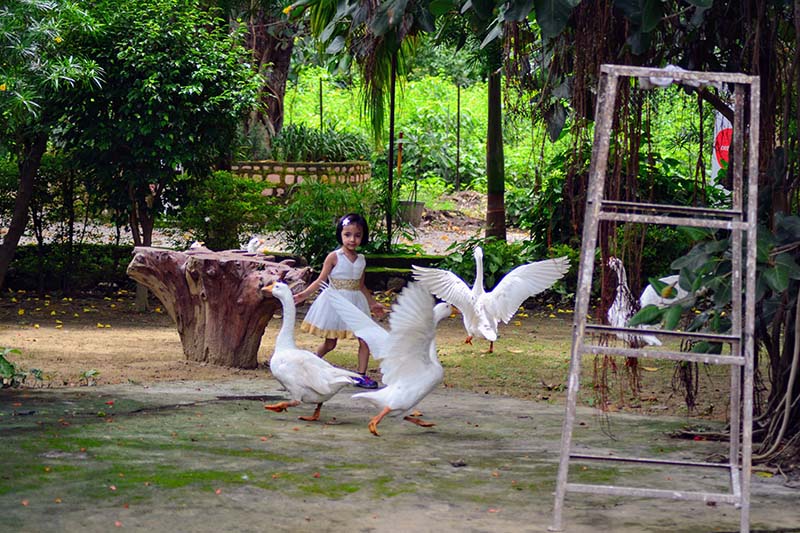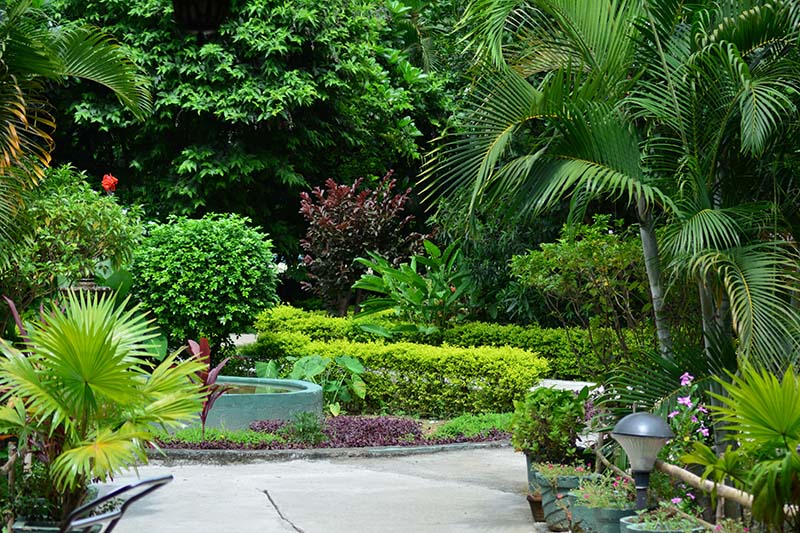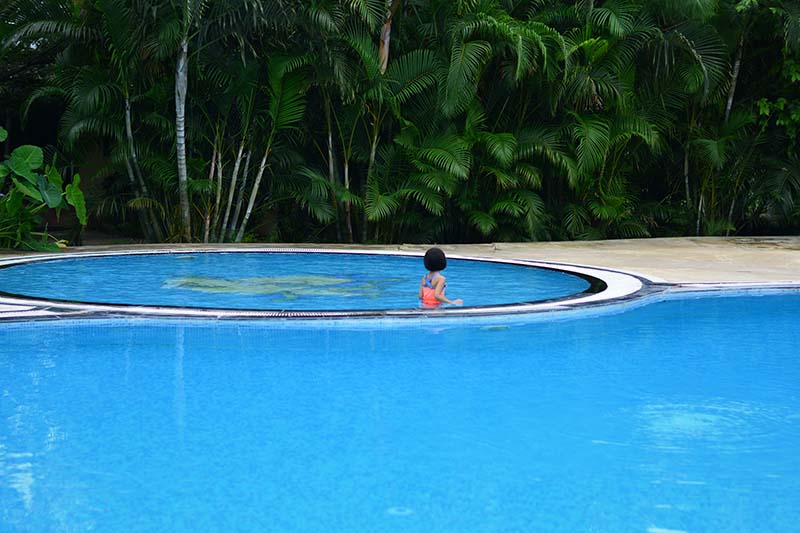 Where to find the best resorts near Jim Corbett National Park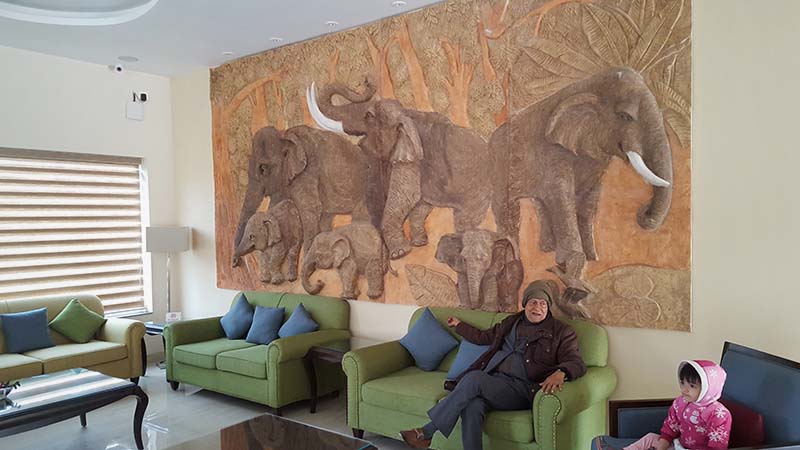 While the entire stretch and almost all the gates of Jim Corbett National Park is surrounded by budget and luxury resorts, the best luxurious resorts can be found near Dhela gate.
However I prefer staying near Marchula which actually is an interior of Jim Corbett National Park with Ramganga river bank and peaceful location. The view of hills is also breath taking from this location.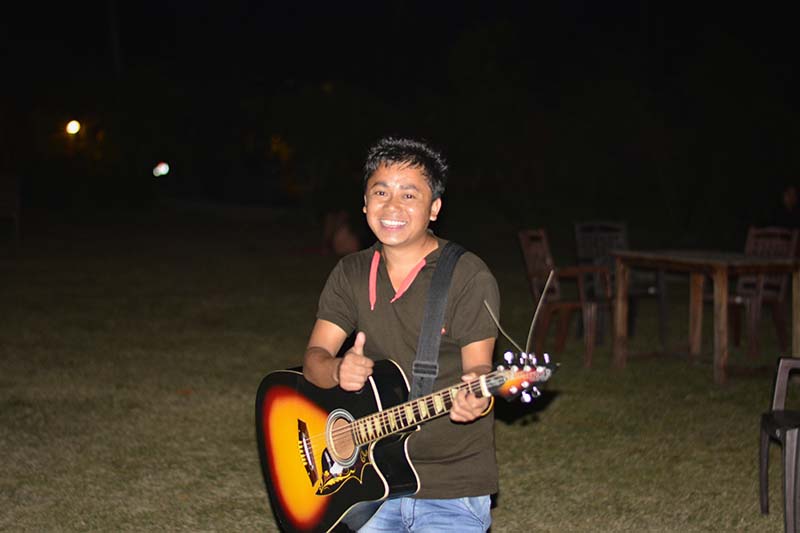 The Safari and Different Gates in Jim Corbett National Park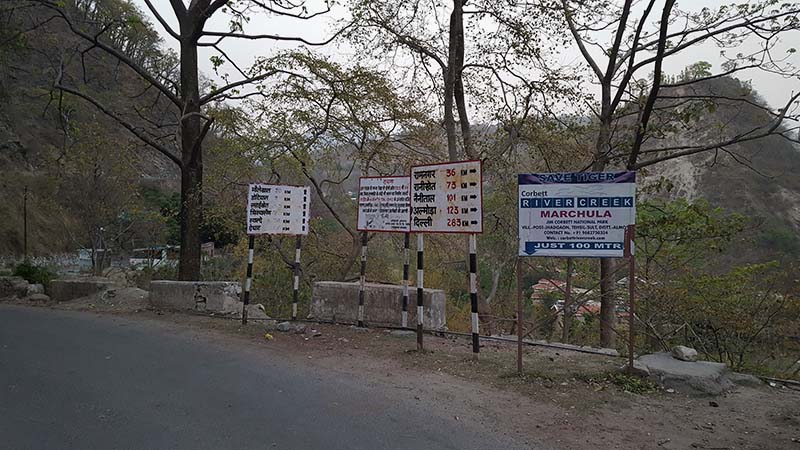 When I was travelling to the Jim Corbett National Park for the first time all was so confusing when it came to going for the jungle safari. I did not know which gate should I book my Safari. How do I get to book a Safari or whether I will be able to take my own car into the Jungle. I
I will make the same easy for you so that you know everything beforehand and pursue you wonderful journey fully informed
If you love bird watching then Corbett is virtual haven for such tourists. Corbett and its adjoining area is a home to more than 650 species of residents and migratory birds. Particularly Dhikala is fine place to look for birds of prey, more than over 50 species of raptors alone shows the healthy biodiversity of the area. Their multiplex behavior is intriguing and their varied songs are very much pleasing to the ear. In a nutshell, this finest national park of India is well known for rich and varied wildlife including royal Bengal tiger, elephant, four to five species of deer and rich birdlife.
The Tourist Zones: In order to promote tourism in the region Jim Corbett National Park has been divided into five different zones or Gates to Jim Corbett National Park. Furthermore these are the main areas of the park where visitors can be part of wildlife safari and can enjoy seeing wild animals in their true wild form with bare eyes at in short distance.
Bijrani Gate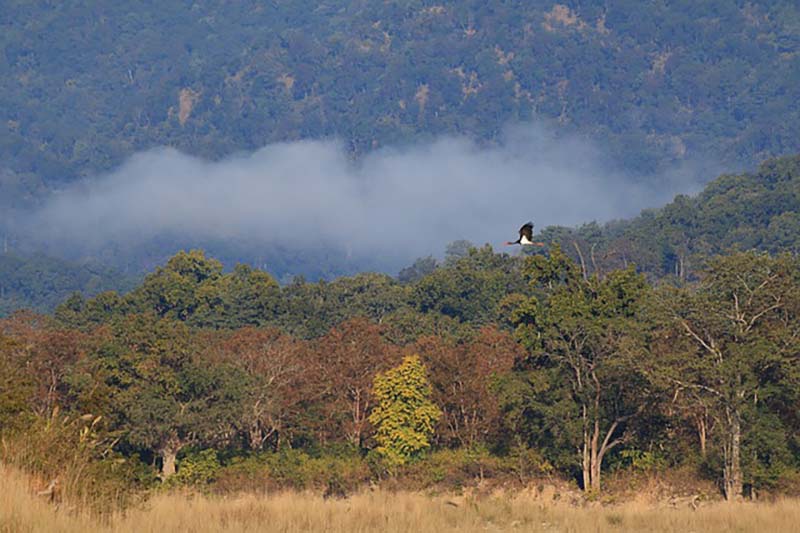 Bijrani Zone is very popular tourist's hub because of its abundant natural beauty and open grasslands. The entry gate of the zone is located at only 01 Km from Ramnagar city.
Jhirna Gate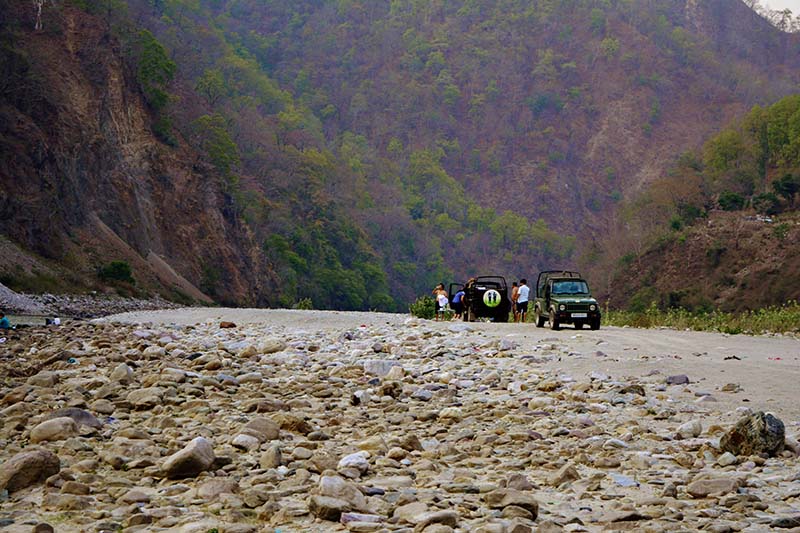 Jhirna is another important tourist zone in the Jim Corbett National park that is open for tourist round the year. The Jhirna  Gate is located at 16 km from Ramnagar city.
Dhela Gagte
Dhela is a new eco tourism zone in Jim Corbett National Park included in tiger reserve zone in November 2014. This is the only area in the reserve's buffer zone open to tourists in Corbett Tiger Reserve. The zone is retaining the attention of large number of tourist because of its wealthy flora and fauna, open throughout the year, located at an approximate distance of 13 Km from Ramnagar City and is the nearest gate from Delhi.
Dhela Gate is also seeing a lot of development in recent time in terms of new properties coming up.
Dhikala Zone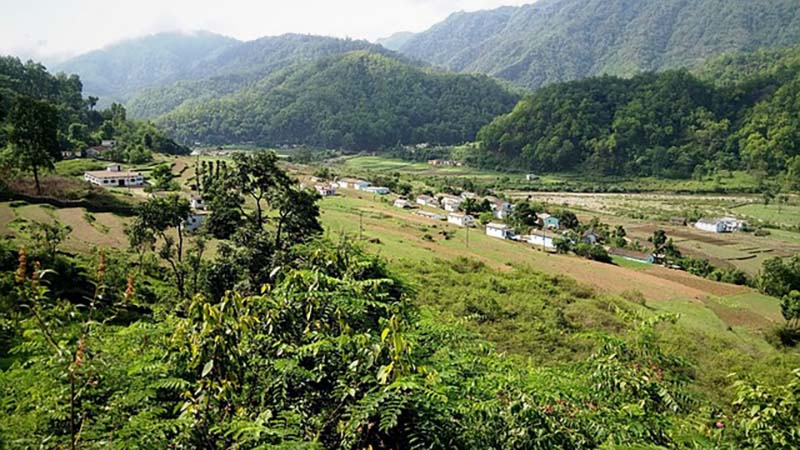 Being the largest and most varied zone in Corbett, Dhikala is famous for its abundant natural beauty as well as offering the best sight for exotic fauna. T
The entry gate is 18 km away from Ramnagar city and is the second nearest gate from Delhi. Night stay inside the Dhikala Tourism Zone is highly recommended for the hard core wildlife enthusiasts.
Durga Devi Zone
Located on the north-eastern boundary of the Jim Corbett National Park, Durga Devi zone is the best gate for those who are fond of bird watching and photography. Entry gate is located at an approximate distance of 36 km from Ramnagar city.
Sitabani Buffer Zone
Sitabani Zone doesn't fall under the Corbett Tiger Reserve area. If you are fond of peaceful uncrowded, natural beauty, then you must visit Sitabani area.
How to Reach  Jim Corbett National Park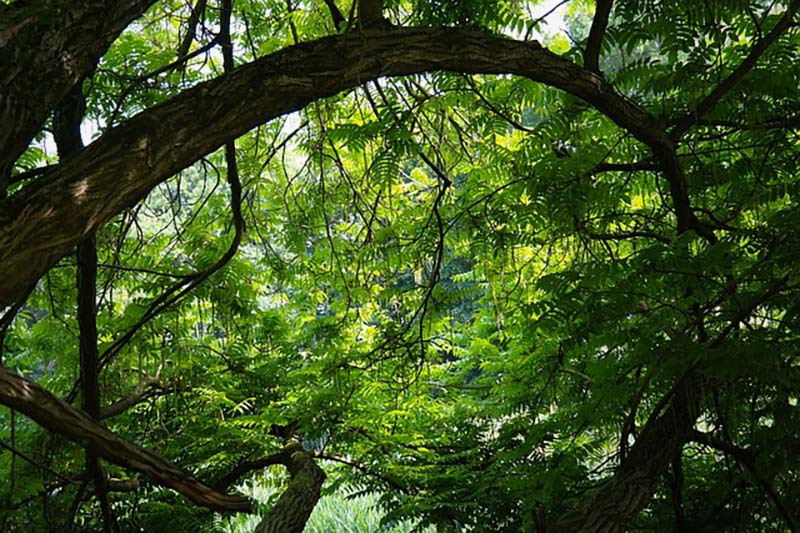 Ramnagar is perhaps the best approach to the Corbett National Park which forms the headquarters of Jim Corbett national Park. This small city is well connected by road and rail network with major cities of India like Delhi, Moradabad, Nainital and Bareilly. After reaching Ramnagar, its hardly a 20 minutes to one hour drive to Jim Corbett depending on which gate you want to reach.
The park is around 15 Kms from Ramnagar railway station.
By Road
Ramnagar has a very good network of road that connects the different cities. The Corbett National Park is situated at an approximate surface distance of 260 Kilometer from India's national capital Delhi. The state government of Uttarakhand plies buses at a short interval of time from Delhi, Moradabad, Haldawani, and Nainital that reaches Corbett directly.
By Rail
The railway station in Ramnagar receives trains from different major cities of India like Delhi, Moradabad and Bareilly. A direct train to Ramnagar runs from Delhi. You can check out for Ranikhet Express, Corbett Link Express and Kathgodam Express that takes you directly to Ramnagar.
Distance from Major Cities
Delhi: Delhi – Moradabad – Kashipur – Ramnagar (260 Kms)
Nainital: Via Kaladhungi to Ramnagar (62 Kms)
Lucknow: Lucknow – Bareilly – Kicha – Rudrapur – Kashipur – Ramnagar (436 km)
Dehradun : Dehradun – Ramnagar (232 km)
Dhikala Forest Lodge
Jim Corbett National Park is the sole national park in India that offers night stay inside its Jungle. Dhikala forest lodge is a historic structure, have been built over a hundreds of year ago by Britishers. This old rest house is very much popular among tourists. It offers snug accommodation option with breathtaking vistas of flora and fauna. Though it is not very much luxury but the staying experience amidst jungle is something simply unforgettable. The tourism inside the park is run and managed by forest department.
Dhikala Forest Lodge Booking Procedure
Name, Age, Gender, ID Proof (Passport No., PAN No., Voter ID, Adhar No.) of tourists needs to be provided along with the confirmatory amount to carry out the further booking process.
Availability of the dormitory/rooms shall be confirmed 90 days prior to the date of actual arrival. Link to book the Dhikala Forest Lodge
Major facilities available in Forest Lodges of Dhikala:
Rooms are well appointed and gracefully designed
Pure vegetarian buffet course are served at the on-site restaurant located in Dhikala
Jim Corbett Library
Staying in one of the major forest lodge (Dhikala) in Jim Corbett National Park brings an apex form of wildlife tourism and peaceful moments are unforgettable.
Jeep Safari in Corbett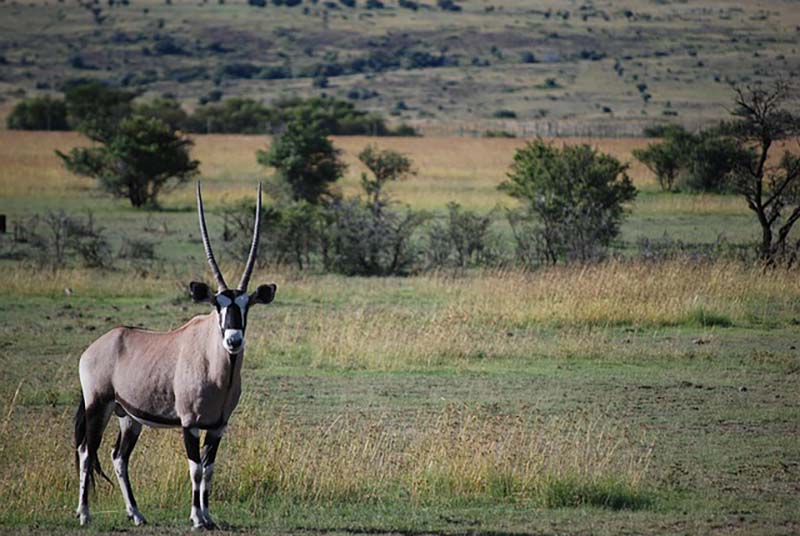 Imagine a place on planet earth where you could see the world's stately big cat "Royal Bengal Tiger", take the subtle glimpses of world's toughest sporting fish called "Masheer" and experience a trek on the foothills of Almora ranges where a puff of fresh air and breathtaking array of flowers welcomes you at every step. This is the reason why Corbett has a haunt for wildlife tourists and nature lovers for a long time. Giving shelter to about 600 species of birds, 500 species of flora and numerous varieties of wild animals, Corbett is the best protected and managed national parks in India.
Jim Corbett National Park is one of the best natural destinations where the richest concentrations of animals occur. Game drives in an open safari vehicles are the best way to discover the beauty and wilderness of the Corbett. If you love watching tigers in their natural habitats then leave the town behind look forward to Corbett in search of majestic tigers and wealth of wildlife species.
Best Time to Enjoy Jeep Safari in Corbett National Park
It is a great advantage to the visitors of Corbett National Park is that the park is open 365 days a year. But the perfect time to enjoy jeep safari is from mid of November to end of June. Bijrani and Dhikala zone is closed during monsoon season as most of the roads get washed away due to rain.
Vivid traveller who once visit Corbett Tiger Reserve often love jeep safari ride in wild jungle. But for this adventurous ride, you must have proper permission/permit from the forest department. Jeep safari is the star attraction of the CTR. While you are on open jeep, you can spot the majestic tigers resting in their natural habitat. You can imagine apex form of tourism while you are on a jeep. Keep you cameras at the ready as you can click some amazing pictures of the tigers. Jeeps and guides are provided by us so you can make contact with our expert tour leader. We have a wildlife team specializes in customizing itineraries based on the wildlife interest and adventure quotient of our guest.
How to book Jeep Jungle Safari for Jim Corbett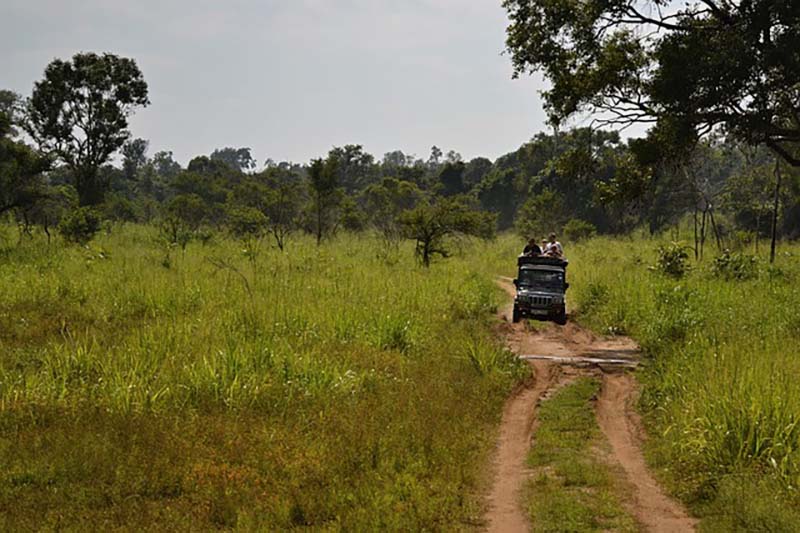 I would strongly recommend booking the jungle safari in advance if you are planning to visit Jim Corbett National Park. Indian nationals are supposed book 30 days before the date of actual visit while foreign nationals can ask 90 days before for the same.
If you do so, you can get easily the desired safari zones, though all the zones have a sound population of wildlife species and sightings are reported more or less same.
Zone Wise Jeep Safari Timings:
Know about the various Safari Zone gates, Safari Dates, Safari Timings, Each Shift Duration Entry Fee (Up to 6 Persons)
The price charged is between    INR 4800 for Indian Ntional, INR 8000 for Foreign National
Bijrani Jeep Safari Zone Morning Evening Indian National Foreign National
15th Oct to 15th Nov 6:00 am 1.30 pm 03 hrs
16th Nov to 15th Feb 6:30 am 1.00 pm
16th Feb to 31st March 6:00 am 1.30 pm
1ST April to 15th May 5:45 am 2.30 pm
16th May to 30th June 5:45 am 2.30 pm
Jhirna Safari Zone 15th Oct to 15th Nov 6:00 am 1.30 pm
16th Nov to 15th Feb 6:30 am 1.00 pm
16th Feb to 31st March 6:00 am 1.30 pm
1ST April to 15th May 5:45 am 2.30 pm
16th May to 30th June 5.30 am 2.30 pm
1st July to 14th Oct 6:00 am 2.30 pm
Dhela Safari Zone
15th Nov to 15th Feb 6:30 am 1.00 pm
16th Feb to 31st March 6:00 am 1.30 pm
1ST April to 15th May 5:45 am 2.30 pm
16th May to 30th June 5.30 am 2.30 pm
Durga Devi Safari Zone
15th Nov to 15th Feb 6:30 am 1.00 pm
16th Feb to 31ST March 6:00 am 1.30 pm
1ST April to 15th May 5:45 am 2.30 pm
16th May to 30th June 5.30 am 2.30 pm 03 hrs
Some important information about Jim Corbett Jungle Safari you should know about
Bijrani Gate is the most famous and is open every year from mid November to end of June
Corbett is open all throughout the year,  particularly Jhirna gateis accessible right through the year
There is no entry fee for kids up to 05 years of age
Entry into the restricted zone is strictly prohibited
Visitors are not allowed to walk on foot inside CTR (Do not get down from the vehicle)
Permit is not transferable
Once the payment is made for permit, the amount is not refundable