Many people in India were left amazed by a sudden pop-up on their phone at around 12:19 PM with a message of 'Emergency Alter: Server'. The message read:
This is a SAMPLE TESTING MESSAGE sent through Cell Broadcasting System by Department of Telecommunication, Government of India. Please ignore this message as no action is required from your end. This message has been sent to test Pan-India Emergency Alert System being implemented by National Disaster Management Authority. It aims to enhance public safety and provide timely alerts during emergencies. Timestamp: 15-09-2023 12:19PM #0888758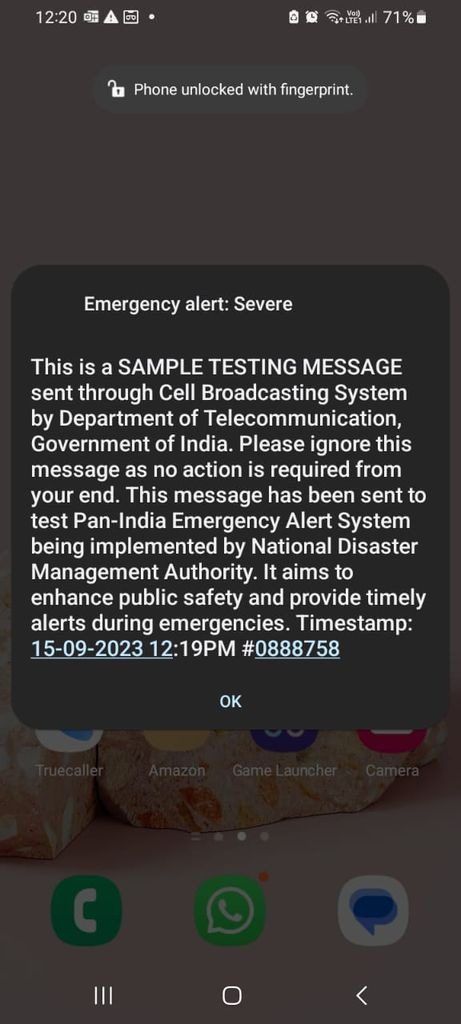 The explanation was in the message itself. It was a sample testing message with a new cell broadcasting system implementation from the Department of Telecommunication by the Indian government.
Such emergency broadcast system is implemented in many countries across the world and provides an easy and efficient way of communication in case of emergencies such as natural disasters, disease, catastrophic incidents, and any other event that requires a quick transmission of alerts to a large population.
Is it a virus or malware on your phone?
No, it is not. It was just a test run of an emergency broadcast and you are not supposed to do anything about it and it has been clarified in the message itself.
When you try closing the pop up you are given the option to continue receiving such alerts. It is not entirely clear, but in many countries, such emergency broadcasts can be sent even if you opt against it.
What to do next?
There is nothing to be done by you, this was just a simple test run for the emergency broadcast, and if you have multiple devices you may have received the message on all of them simultaneously.
The government is actively collaborating with the National Disaster Management Authority to enhance our readiness and response capabilities in the event of disasters such as earthquakes, tsunamis, and flash floods.
Additionally, it's worth noting that mobile phone users in India had already received similar test alerts on July 20 and August 17.