Imagine traveling through some of the highest motorable roads in the world you suddenly peek through your window and see a landscape so beautiful that it feels unreal. Such is the experience of Delhi to Leh bus service that goes through Manali and takes you to a lifetime of memories.
Manali to Leh drive features top among our list of some of the best roads in India to drive. Realistically, however, it is not for everyone, the Delhi to Leh Bus service is your more convenient option. Only caution though would be to seek nature than luxury while you travel through paradise.
Information about HRTC's DELHI to LEH bus service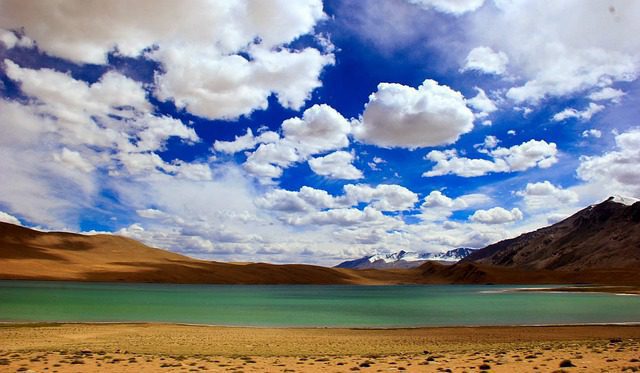 Himachal Road Transport Corporation (HRTC) is the provider of bus services from Delhi to Leh via Manali. This is no ordinary journey and the whole length of bus service is run on 1072 km-long highway, starting from the warmer plains of Delhi.
The journey takes a beautiful route through Manali and passes through freezing cold of 17,000 ft high mountain passes before reaching its destination at Leh after a daunting yet extremely enjoyable 35-hour road trip.
Details about the bus service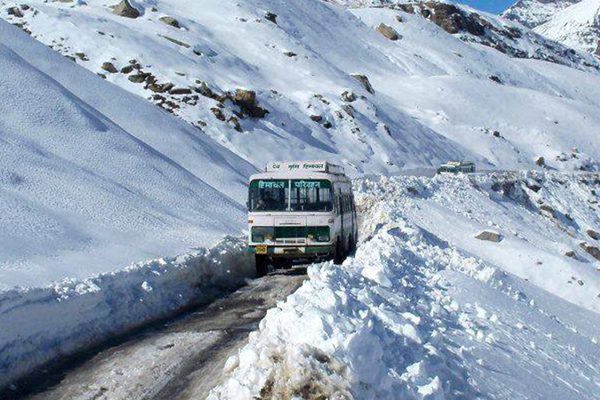 Route taken by bus: Delhi-Chandigarh-Bilaspur-Mandi-Kullu-Manali-Keylong-Sarchu-Pang-Upshi-Leh
Distance: 1072 km
Fare: Approx. ₹ 1500
Bus type: TATA Ordinary 2X3 (47 seaters)
Halts
This is a long journey and the bus takes an overnight halt at Keylong both sides, the expense is not covered in the fare which anyways is very reasonable. However cheap accommodation is available near the bus stand itself.
Mountain passes covered during the journey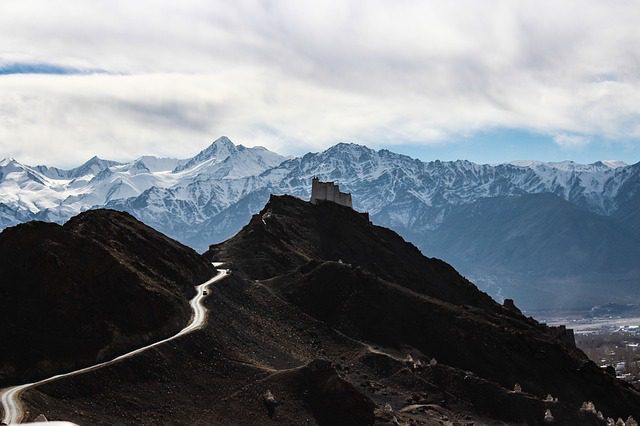 Rohtang La
Baralacha La
Naki La
Lachung la
Tanglang la

How to book?
The ticket and status about the resumption of service can be accessed through HRTC website.

Schedule From Delhi
The bus departs at 2:30 pm from Delhi. The details of halts and timing at various en route destinations are mentioned below.
From Delhi- 2:30 pm | From Chandigarh sec.43- 8:30 pm
From Kullu- 5:15 am | From Manali- 7:00 am approx.
At Keylong- 1:00 pm
—Overnight Halt—
From Keylong- 5:00 am | At Leh- 7:00 pm

Reverse Schedule From Manali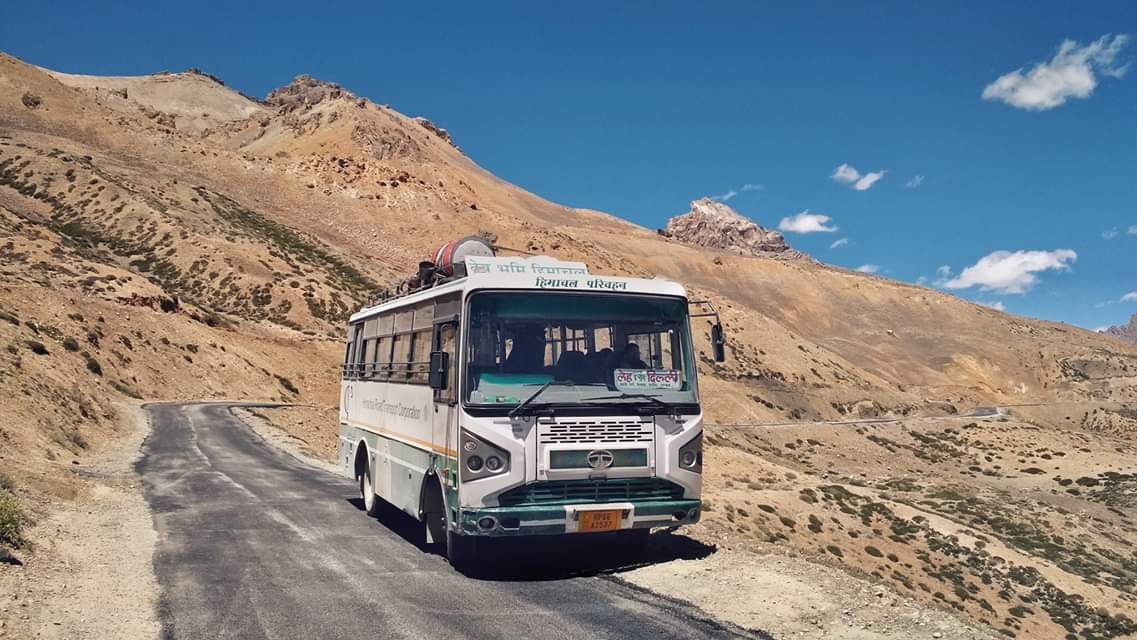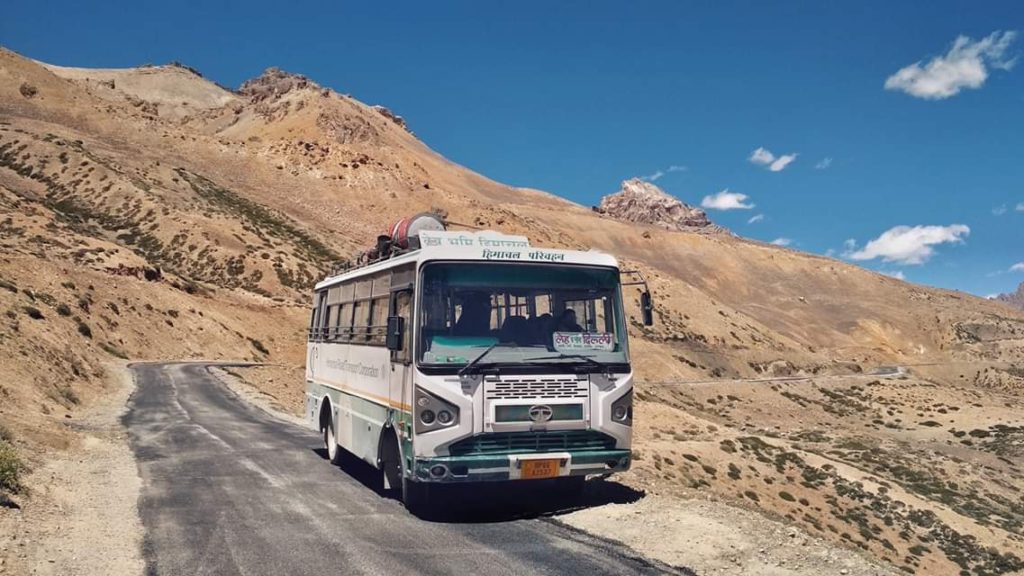 The bus departs at 5:00 pm from Leh. The details of halts and timing at various en route destinations are mentioned below.
From Leh- 5:00 am | At Keylong- 7:00 pm
—Overnight Halt—
From Keylong- 6:30 am | From Manali- 1:25 pm
At Delhi- 3:30 am approx.
Food Halts in the route of Delhi to Leh Bus service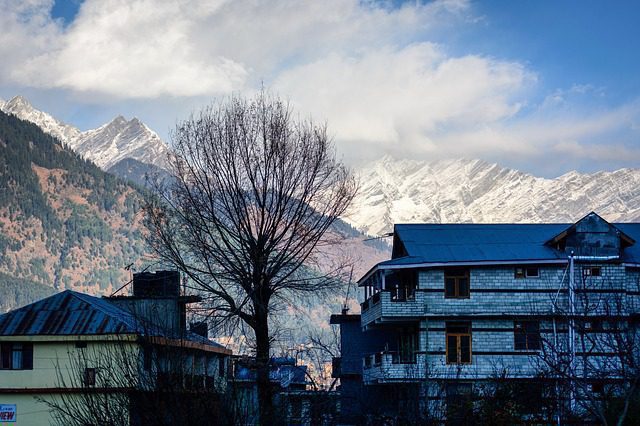 • Evening snacks: Karnal
• Dinner: Ropar
• Early morning break: Pandoh
• Breakfast: Gulaba
• Lunch: Koksar
• Breakfast: Bharatpur near Baralacha La
• Lunch: Pang
• Evening snacks: Upshi

Additionally, the bus usually stops at major mountain passes for 5-10 minutes
The bus service from Delhi to Leh is one of the most amazing travel experience that anyone an have. One needs to be prepared with acclimatization and first aid to make sure you are able to enjoy the trip as you wanted.
The journey is safe and can be done by most. Additionally in a bus travel you don't need to worry about getting stranded alone. Make sure to make most of it and definitely try it once if you have not already.