Northeast India travel guide is the most complete travel insight into the relatively unexplored natural beauty of Northeast India. It is a must read for foreign tourists and equally for Indian tourists who want to explore the wonders of the untouched beauty.
Northeast India is the least explored, yet most mysterious and arguably among the most beautiful regions of India. The Northeast is also known as the ''Seven Sisters'', is connected with the rest of the country by a narrow stretch of land between Bhutan and Bangladesh, and was all but sealed off from the outside world until relatively recently.
Arunachal Pradesh shares an extremely sensitive frontier with China-administered Tibet and, together with Nagaland, Manipur and Mizoram, a 1600km-long border with Myanmar.
Many insurgencies, caused by a vast ethnic diversity, have divided the region since Independence, with tribal groups seeking autonomy as well as fighting each other.
A huge influx of illegal Bangladeshis immigrants in the last decades and the displacement of many indigenous people has created further tension. However there has been significant improvement in security in most  areas, while few others remain disturbed with occasional clashes and armed conflict on the fringes.
Permits are required for travel in certain regions, notably Arunachal Pradesh, while some other areas, such as the Manipur Hills and Nagaland's eastern fringes, have open access but remain highly volatile.
However, tourists are never a target of violence, and the extraordinary diversity of peoples and spectacular landscapes make a visit to the region well worth the effort. One of the world's wettest monsoon belts, the area also boasts an astounding array of flora and fauna, estimated to represent fifty percent of India's entire biodiversity.
The Seven Sisters – Seven states of Northeast India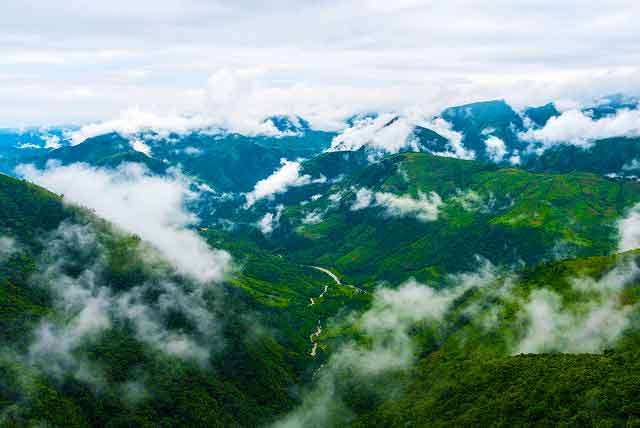 Until the 1960s, the region comprised just two states, the North East Frontier Agency – now Arunachal Pradesh – and Assam, but separatist pressures further divided it into the seven states, now officially joined by an eighth: Sikkim. Assam consists of the flat Brahmaputra valley.
Its capital, Guwahati, has two of India's most important ancient temples and is the gateway to the region, while an encounter with a one-horned rhino in the magnificent Kaziranga National Park is a highlight of any trip to the Northeast.
 The other six states occupy the surrounding hills, and are quite distinct from the rest of India in landscape, climate and peoples. Meghalaya has beautiful lakes and includes the wettest places on earth, Cherrapunjee and Mawsynram. Its capital, Shillong, retains some of the colonial atmosphere
from its days as east India's summer capital. Majestic Arunachal Pradesh, one of India's most remote states, is inhabited by a fascinating range of peoples, many of Tibetan origin. In the state's northwestern corner, close to Bhutan, lies the Buddhist monastery of Tawang, in sight of the mountainous border with Tibet, while in the far northeast is the remote wilderness of Namdapha National Park. To the south, the lush mountains of Nagaland are home to fourteen distinctive tribal groups. Mizoram, in the Lushai Hills, is predominantly Christian and has one of the highest literacy rates in India.
 Weather in Northeast India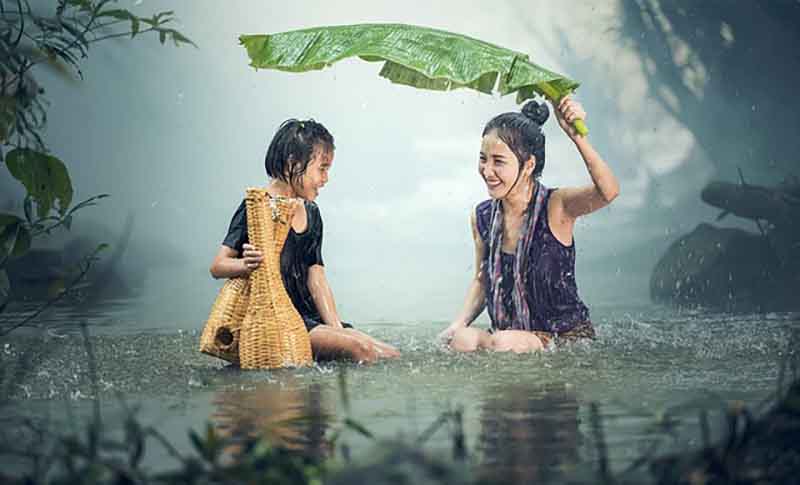 North East India is little diverse and has diffences in climate based on location. Places with hilly terrain and rapid changes in topography result in climate changes within short distance.
Generally in the month of January, the temperature is about 15°C in the plains of Brahmaputra, Barak Valley, Tripura and the western portion of Mizo Hills. The other parts of the region in the same month is around 10° C.
From April onwards it starts to go up and in July except the south-eastern portion of Mizo hills and Shillong, the temperature ranges from 25°C to 27.5°C.
During October, daily mean temperature in the hilly areas ranges between 20°C and 25°C, whereas in Brahmaputra and Barak Valley, Tripura and the western portion of the Mizo hills it is above 25°C. Further the lowest temperature is experienced below freezing point in the upper Himalayas in Arunachal Pradesh.
Best Time to Visit Northeast India
The best weather conditions are during November to April, although the high-altitude areas of Arunachal, Meghalaya and Nagaland are extremely cold by December, and winter fog can disrupt road journeys.
It rains heavily from May to the end of September, particularly in Meghalaya which receives one of the highest rainfalls in the world.
However travel during this period has its own fascinating perks. In major cities such as Guwahati, Tezpur and Shillong, accommodation rates are not affected by the low season, but Kaziranga, Manas and the remote parts of Arunachal, Nagaland and Assam do offer off-season discounts.
Recommended Travel Destinations in Northeast India
1. Tea tourism, Assam Stay at one of the grand bungalows to get a taste of the lifestyle of a plantation owner.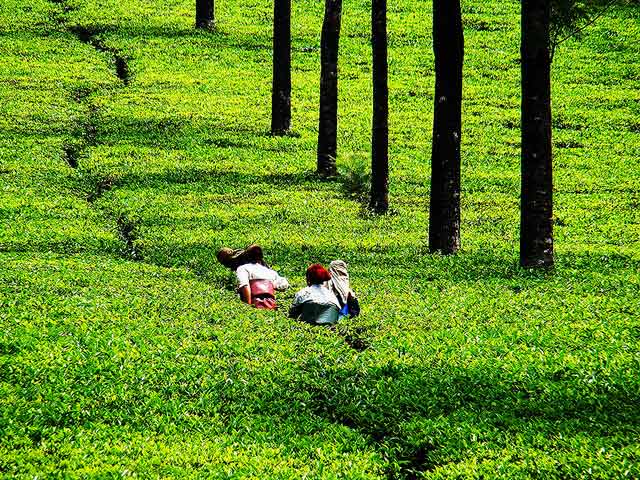 2. Kaziranga National Park, Assam Spot the rare one-horned rhino on a dawn elephant ride or take a jeep safari deep into the jungle where, with luck, you can see wild elephant or even tigers.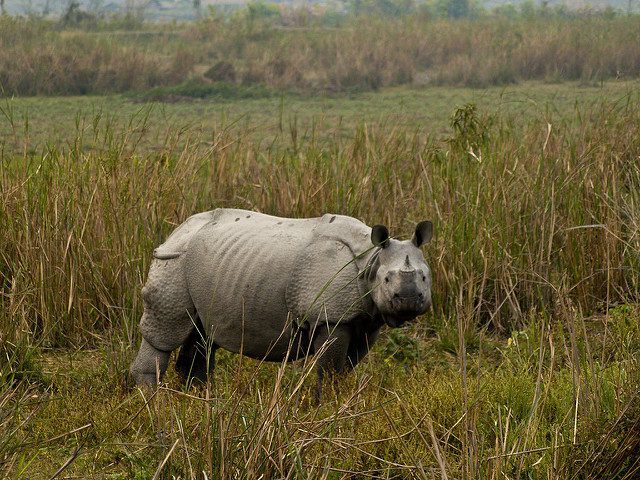 3. Living root bridges, Meghalaya In India's wettest state, entwined roots of the rubber tree form magnificent natural bridges, some centuries old, across waterways.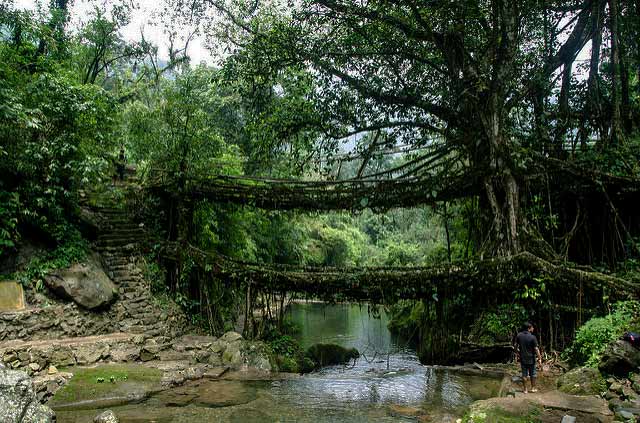 4. Tawang Monastery, Arunachal Pradesh In a remote corner that was once Tibet, the largest Buddhist monastery in India maintains an ancient, unbroken tradition. The quiet chapel commemorating the sixth Dalai Lama lies close by.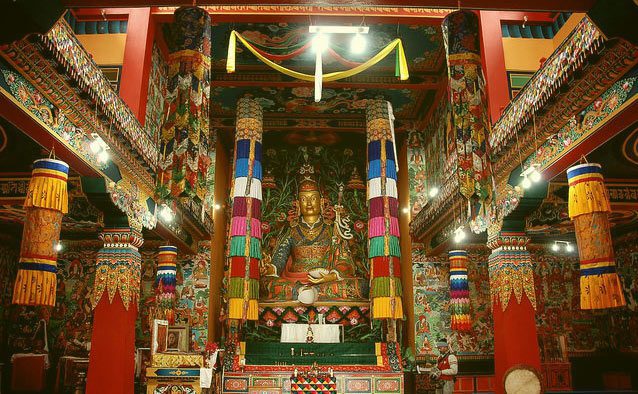 5. Namdapha National Park, Arunachal Pradesh A beautiful, remote wildlife park, bordering Burma, with habitat from steamy foothills up to the snow line, and home to a huge variety of wildlife including the Hoolock gibbon and elusive big cats.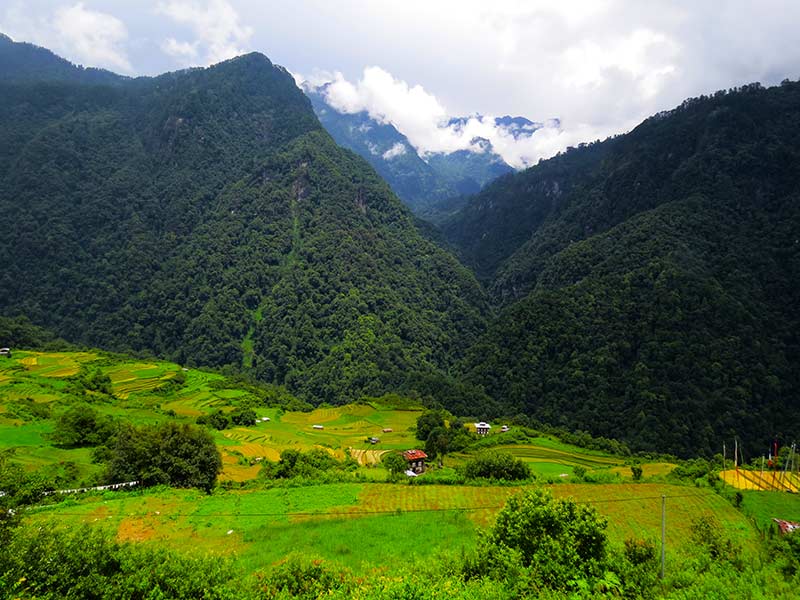 6. Hornbill Festival, Nagaland An unmissable occasion and the highlight of the Northeast calendar, bringing together all the Naga tribes in their finery with music, dance and martial art displays.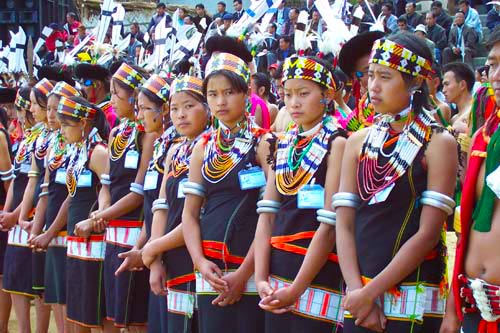 Festival of Northeast India that will amaze you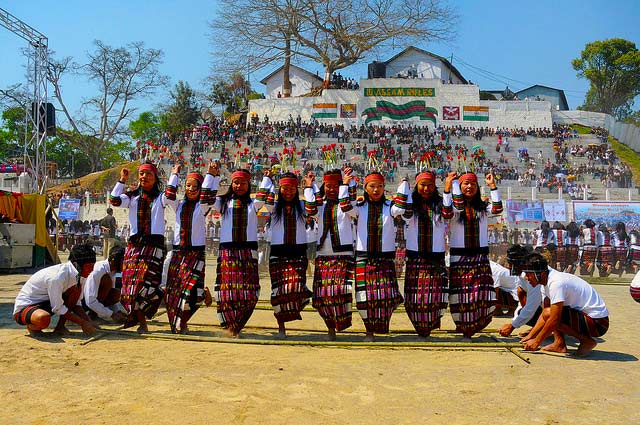 Chapchar Kut
Yaoshang

(March). Manipur's version of Holi is celebrated with the

thabal chongba

folk dance.

Aoling Monyu

(April). Konyak festival in the Mon region of Nagaland marking the arrival of spring.

Bihu

(mid-April). A major festival of Assam, It is celebrated with singing, dancing and feasts in the villages, to mark the New Year and the onset of spring.

Chapchar Kut

(March). In spring before the new sowing season begins, this is the biggest harvest festival in Mizoram.

Moatsu

(May). Celebrated by the Ao tribe in Nagaland after the sowing season.

Dree

(July). The Apatanis of Ziro in Arunachal observe this agrarian festival in which animal sacrifices are common.

Nongkrem

(first week Nov). In Meghalaya, the Khasi tribe give thanks for the harvest over five days. Young men and women in traditional attire and heavy ornaments perform songs and dances at Smit, near Shillong.

Torgya

(Nov/Dec/Jan) and

Losar

(Tibetan New Year; Feb). Arunachal Pradesh festival of the Monpa people in Bomdila and Tawang, with colourful

chaam

(masked monastic dances) and religious ceremonies.
Cultural and Music Festivals
Ziro Festival of Music

(Sept). Four-day Central Arunachal outdoor music festival with

apong

(rice beer) and indie music, camping under the stars in the Ziro Valley

NH7 Weekender

(Oct). This popular multiday urban music festival held its first Shillong edition in 2015 and is now slated to be an annual feature. Indian indie and global artists spanning genres of rock, funk, electro and more perform on various stages.

Hornbill Festival

(first week Dec). Held annually in Nagaland at the Naga Heritage Village in Kisama, this is among the Northeast's largest occasion, showcasing the dance, music, food, games and intriguing culture of different local tribes.
All you wanted to know about access and tour permits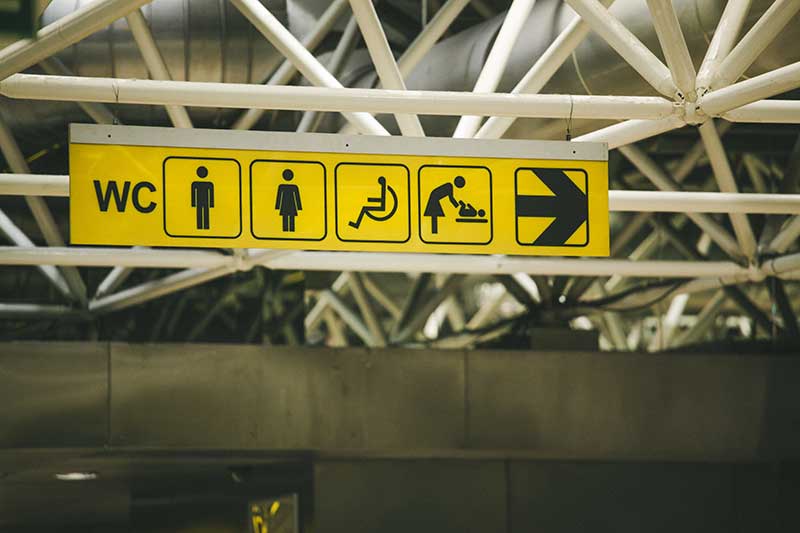 Although during the current government rule the region is gradually opening up for tourism, regulations can change according to the current state of security, so check the latest information with the Indian Embassy, Consulate, tourist office or visa agency before travelling.
However, it is best to get any permit while in India through a tour operator or through an agent in Guwahati – allow two days to arrange.
Permits
Currently Arunachal Pradesh is the only one of the seven states that mandates foreign visitors to obtain Restricted or Protected Area Permits (US$50 for a maximum of thirty days) prior to entry. Parties should theoretically consist of a minimum of two accompanied by a travel agent, however you can very well get entry alone.
Update 25th March 2018. Government looks to open up Arunachal to foreign tourists. Please check the updated details while visiting.
I may take up to three working days to obtain the permit but most people get it earlier. Nagaland, Mizoram and Manipur currently only require registration on arrival at the entry point at the border and again with the Superintendent of Police within 24 hours of arrival.
Indian nationals do require Inner Line Permits for Nagaland (₹50), Mizoram (₹120) and Arunachal Pradesh (₹100) prior to entry. Those Indians travelling to Mizoram by road will also need an ILP, but for those arriving by air, permits are issued on arrival. ILPs for Arunachal can now be obtained online at arunachalilp.com.
Things to keep in mind
 Make several

photocopies

of your passport and permits while travelling through the region.
To obtain

Inner Line Permits

, Indian citizens should apply with two passport photographs to representatives of the state governments concerned.
Applications should only take a day to process, and can be extended for up to six months in the relevant state capital.
Passes are valid for the full period they are allocated for, no matter how many times you enter and exit a state, but in practice, especially for Arunachal, you may find yourself negotiating with border guards.
How About Food and Drinks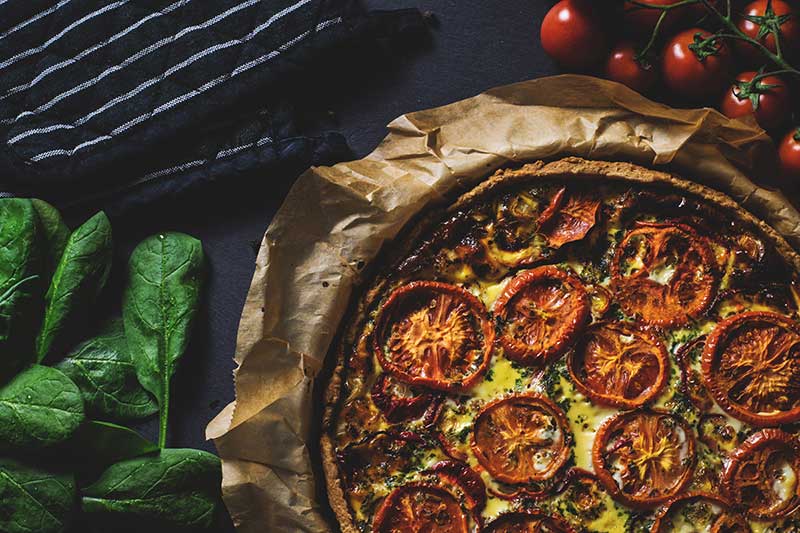 Meat-based dishes, smoked, dried and pungent flavours, a liberal use of chilli and the distinct lack of typical Indian masala defines cuisine in the Northeast. The food is mostly mild, owing to the lack of spices that grow in the region, aside from some local herbs. Rice is a staple and the Tibetan momos and thukpa are ubiquitous. For drinks, salty yak-butter tea and local brews (known by various names including raksi, chang and apong) made of millet, maize or rice are recommended to keep off the chill.
  [su_list icon="https://indianyug.com/wp-content/uploads/2018/03/food-and-drink.png"]
In Assam, try the Saag (leaf vegetables), fish tenga (a souring agent), pitika (a pungent vegetable mash) and khorika (meat on a skewer).
Meghalaya tends to go heavy on the pork, with dishes such as doh neiiong (pork with black sesame seeds) and the staple jadoh (rice cooked in meat stock with pork).
Meghalayan cooking also features liberal use of seasonal mustard leaves and mushrooms with aromatic spices.
In local markets in Arunachal you'll find strings of Churpi (fermented rock-hard yak's cheese), lai patta (mustard spinach) and dried river fish.
Churpa, popular in Arunachal kitchens, is a pungent cheese stew with meat and vegetables.
Naga cuisine consists of smoked, dried meats, bamboo shoot, anishi (dry yam leaves) and akhuni (fermented soy bean); wild herbs are used as flavouring agents.
The star, of course, is the bhut jolokia or the king chilli, among the hottest in the world.
Thalis are common in Manipur, with side dishes such as singju (raw papaya and chickpea salad) and iromba (fish and veg chutney) accompanying rice and fish or meat curries.
Mizo cuisine is fairly bland, consisting of forest vegetables and smoked meats; bai (vegetable stew with dry soy bean) is a staple.
Fish is abundant in Tripura, and berma, a pungent fermented fish paste, is used as flavouring.
[/su_list]
How to reach
Guwahati, the largest city of Assam is the gateway to the Northeast India. It is also comparativey modernized urban settlement in North East. It has rail connections to the rest of India and there are regular flights from Delhi, Kolkata and Mumbai.
By Air
Guwahati Airport and Bagdogra Airport services flights to North East India. Both these international airports have maximum air traffic. Almost all states have a number of domestic airports and airfields for air connectivity.
By Rail
Guwahati and New Jalpaiguri are two cities that serve as gateway to the North East. Both cities have well connected railway stations with rail connections from all over India.
By road
North East India has some of the most beautiful roads. The beautiful scenery is a true bliss when you go exploring by road. Except the monsoon, and mostly in the higher mountains the road gets closed due to landslides, otherwise all through the year it is quite enjoyable to travel by road.
Please do share the post if you liked it. Happy Journey to the Northeast India