As a cricket fan how likely is it that cricket legends like Rohit Sharma and Virat Kohil will come to meet you and seek blessings, even promise to sponsor you for rest of the matches tickets in England. Very unlikely you would say.
However, it is not quite often that a cricket team is so enthusiastically supported by an 87-year-old lady with the energy of a teenager. This is the story of Charulata Patel, an 87-year old Indian cricket fan who came to the venue to watch the clash between India and Bangladesh on 3rd July world cup 2019 match.
The wheelchair-bound Charulata Patel caught everyone's attention by blowing a bright yellow vuvuzela and waving Indian flag one every boundary struck by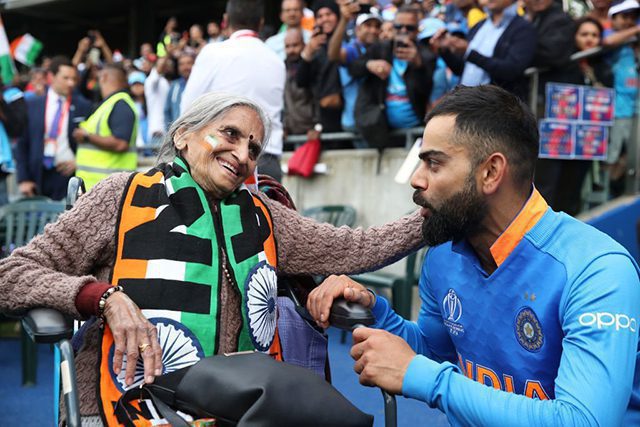 Her infectious energy and enthusiastic support for the Indian team caught not escape the eyes of Kohli and his Rohit Sharma, both of whom greeted her after the match and even touched her feet to seek blessings.
Amul declared her the grandmother of India
"Virat came to meet me after the match. He touched my feet and I gave him my blessings. I told him to keep up the good work and win the World Cup. I always pray for the Indian team's success. From the bottom of my heart, I wish the Indian cricket team all the best," Patel told 'Times Now'.
"Virat said he would look forward to see me in the rest of the 2-3 matches but I told him that I do not have the tickets, and then he said, 'don't worry about the tickets, I will give it to you'," revealed the lady, who came here from London to cheer the team.
Wearing a tricolor scarf, Patel attracted the cameras and her interaction was with the India players was even shared by the ICC's official World Cup handle.
Business Tycoon Anand Mahindra too promised to sponsor her ticket for the remaining matches
Charulata Patel will surely remember these moments with her favorite Indian team, In fact, the Indian team will also await her blessings for the upcoming matches as a lucky mascot.