Did you ever wonder how truth can be twisted to please the citizens by their own government? Kulbhushan Jadhav case judgment on 17th July by the ICJ (International Court of Justice) will be the best example. While there is no shortage of such narratives when India and Pakitan are involved, this is a typical case of using information that suits the government narrative to make arguments about how well they have performed.
Most people also get confused about how to interpret the judgment and who actually has won the case. A rational argument will be that neither side did. But one side clearly has achieved more. But which side is it?
Kulbhusan Jadav case, the judgment favors India or Pakistan?
In order to understand who has got a favorable judgment, India or Pakistan, we need to first define what were their stated objectives. This is very simple, India wants Jadav to return to India and case to be dismissed by the ICJ, which will prove that Jadav is not a spy and India has an absolute victory.
Pakistan, on the other hand, wants that Jadav is hanged and ICJ dismisses India's plea which will prove that he is a spy with terrorist motives propped up by India, and has been responsible for killing or maiming Pakistani citizens. This way Pakistan will be able to divert attention from its alleged half-hearted action on various terrorist organizations within their own country.
Clearly, the verdict actually does not fulfill the stated objective of either country. The ICJ, in its verdict, directed Pakistan to allow consular access and effectively review the death sentence. The court has also observed that Pakistan did breach international law by not granting consular access. Nonetheless, the court also rejected India's appeal for Jadhav's release. This is the simplest interpretation of the verdict. If you want to read the full judgment you can download it here.
Pakistani Media vs Indian Media on Kulbhusahn Jadav case judgment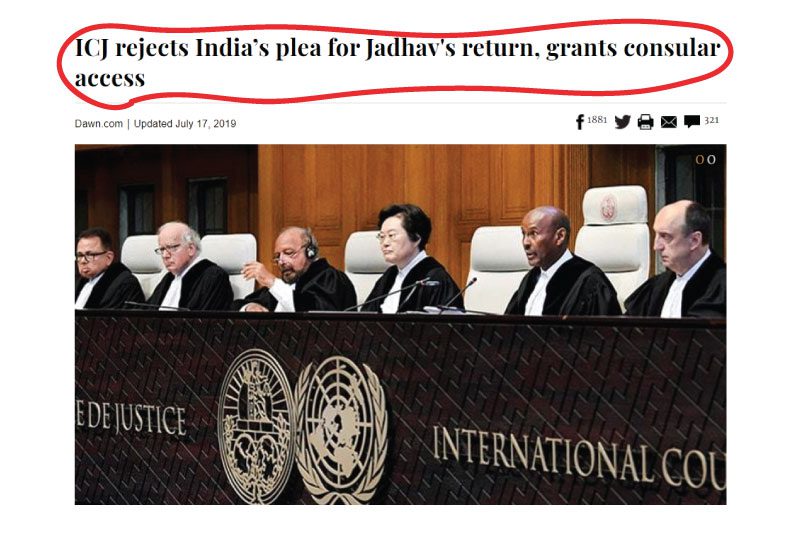 The Pakistani media reporting actually puts a different picture of the judgment than what is shown in Indian media
"ICJ rejects India's plea for Kulbhushan Jadhav's acquittal," was the headline in Pakistan Today. The news website further claims that the ICJ verdict says Jadhav's conviction and death sentence doesn't violate Vienna Convention and the court 'rejected all other remedies sought by India'.
The Express Tribune which carried at least eight stories on Kulbhushan Jadhav on its website's home page said that with the ICJ judgment "all Indian hopes of seeking remedies through international arbitration dashed".
Quoting Pakistani Army's spokesperson Major General Asif Ghafoor, the Express Tribune said that the ruling validated military courts.
Speaking to ARY News, Major General Asif Ghafoor claimed that the ICJ judgment was "another February 27 for India", hinting towards the capture of Abhinandan.
While in Indian media it was reported as a victory of India. Times of India ran an article detailing how India won the legal battle.
India has the upper hand in this case
The judgment by ICJ clearly gives India an upper hand in this case. First of all, even the lead counsel in the case Harish Salve acknowledged that getting ICJ to order acquittal Kulbhushan Yadav was more aspirational. It is a fact that in negotiations you always demand higher so that even if you get less you actually meet your objective.
India's main goal was always to at least provide consular access and legal aid to Kulbhushan Jadav. But how does that help? It is an established fact that Pakistan has only gone on board with the confessional statement of Kulbhushan Jadav in this case.
Nowhere in this world, a confessional statement of a convict in military courts will be regarded as evidence. It will be very hard for Pakistan to convict Jadav even in their own court when Javan gets all the rights and defense representation from India. If Pakistan had any substantial evidence against Jadav, it would have presented in the ICJ. This is, however, conjecture at this moment and we don't know for sure.
Also, the lead counsel, Harish Salve while talking to NDTV clarified how this judgment will further help Jadav "The ICJ's decision to grant India consular access will also help Mr. Jadhav to a great extent, "People from our consulate can now meet him, talk to him, help him prepare his defense. They can also make sure that he's in good health, and if he needs something, they can help him with that. They can check if he is being looked after well in jail, and if there's anything inconsistent, they can deal with that,".
India has got more than it hoped
Furthermore, the ICJ has directed Pakistan to review the case in their own court and keep the ICJ updated on the proceedings. This again goes to India's advantage that the case is being reviewed and Pakistan can't convict Jadav on evidence like confessional video or statement of Jadav. Even a fake passport, if it really is, doesn't prove anything.
Is there anything in the Jadav judgment for Pakistan to be happy about
Pakistan victory as claimed by them is based on the fact that Jadav has not been acquitted and is not having a coffee in India. The fact is, a similar case where the US was directed by ICJ not to execute Mexican national without granting consular access, the all-powerful US went ahead and still executed the Mexican national in 2011, who was given the death penalty by its courts. All that could be done was a statement by the UN regretting the US decision.
While the US could do it, it is very difficult for Pakistan to do so. It is financially very unstable and needs the international community to bail it out. The ICJ has limitations where it can simply not acquit a person straightaway. The best it can do is to call upon the nation to review its conviction and that is exactly what it has done.