Over-the-top (OTT) platforms have revolutionized the way content is consumed in India. These platforms, which offer streaming services for movies, TV shows, and other video content, have gained significant traction in the country in recent years. According to ExpressVPN's report on streaming trends in 2022, Netflix still owns the streaming game in India with 46% of the market share.
The competition is still strong, with Amazon revealing to double its investments in India and Disney + Hotstar featuring top Bollywood films and Indian sports which broke several viewership records this year.
One of the primary reasons for the growth of OTT platforms in India is the increasing availability of high-speed internet. With more and more people accessing broadband and mobile data, streaming content has become a convenient and popular way to consume media.
Another factor contributing to the growth of OTT platforms in India is the rising demand for regional content. Many of these platforms offer a wide variety of regional movies and TV shows, which has helped them appeal to a larger audience.
With the proliferation of streaming platforms in recent years, it's no surprise that the pandemic has led to an increasing number of people joining OTT platforms in India.
Availability of fast internet connection in remote areas, and now with mobile 5G having been launched in India, the market is poised to grow further.
In fact, according to The Ormax OTT Audience Sizing Report 2022, the Indian OTT audience universe currently stands at a staggering 424 million people, with 119 million active paid subscriptions. This number is a whopping 20% more than the whole population of the United States.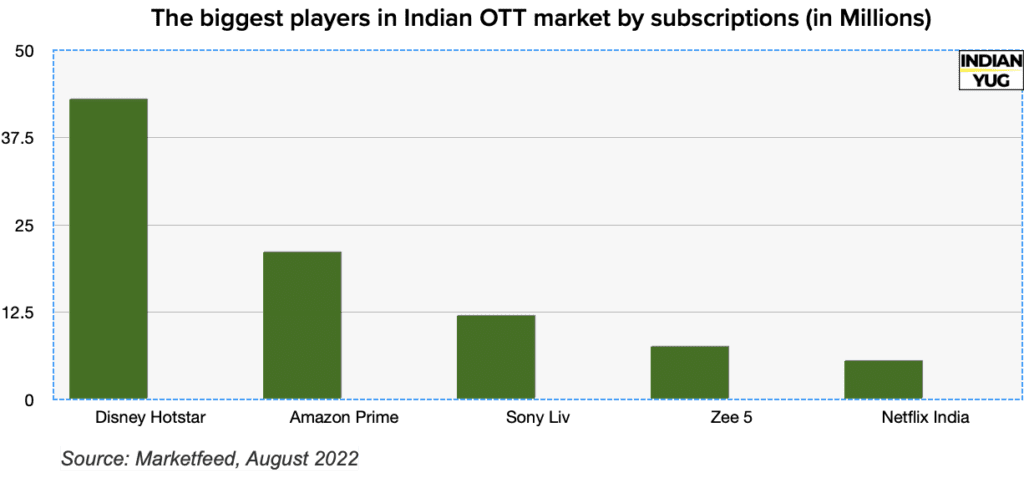 And it looks like the popularity of OTT platforms in India is only set to continue growing, with the universe increasing by 20% from 2021, even after cinemas reopened. What's more, demand for original content in India is expected to increase to over 4,000 hours by 2024 as per 2022 streaming trends in India.
What is the size of the OTT market in India?
Currently, there are 119 million active paid OTT subscriptions in India, with 49 million of these belonging to paying (SVOD) audiences, averaging 2.4 subscriptions per paying audience member.
According to the data, 30% of the Indian population has access to OTT platforms, which translates to 3 out of every 10 Indians having watched online videos at least once in the past month.
Of these paid subscriptions, a significant 65% belong to the male audience. Interestingly, while the top six metros make up only 10% of India's OTT universe, they account for 33% of total paid subscriptions in the country. Mumbai, Delhi, and Bengaluru are the top three markets in this regard, each with over 8.5 million active paid subscriptions.
As the competition for market share in the over-the-top (OTT) sector intensifies, companies have significantly invested in the space, which makes up 7-9% of India's entertainment industry.
The future outlook for OTT in India
While there are already 40 OTT operators in the country, there is still a significant demand for original, language-specific entertainment.
According to Deloitte, OTT platforms invested an estimated $665 million in content in 2021, with Netflix, Amazon Prime, and Disney+ Hotstar leading the charge with a combined expenditure of $380 million.
Disney's Hotstar was one of the earliest players in the space and has always led the pack in terms of the number of subscribers, but it recently lost its online streaming contract for the Indian Premier League (IPL).
India's leading businessman, Mukesh Ambani, paid a premium of $3.04 billion to acquire the digital rights for the IPL for his subsidiary, Viacom18. Disney-owned Star Sports India paid $3.02 billion for the exclusive TV rights. The IPL is a major draw for viewers in India, as there is relatively little interest in other sporting competitions, such as English or Italian football.
Bollywood, the world's largest film industry in terms of the number of films produced and released each year, is also a major attraction for customers in India and around the world. Some reports suggest that OTT has played a crucial role in supporting Bollywood, as the platforms have become a home for the industry's film flops.
However, Bollywood, with other original and local OTT content such as Sacred Games, Mirzapur 2, and Kota Factory, has also become hugely popular among Indian viewers. 
As the OTT market in India continues to grow, it's expected to drive the expansion of the country's entertainment industry as competition for content intensifies. With the untapped potential of rural markets, expanding high-speed internet connectivity, and cheaper 4K TVs, the scope of the expansion remains positive.