Indian General election 2019 has been a game-changer in Indian politics. The Grand Old Congress Party faced humiliating defeat throughout India. Political analysts were of the opinion that dynastic politics is over in India, which also had some evidence on the ground. Political heirs of Congress and NCP were completely rejected. Supriya Sule was the only candidate from NCP who won the election while Sharad Yadav's son and all political heirs from Congress were rejected.
Most would expect a revamp in opposition parties after the debacle. However, the major opposition party Congress brought Sonia Gandhi as interim president in place of guess who? Her son!
Only days after she took charge as the interim president of the Congress party, congratulatory posters featuring her, have come up outside the party headquarters in the national capital.
While this was quite natural, what caught the attention of many was the picture of her son-in-law Robert Vadra, along with his wife Priyanka Gandhi Vadra and former party president Rahul Gandhi in hoarding. This, in essence, completes the whole Sonia family at the helm of congress at least in pictures and hoardings.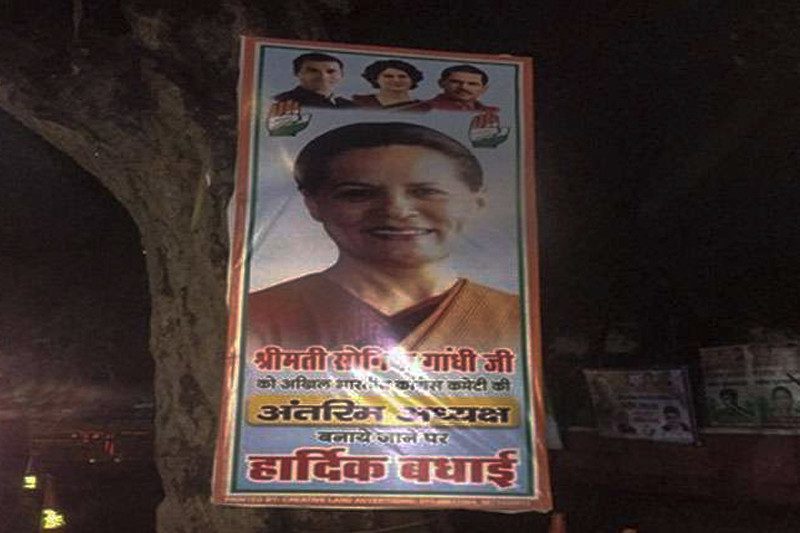 [su_quote]Congratulations Sonia Gandhi Ji for becoming the interim president of the Congress All India Congress Committee (AICC)[/su_quote]
The poster stated.
Earlier this year, posters welcoming Vadra to contest the 2019 Lok Sabha elections had appeared in Uttar Pradesh's Moradabad city.
In Rajasthan, too, banners featuring Vadra, along with Priyanka and Rahul were put up outside the Enforcement Directorate's (ED) office, ahead of his questioning in connection with a money laundering case.
A few months earlier, similar posters had surfaced in the national capital with "Kattar Soch Nahi, Yuva Soch" (Not extremist ideology but young thinking) written on it along with images of Rahul, Priyanka, and Robert Vadra.
What does it mean for congress
Given the fact that 49-year-old businessman is currently under the Enforcement Directorate's scanner for his alleged involvement in various scams and money laundering cases and also that the opposition has been successfully able to sideline the party as a dynastic party, this development is important.
Congress doesn't seem to be taking any lessons from the defeat in 2019 general election. Whether it is about going against overwhelming support of article 370 to again elect the party president from the family it seems to go against the popular mood. How will this work out in the future is only conjecture as of now.