Recall your memories from past, the Indian team was restricted for a less than par total, and most of the fans could literally guess the outcome. "India can't defend this total, the game is over". More often than not, it also came out to be the exact result.
It is not that India did not have quality bowlers then. It always had fast bowlers like Srinath, Zahir Khan and spinners like Anil Kumble and Harbhajan Singh. What was missing though was the completeness of the bowling attack. Indians fan were simply not confident of their team defending a below-par total based on the calibre of their bowling attack.
Things have however changed now for good. The tweet below actually sums up the present bowling attack that India has.
In the world cup 2019 matches against Afganistan and West Indies, India could only manage below par scores. But guess what, this bowling attack of India ensured victory for India in both the games.
Surprisingly, India even managed to defeat the West Indies with a huge margin of 125 runs and gaining improved run rate which can come into play even if India loses all the other three matches.
Multiple factors worked to make this a fearsome bowling unit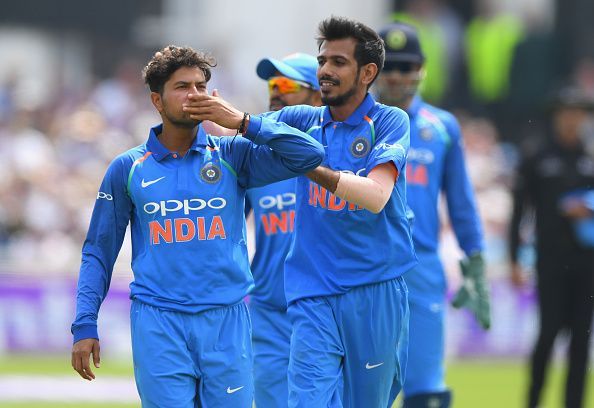 Wicket seekers
India was doing pretty well in the spin department in 2017. Ravindra Jadeja and Ravichandran Ashwin were giving some great performances. However, a common trait that was prevailing during the time was a great emphasis on saving runs in the middle overs in limited overs cricket.
This has been a legacy inherited from Anil Kumble and Harbhajan. Both were very impressive in saving runs for India. While they also took wickets but were not inherently wicket seekers. You hit Harbhajan for a six and then he will follow you up with a fast yorker (Yeah I know he is a spinner), or flipper.
A left Chinaman bowler changed all this for India. Kuldeep Yadav, the young left art wrist spinner Kul took a hat-trick in the match against Australia in Eden Gardens on 21st September 2017 and India got what they were searching for long, a wicket-taking option in the middle overs.
This delivery from Kuldeep to get Babar Azam from Pakistan out, 'magical', as the ICC mentioned.
The Duo
Kuldeep's fantastic performances continued. One of the barriers that a subcontinent spinner faces is of performing as well on foreign pitches. Kuldeep soon broke Afridi's record and registered the best ODI bowling figures in England (6/25).
On 1 February 2017, another spinner became the first bowler for India to take a five-wicket haul in T20Is, ending with figures of 6/25 against England. His name was Yajuvendra Chahal. Both the bowlers apart from being wrist spinners were wicket seekers. Since then India has been spoilt for choices. So much so that they are forced to play both of them on English pitches traditionally known for seamers and late swing fast bowlers. The idea or experiment has now culminated into a fearsome duo, wicket-taking middle over bowling arsenal for India.
Boom Boom Bumrah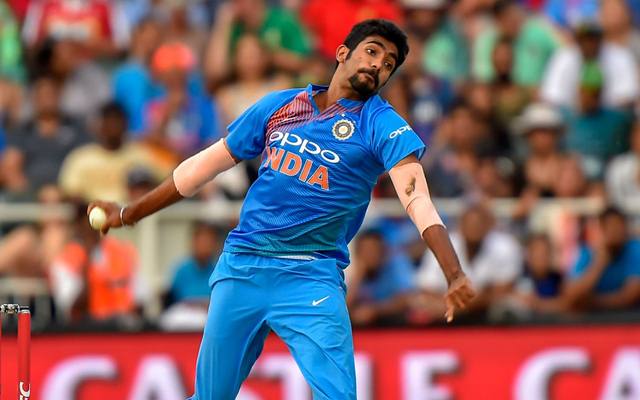 Indian pacers who were known for their accuracy and disciplined bowling were performing well. However, India never had a true Yorker wielding fast bowing option who could ball mid 140s all the six bowls in an over. The unconventional action, speed, accuracy, and ability to bowl Yorkers, India got in Bumrah which it craved for so long. He soon found his true place, 'The number one bowler in ODIs'.
The resurgence of Mohammed Shami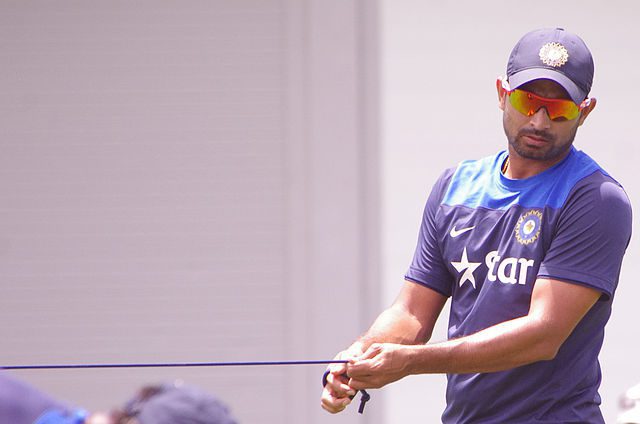 For a man who made a test debut in 2013 and was in and out of the team between the year something changed in 2018. Some personal turbulence in his life probably brought the best in him. He too can constantly bowl in mid 140s and completes the Indian pace attack with Bumrah. The third fast bowler allrounder, Hardik Pandeya has also come out good. He has been getting wickets in the middle over. Most importantly he can bowl fast unlike previous fast-bowler batsman all-rounder that India had who was at best medium pacers.
Shamis memorable last over hat-trick against Afganistan without which we all know what could have happened. It has registered itself as some of the greatest moments in Indian Cricketing history.
The way these guys are performing, it looks like we've found the greatest bowling Attack in the history of Indian cricket. The hero this time is The unit
One of the main reasons that India has had a spectacular early stint in the world cup 2019 has been mostly due to the new bowling attack that India possesses. If they continue their present form, the 'Men in Blue' who are a favorite to win the world cup will bring the cup home. Kohinoor can wait for now!