Dal Tadka is a unique lentil dish in itself. India has more lentil dishes than all the combined number of cuisines around the world.
Although lentils were considered the poor man's protein, they are so intertwined with an Indian meal that you will find enriched dal dishes on menus in every Indian restaurant, and cooked in Indian homes around the world.
This is a really delicious, typically restaurant-style version, therefore thicker and richer in flavour than a home-style dal. It goes with so many different dishes, from vegetables to kebabs, that you just can't go wrong.
This is best served with Indian flatbreads though, as it is too thick to serve with rice. If your tomatoes are not very sour, add some dried mango powder (Amchur) or lemon juice; I generally add a little to sharpen up the flavours anyway. Serves 4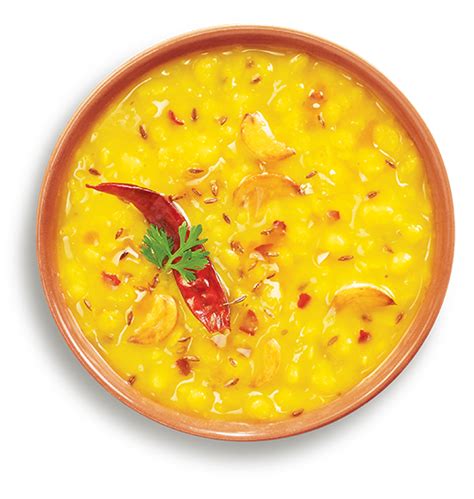 Ingredients for Dal Tadka
150g (¾ cup) yellow lentils (mung dal)
50g (¼ cup) chana dal
½ tsp ground turmeric
20g (1½ tbsp) finely grated root ginger (peeled weight)
3 medium-small tomatoes
2½ tbsp vegetable oil, or ghee, or both
tiny pinch of asafoetida
2.5cm (1in) cinnamom stick or cassia bark
4 cloves
1–2 dried chillies (chiles)
1 rounded tsp cumin seeds
1 small onion, finely chopped
5 large garlic cloves, finely chopped
salt
¾ tsp ground cumin
1½ tsp ground coriander
¾ tsp Garam masala, fresh if possible
knob of unsalted butter
good handful of chopped coriander (cilantro)
½–¾ tsp dried mango powder (Amchur), or to taste
Cooking Instruction for Dal Tadka
Rinse the lentils in several changes of water to wash well. Place in a large pot and pour over enough water to come 5cm (2in) over them. Bring to the boil, then skim off all the scum that forms on the surface. Add the turmeric and ginger and continue to boil for 20 minutes, or until the lentils are just soft. You might need to add some water if it cooks off.
Meanwhile, score the base of each tomato with a knife, put them in a bowl and pour boiling water over them. Leave for 30 seconds, then drain off the water. Their skins should just slip off. Chop and set aside.
Heat the oil in a non-stick saucepan. Add the asafoetida, cinnamon, cloves and dried chillies and cook for 10–15 seconds or until they puff up. Spoon in the cumin seeds and cook until they colour and smell roasted. Add the onion and cook until it has golden edges. Add the garlic and cook, stirring for 1 minute, or until it smells cooked.
Now tip in the tomatoes, salt and ground spices (except the dried mango powder) and cook over a high heat for 10 minutes, stirring and mashing them often, or until the masala releases oil into the pan. If the tomato is dry, you will need to add a splash of water from the kettle to help.
By now the lentils should be cooked and, when stirred with a spoon, the water and lentils should start to become homogeneous and slightly creamy. Pour some into the tadka pot with the onion and chillies, then pour it all back into the lentils, making sure you scrape every last bit of flavour from the saucepan.
Cook for another 3–5 minutes to bring it all together, adding the butter to enrich the dal. Stir in the chopped coriander, then taste and adjust seasoning, adding the dried mango powder to taste if you would like it a little more tart.
You are not ready to devour the favorite Dal Tadka!