Sindhi cardamom lamb is also called Sindhi Seyal Gosht
I was once told by a friend  that "a curry is a curry". This couldn't be further from the truth. A curry is a dish cooked with a sauce and if it is Indian, so it will contain spices. However, to an Indian, "chicken curry" means different things depending on what region you are from. On top of that, my mother cooked a cumin-flavoured chicken, a yogurt-flavoured chicken, a dried pomegranate-flavored chicken, and so on… The point is: Indians define a "curry" by both its region and the defining flavour.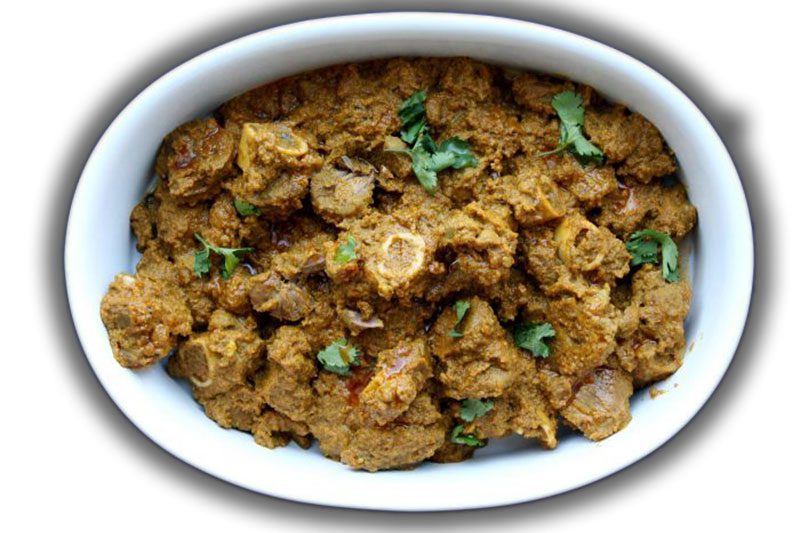 Here, although the main spice note is green cardamom, it does not overpower the dish and the black pepper stops it becoming too sweet. For the green cardamom, I grind a fair amount with husks on (they are very aromatic, so worth adding) and use as I need. If your spice blender doesn't get the powder fine, add it to the dish through a sieve to catch the larger bits. Serve with Indian breads.
You may also like Kolhapuri Muttor Curry if you like this Sindhi Cardamom Lamb, and would add to your Indian non-veg cooking mastery
Ingredients for Making Sindhi Cardamom Lamb
2 tomatoes, quartered
120g (½ cup) plain yogurt
4–5 tbsp vegetable oil
1 red onion, finely chopped
salt
650g (1lb 7oz) lamb or mutton pieces, with a few pieces of bones if possible
20g (1½ tbsp) finely grated root ginger (peeled weight)
4 large garlic cloves, finely grated
2 whole green chillies (chiles), stalks removed, pierced with a knife
2 tsp ground coriander
1½ tsp ground green cardamom, or to taste (see introduction)
⅔–¾ tsp freshly ground black pepper, or to taste
good handful of chopped coriander (cilantro), to serve
Instructions for Making Sindhi Cardamom Lamb
Blend together the tomatoes and yogurt until smooth.
Heat the oil in a large non-stick saucepan or karahi over a medium heat. Add the onion with a little salt and sauté until soft and starting to colour on the edges. Add the lamb and seal well over a high-ish heat for 4–5 minutes. You can now add the ginger, garlic and green chillies and cook over a low heat for another minute or so or until the garlic smells cooked.
Now dd the yogurt blend, the spices and a little more salt and bring to a simmer, stirring all the while. Once the yogurt is bubbling, you can stir only occasionally. As it thickens, you will need to stir more often to make sure it doesn't stick. You need to cook the yogurt down until it releases oil back into the pan; this can take 10–15 minutes.
Add enough water to nearly cover the lamb, bring to the boil, then cover and cook gently until the lamb is tender, another 40–60 minutes or so.
When the lamb is done, reduce the sauce if it is still watery (you want it to be creamy) by increasing the heat and stirring the meat in the sauce as it reduces. If it is too thick, add a little boiling water. Season to taste, adding more cardamom or black pepper if you like.