In Parsi rice with saffron and sour cherries, you can add some sliced almonds to the rice, but I love it like this with its sweet, buttery saffron flavours contrasted with the sweet-sour cherries.
Among the best rice best dishes
This is one of the  recommended unique recipes from India we vouch for.  It is equally famous in Iran and has slight variation to the recipe below. I still love the more simple Indian version. Its is easy to cook and amazing to taste. Total Serves 4
Another Parsi dish we strongly recommened: Parsi salli chicken
Ingredients for Parsi rice with saffron and sour cherries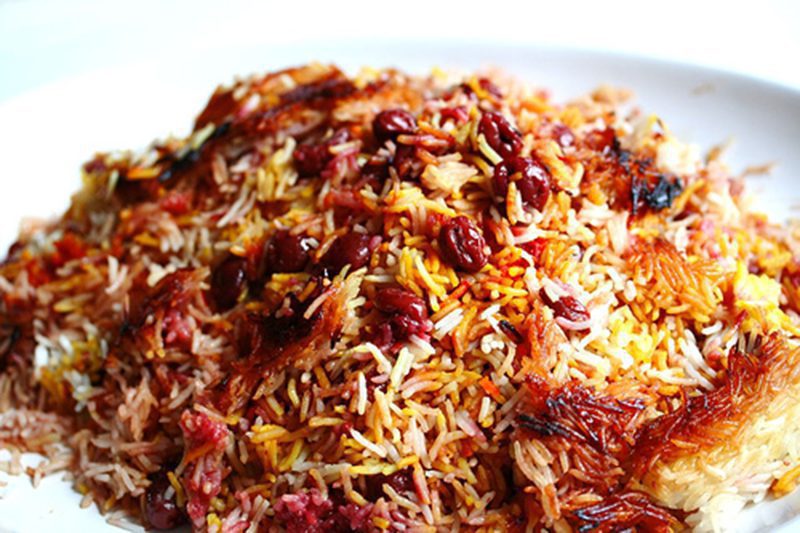 300g (1¾ cups) basmati rice
⅓–½ tsp saffron threads
2 rounded tbsp ghee or unsalted butter
2 large cinnamon sticks or cassia bark
6 green cardamom pods
10 black peppercorns
handful of dried ready-to-eat sour cherries
600ml (2½ cups) water
Salt as per taste
Handful of halved pistachios (optional)
Cooking instructions, Parsi rice with saffron and sour cherries
Wash the rice really well in several changes of water until the water runs clear and all the starch has been removed, then soak for about 15 minutes. Infuse the saffron in 1 tbsp boiling water for the same time.
Heat the ghee or butter in a large, heavy-based pot. Add the whole spices and cook for 20 seconds or until they are aromatic. Meanwhile, drain the rice in a sieve. Tip the rice into the pan and give it a few stirs. Add the saffron and cherries and give the pot a couple of stirs.
Add the measured water and salt, taste and adjust the seasoning.
Bring to the boil, then reduce the heat right down, cover tightly and cook for 7–9 minutes. Check a grain, it should be cooked through, if not cook for another couple of minutes.
Scatter over the pistachios, cover again, turn off the heat and allow the rice to steam for 10 minutes. Serve with Parsi Salli Chicken.
Engross yourself in this wonderful Parsi rice with saffron and sour cherries, dish, from equally amazing Parsi communities in India. Do not forget to share the recipe for benefits of other