Lachha paratha is has two categories. one with tandoori has Punjab origin. It is round in shape with multiple layers traditionally prepared in a tandoor. The other is tawa based, popular in eastern India, triangular in shape with multiple layers inter-spaced with ghee
This parantha has layers and layers of dough resting on top of each other; each layer looking like a 'ring'
The tandoori style of grilling lachha parathas is the original way of making it leading to a little dry and smoky texture. Over the time, it became more convenient for people to replace big and heavy tandoors with light and handy tawas.  Both have  the same taste but tawa paratha has a more crumbly texture.
Ingredients for the Lachha Paratha
2 cups whole wheat flour
Water to knead
1/2 cup ghee
Dry flour – for dusting
How to Make Lachha Paratha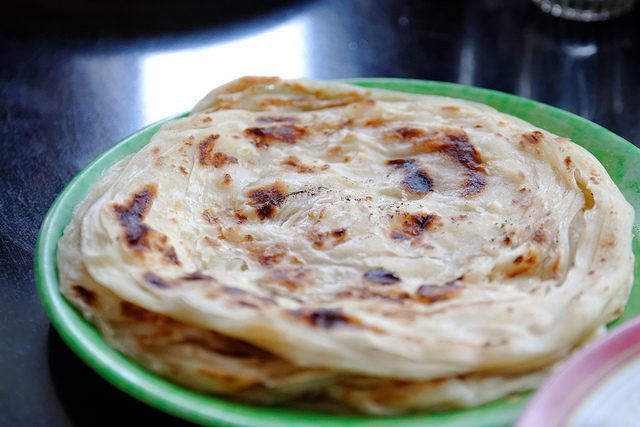 1. Add the wheat floor in a bowl with salt to taste, and vegetable oil. Now, knead the flour for at least 5 minutes until it turns into soft and pliable dough with the help of water or milk. Cover the dough with a cloth and let rest for 30 minutes.
2. After 30 minutes, make eight round and smooth balls out of it. Roll it into a big circle and apply oil on the surface. Sprinkle some salt, red chilly powder and carom seeds if you like. Roll it into a round of about 1/4 cm/1/8″ thickness.
3. The dough is ready to be layered. Start making fleets of the circle, once it is done, twist it to make a coil or rings.
4. The use of oil between the layers should save them  from sticking.
5. Heat the tawa in between
6. Now roll the coil one last time and put some dry floor in it
7. Place the paratha on the pan. The edges would start rolling up, slightly, smear some ghee letting it trickle under.
8. When both sides turn brown, serve them hot along with some spicy Indian curry, chopped onion rings and chutney of your choice
Please do share if you liked the recipe.