IndianYug in its endeavor to let people across the globe experience the true Indian food and its flavor are again presenting to you handpicked Indian recipe 'Kolhapuri mutton curry' which can easily be cooked and made anywhere across the world.
We try to bring recipes which are indigenous to India, they are unique and simple to cook and understand also liked by people across continents. So let's learn how to cook our Kolhapuri mutton curry.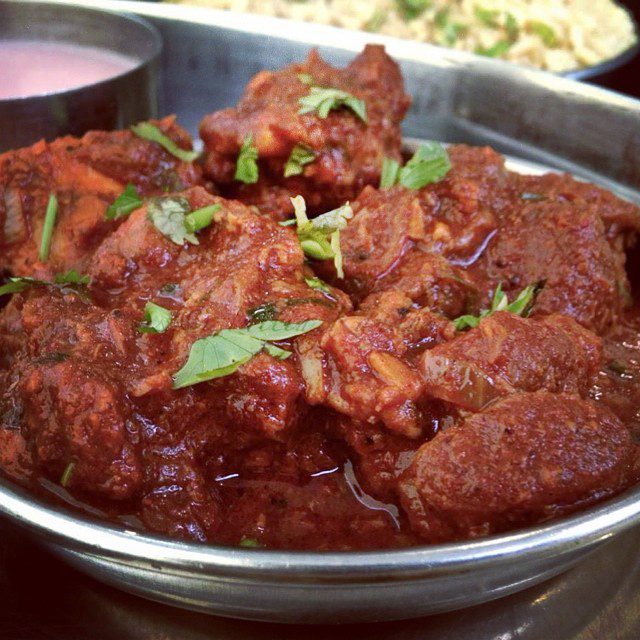 Kolhapuri mutton curry
About the recipe Kolhapuri Mutton Curry
Kolhapuri dishes are well known for being spicy and for their wonderful aroma. Their spice blends are softer and more fragrant than garam masala and – once you have a jar – you don't really need a lot of other spices to make Kolhapuri mutton curry.
The blend here does have a fair number of ingredients in it, but it takes under 5 minutes to do from beginning to end, will keep well for future use and goes with chicken, meat, and even some meaty vegetables.
For Kolhapuri mutton curry, If you are missing a couple of the ingredients, don't worry, it will still be fine. If you have some good-quality garam masala, you can even leave out the first 7 ingredients (these are all in my Garam Masala). I make this dish with mutton, which adds more flavor than lamb, but you can use lamb instead. The flavors are incredible whichever meat you use. Serve with Indian bread or Simple, Perfect Rice. Serves 4
For the Kohlapuri masala (makes 10–11 tbsp in total) Kolhapuri mutton curry
3 cloves
1 star anise
2 dried bay leaves
½ tsp black peppercorns
1cm (½in) cinnamon stick
2–3 dried chilies (chiles, optional)
1 tbsp coriander seeds
2 tsp cumin seeds
2 tsp fennel seeds
small pinch of fenugreek seeds
1 rounded tbsp poppy seeds
1 rounded tbsp sesame seeds
4 tbsp desiccated coconut
For the curry preparation in Kolhapuri mutton curry
20g (1½ tbsp) root ginger (peeled weight), roughly chopped
8 large garlic cloves
2 onions: ½ quartered, 1½ thinly sliced
25g (1 cup) coriander (cilantro), plus a good handful to serve
¾ tsp salt
1 tsp Kashmiri chilli (chili) powder (optional, for color)
7–8 tbsp Kohlapuri Masala (see above), or to taste
1 tsp ground turmeric
700g (1lb 9oz) diced mutton or lamb, with some bones if possible
4–5 tbsp vegetable oil
2 large tomatoes, roughly chopped
Kolhapuri mutton curry preparation
Set a wok or small frying pan over medium-low heat. Pour in the first six ingredients for the masala and stir-fry over low heat for 20 seconds.
Add the coriander, cumin, fennel and fenugreek seeds and continue until they are toasted too, another 1–2 minutes. Pour straight into your spice grinder. Then add the poppy and sesame seeds and the coconut and dry-roast until golden. Add to the other spices and grind until it is all a fine powder. Store in an airtight container. This will keep for a month or more, in a dark, airtight place.
Blend together the ginger, garlic, the quartered onion, the 25g of coriander, salt, chili, 3 tbsp of the Kohlapuri masala and the turmeric until smooth. Add a little water if necessary to help the blades turn. Add to the meat and marinate for as long as possible, ideally overnight in the fridge, but you can continue without as well.
Heat the oil in a large pan over medium heat. Sauté the sliced onions with a little salt until well colored on the edges; I like to do this over high-ish heat. Add the meat with its marinade along with the tomatoes. Bring to the boil, then cover, and cook until all the water has dried up, around 45 minutes over medium heat. Keep giving the pot the occasional stir.
Now increase the heat and stir-fry the meat in the thickened masala paste, to help intensify the flavors, for 3–4 minutes." 7–8 tbsp Kohlapuri Masala (see above), or to taste 1 tsp ground turmeric 700g (1lb 9oz) diced mutton or lamb, with some bones if possible 4–5 tbsp vegetable oil 2 large tomatoes, roughly chopped.

Set a wok or small frying pan over medium-low heat. Pour in the first six ingredients for the masala and stir-fry over low heat for 20 seconds. Add the coriander, cumin, fennel and fenugreek seeds and continue until they are toasted too, another 1–2 minutes. Pour straight into your spice grinder.
Then add the poppy and sesame seeds and the coconut and dry-roast until golden. Add to the other spices and grind until it is all a fine powder. Store in an airtight container. This will keep for a month or more, in a dark, airtight place.
Blend together the ginger, garlic, the quartered onion, the 25g of coriander, salt, chili, 3 tbsp of the Kohlapuri masala and the turmeric until smooth. Add a little water if necessary to help the blades turn. Add to the meat and marinate for as long as possible, ideally overnight in the fridge, but you can continue without as well.
Heat the oil in a large pan over medium heat. Sauté the sliced onions with a little salt until well colored on the edges; I like to do this over high-ish heat. Add the meat with its marinade along with the tomatoes.
Bring to the boil, then cover, and cook until all the water has dried up, around 45 minutes over medium heat. Keep giving the pot the occasional stir.
Now increase the heat and stir-fry the meat in the thickened masala paste, to help intensify the flavors, for 3–4 minutes. You Kolhapuri mutton curry is now ready to be served
You May Also Like
Please like and share the recipe to encourage us to come up with more such recipes