One thing is common across all streets of North India,  chaat shops or street food as it is know with its own aroma and colors that attracts you to have a piece of the pie. People from across the country love street food and chat are a famous recipe in North and eastern part of India.  We again present to you in our series of pure  Indian recipes that are unique, healthy and easy to cook. Lets learn how to make crispy spinach chaat, our handpicked recipe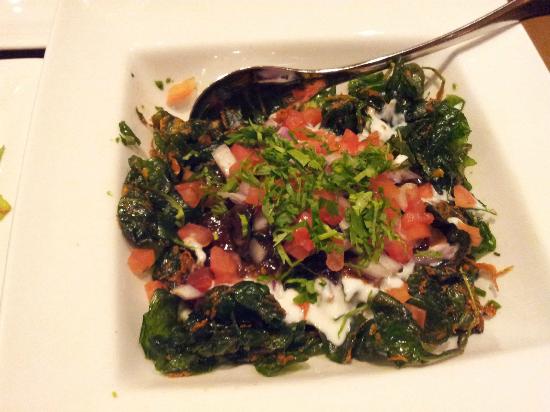 With typical street food yogurt chaat-style ingredients included we will make it closest to the street food and also ensure the same is healthy to eat. The resulting bite is crispy, hot, cold, creamy, herb aroma and ever so tasty. Although this is deep-fried, it doesn't absorb a lot of oil and still feels fresh and is healthy to eat. When it is hot outside, I often chop up some frozen Tangy Herb Chutney, instead of defrosting it and place little pieces on top; it looks better and is really interesting in the mouth. Makes 10/serves 5 (can be doubled)
Preparation For the chaat in Crispy spinach chaat
50g (generous ⅓ cup) chickpea (gram) flour
1 tablespoon cornflour (cornstarch)
⅓ tablespoon salt
¾ tablespoon ground coriander
½ tablespoon chaat masala
⅛ tablespoon ground turmeric
⅛ tablespoon chilli (chili) powder, or to taste
good pinch of carom seeds (delicious, but omit if you don't have any)
40g (1⅓ cups) baby spinach, really roughly chopped
vegetable oil, to deep-fry
To serve
150g (generous ½ cup) Greek-style yogurt
1 good tsp roast and ground cumin seeds (see Classic cucumber and mint raita)
salt
5 tablespoon sweet tamarind chutney
5 rounded tablespoon Tangy Herb Chutney
Sev (small crispy vermicelli, optional)
Pomegranate seeds (optional)
Mix together all the dry ingredients for the Crispy spinach chaat . Now Add 4 tbsp water and stir well, then put in the spinach and stir well to mix. It will be a bit thick and sticky.
Heat a large wok or karahi with 7.5–10cm (3–4in) of oil. When the oil is hot (around 180°C/350°F), or until a tiny piece of the spinach mixture sizzles straight away, take walnut-sized balls with your hands and flatten so they are 1–1½cm (¼–½in) thick. They will be irregular, which will help them be crispy. Add them all, then reduce the heat a little and fry until golden brown, turning occasionally. Remove with a slotted spoon and place on kitchen paper to blot off any excess oil.
To serve, whisk the yogurt with the roast cumin and mix some salts. Now place 2 spinach pakodas on to a small plate, preferably  arrange them overlapping each other at an angle. Dollop over 2 tbsp of the yogurt, leaving the edges clear so they remain crispy. Spoon over 1 tbsp sweet tamarind chutney and 1 rounded tsp Tangy Herb Chutney. Sprinkle liberally with the sev or pomegranate seeds, if using, then serve.
Enjoy your Crispy spinach chaat!
Other handpicked recipes
Classic butter chicken, Tandoori Gobi, Kolhapuri mutton curry
Please like and share the recipe. This encourages us to come up with more such recipes