Learn how to make classic butter chicken-the Indian food recipe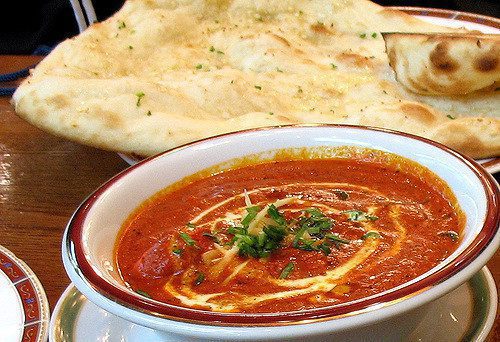 The ultimate king of Indian curries in restaurants across India, butter chicken as an Indian food recipe is a velvety, tomato-based curry with little nuggets of lightly charred tandoori chicken hiding in its creamy depths.
I have many great memories associated with this dish and I always crave for it when once in any Indian restaurant! The recipe is easy to make, and you can cheat by buying ready-made tandoori chicken or pastes, but it won't be as good or as satisfying.
This sauce has a lot of tomatoes, so the end product will depend on how the taste of tomato, the sourness or sweetness is something you must take into account before you start with the dish.
You will need to taste and adjust the final dish as necessary, adding more or less sugar depending on how tart or sweet the sauce is. Serve with Naan or paratha for a delicious and satisfying meal. Serves 4
So Lets learn how to make Butter chicken Indian recipe
For the chicken pieces
6 skinned, bone-in chicken joints, cooked as for Tandoori-style Chicken, but cooked for 18 minutes and not seasoned with chaat masala or fenugreek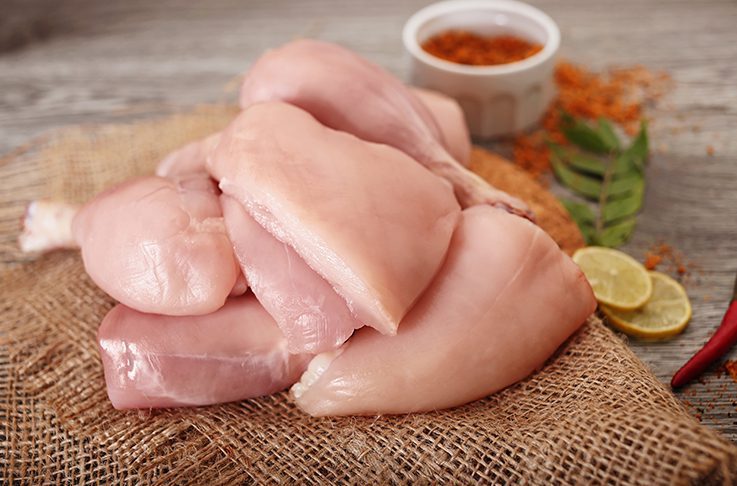 For the butter chicken
20g (1½ tbsp) finely grated root ginger (peeled weight)
8 large garlic cloves
2 tbsp vegetable oil
80g (5½ tbsp) unsalted butter, plus more if needed
1 bay leaf
2 black cardamom pods
6 green cardamom pods
2cm (¾in) cinnamon stick
4 cloves
600g (1lb 5oz) vine tomatoes, blended to a fine purée
3–4 small green chillies (chiles), stalks removed, pierced with a knife
salt
1 tsp sugar, or to taste (depends on the sweetness of the tomatoes)
¼–½ tsp chilli (chili) powder
1 tsp paprika
2 tsp dried fenugreek leaves, finely crushed with your fingers
1 rounded tsp garam masala (fresh if possible)
80–100ml (⅓–2/5 cup) single (light) cream, to taste
Blend together the ginger and garlic using a little water to help the blades turn.
Heat the oil and half the butter in a large non-stick saucepan over a medium-high heat and add the whole spices. Once they have sizzled for 15 seconds, add the ginger and garlic paste and cook until all the moisture has evaporated and the garlic smells cooked and looks grainy. Add the tomatoes and cook down until the resulting paste releases oil, around 20 minutes.
Now you need to brown this paste over a gentle heat, stirring often, until it darkens considerably, 6–8 minutes. Add 250ml (1 generous cup) water, bring to the boil, then pass through a sieve, trying to extract as much liquid and flavour from the tomatoes and spices as you can. Discard the very few, very dry solids. Set the sauce aside.
Cut or peel large chunks off the chicken pieces and reserve with any juices and charring that is still on the cooking foil.
Heat the remaining butter, throw in the green chillies and cook for 1 minute. Add the sauce, salt and a good splash of water and simmer for 3–4 minutes. Add the chicken, with any juices and charring from the foil. Add the sugar, chilli powder, paprika, fenugreek and garam masala. Simmer, stirring often, for 3–4 minutes, adding a little water if it is too thick. It should be lightly creamy. Take off the heat and stir in the cream, then taste and adjust the salt, sugar, cream or butter to taste as you need. Finally you have learnt how to make Butter chicken Indian recipe
Please do like and share the post to encourage us to keep sharing such Indian recipes. Do not forget to comment
Experience different cuisine by following the link below.
Please don't forget to share our post in case you liked it.